Media Discourse on Deobandi Terrorism: 31 Jan – 05 Feb 2015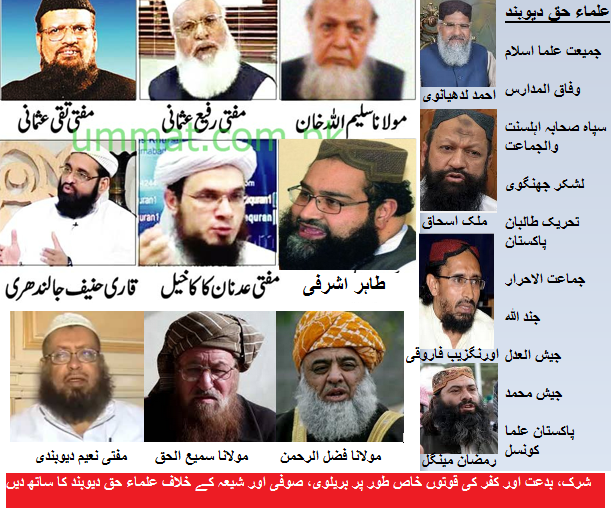 Long live the king
The Nation
According to the revelations made by Wikileaks in 2010, a cable dated November 13, 2008 originated from the American Consulate in Lahore, went straight to the Secretary of the State saying, "..a sophisticated jihadi recruitment network had been developed in the Multan, Bahawalpur, and Dera Ghazi Khan Divisions". The cable further reads that a network of Deobandi and Ahl-e-Hadees organizations was being strengthened under the garb of charities, and that such organizations included Jaish-e-Mohammad, Jamaat-ud-Dawa, Al-Khidmat Foundation etc. This Islamic charity originally reached Pakistani pseudo-religious organizations as relief for earthquake victims in Kashmir and Khyber Pakhtunkhwa (then North West Frontier Province).
The same cable reveals that a portion of these funds was siphoned to Deobandi and Ahl-e-Hadith clerics in southern and western Punjab in order to expand these sects. The initial success of establishing madrassas and mosques in these areas led to subsequent annual "donations" to these same clerics, originating in Saudi Arabia and the United Arab Emirates. The value of such donations was uncertain, although the cable claimed that it was in the region of $100 million annually.
Source:
http://nation.com.pk/columns/03-Feb-2015/long-live-the-king
Letters: Now for the next round of Islamist revenge
3 February 2015
The Independent
The likelihood is that for a majority of imams, the two are, in fact, irreconcilable – this would certainly be the case for Saudi-funded mosques and those inspired by Deobandism, with its roots in South Asia.
Source:
http://www.independent.co.uk/voices/comment/letters-now-for-the-next-round-of-islamist-revenge-10019774.html
Pakistan & The West: Will Citizens Rein in Governments ?
The Jewish Press
February 2nd, 2015
The fanatic ideology of hatred and violence against humanity is shared in common by radical Islamists of all hues — Wahabbism—Deoband seminary, Tablighi Jamaat, Ahle Hadith and the Jamaat-e-Islami. The  Punjabi Taliban is deeply linked to major terror attacks, including on  Shias, Ahmadis and Christians, in Pakistan. But Islamabad's current war on terror is directed only against a select group of militant Islamists—the Haqqani Network and safe havens of al-Qaida and Tehrik-i-Taliban Pakistan.
Source:
http://www.jewishpress.com/indepth/analysis/pakistan-the-west-will-citizens-rein-in-governments/2015/02/02/
Shia killing and Pakistan demonic dogma
Ismail Salami
Press TV
Feb 2, 2015
Under Mohammad Zia-ul-Ha, the ties between Pakistan and Saudi Arabia were immeasurably expanded. A dictator who had usurped power through staging a coup and overthrowing Zulfikar Ali Bhutto in 1977 with the support of CIA, Zia-ul-Haq, an affiliate of the Deobandi School, was financed by Riyadh to help spread Wahhabism in the country. During his long tenure, he visited Saudi Arabia 27 times. To promote Wahhabism, the Saudis funded new mosques and seminaries and employed Pakistani labor in Arab countries in the country.
Source:
http://www.presstv.ir/Detail/2015/02/02/395844/Shia-killing-and-Pakistan-demonic-dogma
Mourners Bury Their Dead After Pakistan Mosque Bombing
Comments
comments