Shia Blood, On Rocks! – Marvi Sirmed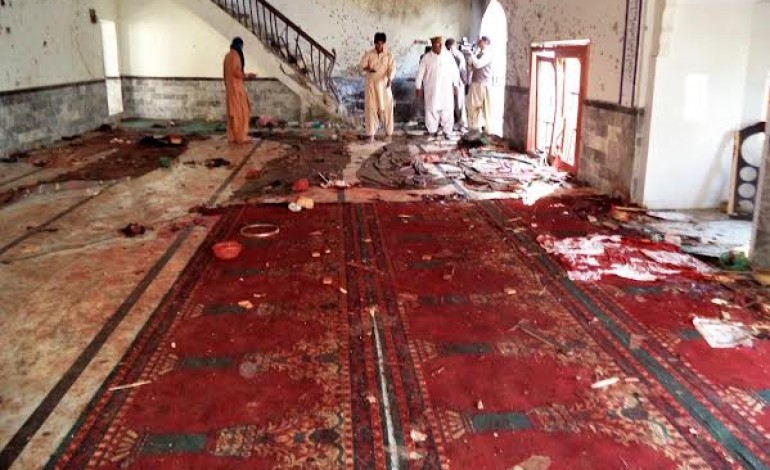 January 30 added another blood-soaked page in the history of Pakistan — the country stalled among other challenges by religious bigotry, extremism and violence in the name of Islam. Around 60 Shia worshipers were killed in a suicide blast, when they had just started Friday prayer, at Imambargah Karbala Mualla, in Shikarpur.
That was a cold-blooded massacre followed by usual body count. First 20 then 40 and now 60. No names, no pictures, no images of mourning families in initial television reports. And that made it easier for all of us to continue with the usual business of life.
Many children were among the dead. Unlike APS attack on Peshawar, the Friday blast on Imambargah was apparently just another attack that whisked away 60 precious lives.
Why precious? Ask the mother who would never be able to kiss or scold her deceased child. Ask the children who would never be able compete against each other to first hug their father, now dead. Ask the sister who would never be able to make marriage plans for her late brother's wedding. And ask the widows who were happily married until Friday.
Next came a torrent of stereotype condemnations. The posturing by our political elite was nothing but nauseating.
At a press conference, in Karachi, the prime minister, the Sindh chief minister and other heartless souls were seen comfortably smiling and cracking jokes. Then there was an inauguration of a University in Hyderabad, in which the only reference to the Shikarpur carnage came from Altaf Hussain, the Muttahida Quami Movement chief. The TV coverage of both these events had several commercial breaks with bubbly advertisements.
The Friday attack was on the Shias of Pakistan, that too in Sindh. So it was certainly not the 'national tragedy.' Target killings of Shias are an everyday norm. People have become numb. And it's sickening.
It seems the only purpose of the jargonised National Action Plan (NAP) was instituting the military courts.
The NAP, which speaks of sectarian violence (though I have an issue with calling it a sectarian violence, mainly because the term implies as if it is a two-way conflict whereas the fact is, only one side is being targeted and killed in this 'sectarian' violence) in one of its 20 points, does not give an implementation strategy to address it.
The discourse that followed APS Peshawar massacre implied both military and civilian leaderships became serious in eliminating all militant groups without distinction of being 'good' or 'bad.' While I failed to read or hear any statement from the civilian as well as military leadership on that, several analysts and strategists endlessly discussed this over the last four weeks.
The actions of the State remain more or less selective. For the armed forces the main focus has been Operation Zarb-e-Azb, in North Waziristan. They also achieved the objective of getting absolute judicial powers under the 21st constitutional amendment.
The civilian leadership first struggled to evolve consensus on the NAP itself, and then it took negligibly small steps as a semblance of enforcing state writ, that too selectively.
Primarily, the Deobandi Tehrik-e-Taliban Pakistan (TTP) was militarily target. We also saw some lip servicing against Afghan Taliban and Jamaat-ud-Dawa (JuD). As far as anti-Shia outfits are concerned, even a cosmetic step against them was missing. The proscribed outfits like Deobandi Lashkar-e-Jhangvi (LeJ) and Deobandi Ahl-e-Sunnat-Wal-Jamaat (ASWJ) were reportedly advised by their sympathisers to lay low.
In a recently held Ideas Conclave 2015, by Jinnah Institute, many analysts, senior journalists and strategists demanded one-step-at-a-time on behalf of the policy makers. May be because it seemed rational. Or may be because most of us want to believe the state when it says it is serious in eliminating terror, but at the same time we don't have any easy answers to the dazzling selectivity which is too conspicuous to miss. In our bid to find answers, we try to look for any feeble veneer of rationality in the entire façade of this newfound state 'commitment'.
While the ISPR is busy telling us through mostly one-liners how many 'militants' were killed in air strikes, and the civilian leaders keep telling us how many would be hanged or who will be proscribed next, people are trying hard to not ask necessary questions at a moment they so want to believe is the moment of national consensus against terrorism. We are told that the first priority is to tackle those groups and insurgents that attack the state. Obviously the state means GHQ, former military dictator and other military installations. Hence the state is targeting only those who have attacked it, i.e., TTP and other splinter groups.
Leaving out anti-Shia and anti-Ahmadi outfits is justified because all they do is kill some Ahmadis and attack Shias. By doing so, they don't come under the definition of 'anti-state' militants. The Shikarpur carnage can thus take a back seat for now. So would the attack on Rawalpindi Imambargah in the beginning of January. Do you feel a chill in your spine? Does it bother us a bit when state institutions and people's representatives are busy convincing us that attacks on the state installations are more important to address than the attacks on the people? Should one see people outside the realm of the nation-state?
Going by their own argument, even if attacks on people should be put behind as secondary urgency while attacks on the state should be dealt with as first priority, let's look at who has claimed the responsibility of the recent Shikarpur attack. Jundallah Pakistan (which should not be confused with anti-Shia Jandullah Iran, operating in Balochistan) is a subsidiary of TTP. According to a report filed in September 2013 by journalist Ali Chishti, Jundallah has its roots in the student wing of Deobandi  Jamaat-e-Islami, the Islami Jamiat-e-Talaba (IJT). Attaur Rehman of Karachi University, who was arrested in 2004 had confessed founding the organization as response to the arrest of Khalid Sheikh Mohammad, key Al-Qaida leader and mastermind of 9/11.
Having close ties with al-Qaeda and the banned anti-Shia terror outfits the Jundallah has been extending support to the operations of these organizations. In 2012, an Intelligence Bureau report declared Deobandi Jundallah, LeJ and Sipah-e-Sahaba Pakistan (SSP) as dangerous as al-Qaeda. The report revealed all these groups had ideological and operational ties while maintaining different identities.
Why they keep different identities is no more a secret as such. One group attacks state installations, the other group refrains from it while clandestinely helping therein but continuing attacking 'non-state targets' like Shias in this case. One group engages itself in active combat and direct terrorist activities while the other keeps talking about peace as well as its hate speech to radicalise populace for getting fresh recruits. This way none of them ever falls short of weapons and other supplies. The vicious cycle goes on while we trumpet the one-step-at-a-time strategy.
The Jundallah is LeJ. The SSP is ASWJ. All of them are killing Shia Pakistanis. That makes them anti-state. Why is it so difficult for the leadership to understand? Or they understand it already but nurture them to settle other problems like separatism in Balochistan, Sindh and Gilgit-Baltistan?
Source:
http://dailycapital.pk/shia-blood-on-rocks-marvi-sirmed-2/
Comments
comments