Media Discourse on Deobandi Terrorism: 14 – 31 January 2015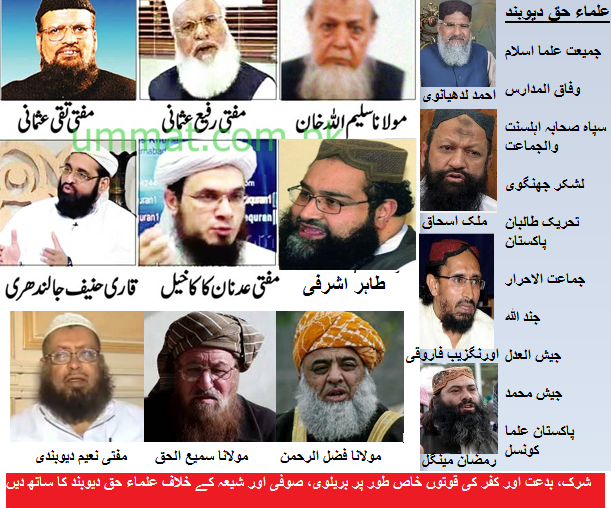 Govt ponders over issue of madressah financing
Jan 14, 2015
Daily Dawn
Abdul Qudoos, spokesperson for the Wafaqul Madaris Al-Arabia — the umbrella body for seminaries of the Deobandi school of thought with about 18,000 seminaries working under it — explained that their main source of funding was donations from locals, insisting that they disapproved of foreign donations as a policy.
Source:
http://www.dawn.com/news/1156907
Former Taliban Leader Mullah Abdul Rauf now Recruiting for ISIS in Afghanistan?
January 14, 2015
IBM times
Quetta Shura members are veterans of the Taliban regime that ruled Afghanistan in the late 1990s. A majority are mullahs, or Islamic clerics, who adhere to Deobandism – a puritanical sect of Sunni Islam in South Asia. Mullah Rauf was apparently kicked out of the Quetta Shura in 2011 over ideological differences with the group.
Source:
http://www.ibtimes.co.in/former-taliban-leader-mullah-abdul-rauf-now-recruiting-isis-afghanistan-620398
Contradicting Principles
January 18, 2015
The Nation
Despite being at war with extremism, our government warmly embraces the most extreme ideological country of them all. Our Prime Minister visits regularly for political advice; we happily receive financial aid and ideological mentorship. Deobandi madrassas are stacked with Saudi money, links with extremists are apparent, yet we choose to close our eyes. How can we believe our government is truly committed to fighting extremism when principles and ideologies are as transient as this? If a few perks and oil money can blind us to extremism so easily, than the fight is most certainly lost before it has begun.
Source:
http://nation.com.pk/editorials/18-Jan-2015/contradicting-principles
Abstaining from the consensus
January 18, 2015
The News
During the 2008 elections, a splinter group of pro-Taliban leaders of JUI-F emerged in Balochistan. ASWJ has also been increasing its influence among the Deobandi youth. "Rehman tried to widen his support base among religious circles," says a senior member of ASWJ, another major Deobandi religious outfit which supports the idea of military courts.
Source:
http://tns.thenews.com.pk/abstaining-from-the-consensus/#respond
Is Pakistan Courting Trouble In Its Battle With Terrorism?
January 19, 2015
Newsweek
Beyond ill-at-ease progressives and concerned citizens on the frontier, the prospect of military courts has stirred opposition from a less obvious corner: conservative religious political parties, which have traditionally been broadly aligned with the security establishment. Several fear wording in the amendment explicitly authorizing the courts to try cases of sectarian or religiously motivated terrorism may foreshadow moves to start hauling away students and clerics from madrassas preaching the same Deobandi sect of Islam followed by most Pakistani militants.
http://www.newsweek.com/2015/01/30/pakistan-courting-trouble-300456.html
Police told to seize hate material but with caution
Jan 20, 2015
Daily Dawn
"Out of the four books seized in Attock, one presented the views of Deobandis against Barelvis, another spoke against Ahle Tashie (Shia) and the remaining two provocatively called for jihad," District Police Officer Israr Ahmed Abbasi told Dawn.
Source:
http://www.dawn.com/news/1158172
Madrassa students to fill jails if raids not stopped: Fazl
January 23, 2015
The News
Fazl said the establishment conveniently ignored acknowledging the stance of scholars and leaders of Deobandi school of thought time and again that armed struggle inside Pakistan was forbidden. He said not all of them martyred in the Army Public School were children of the military personnel, as majority of them came from civilians and those of religious scholars and followers.
Source:
http://www.thenews.com.pk/Todays-News-13-35424-Madrassa-students-to-fill-jails-if-raids-not-stopped-Fazl
Militant media: Writers stymie action on hate literature
Multicultural and aggrieved
The Economist
Over 40% of British mosques are run, and most British imams schooled, in the Deobandi tradition, which tends to be hostile to integration. Hence the spread of the niqab, which some Deobandi preachers consider obligatory for women, in places such as Leicester where it was until recently uncommon. According to WikiLeaks, the American State Department's former chief adviser on Muslim relations, Farah Pandith, considered Leicester's Muslim community the most conservative in Europe.
Source:
http://www.economist.com/news/britain/21640342-government-right-lobby-muslims-better-leadership-it-can-do
The narrative of identity
January 24, 2015
Pakistan Today
The religious leadership and the seminaries in British India had long nurtured the jihadi narrative. Beginning with Syed Ahmad Brelvi, a major section of the conservative ulema opposed modern education and western institutions and advocated launching of armed struggle against the colonial government. The tradition was inherited by Deoband where prominent clerics declared jihad a religious duty. They played with the sentiments of the Indian Muslims, wasting their energies and resources in pursuit of chimeras like Khilfat Movement and the Hijrat Movement.
The educational institutions set up by the enlightened sections of the community helped Muhammad Al Jinnah in spreading the message of the Muslim League. Islamia College Lahore provided perhaps the largest number of volunteers who spread Jinnah's message throughout India. The vast majority of the so-called nationalist ulema, belonging to both the Deobandi and Wahabi schools, like Jamaat-e-Islami founder Syed Abul Ala Maudoodi, Hussain Ahmad Madani and Daud Ghanzavi opposed Pakistan movement. The colleges imparting modern education meanwhile became the strongholds of the Muslim League. Pakistan came into being despite opposition from the ulema running the seminaries. The Muslim community whole heartedly supported a clean shaved, westernised lawyer-cum-parliamentarian rather than the nationalist ulema, some of whom still advocated jihad while others supported the All India Congress.
Source:
http://www.pakistantoday.com.pk/2015/01/24/comment/the-narrative-of-identity/
Comments
comments