Shia party under pressure to rethink alliance with Deobandi clerics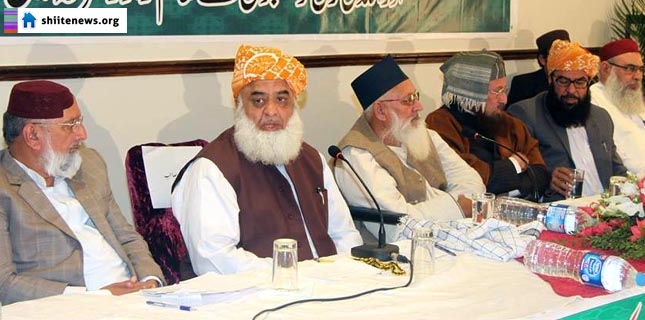 Allama Sajid Naqvi-led Shia Ulema Council has come under immense pressure from Shia Muslims of Pakistan for its alliance with some Deobandi groups and clerics who also joined hands with the banned takfiri outfits such as ASWJ (Sipah-e-Sahaba).
The pressure is being mounted after anti-Shia provocative takfiri slogans at a seminar hosted by Deobandis' JUIF of Fazlur Rehman in Lahore during the speech of renowned Shia cleric of Shia Ulema Council Allama Ramzan Tauqeer. It is against the ethics and culture of Pakistani nation that an invited guest is humiliated this way that the Deobandi takfiris chose to affront Shia cleric and Pakistani Shia Muslims.
Provocative slogans were raised in the presence of Fazlur Rehman of the JUIF, the host and Jamaat-e-Islamic leaders. These two Deobandi parties needed Shia Muslims support during the tenure of General Pervez Musharraf in the post 9/11 world due to humiliating surrender of their beloved Deobandi takfiri Taliban in Afghanistan and owing to the fear of crackdown on the Deobandis of Pakistan for their support to takfiris of Afghanistan and Pakistan.
Shia Muslims decided to defend Islam by unity of Muslims so that the enemies of Pakistan could not benefit from their divide and rule policy under which Wahhabis of Saudi Arabia and Deobandis of Pakistan and Afghanistan always toed the line of the West whether the post-WW-II U.S.-led West or previous U.K.-led West. Due to Shia party's prudent policies, Muttahida Majlis-e-Amal remained a symbol of unity of Muslims for quite some time. But, after some time, even Deobandis differed from the Deobandi JUIF's Fazlur Rehman and MMA turned defunct.
Allama Sajid Naqvi's party, however, continued friendship with Fazlur Rehman and some other Deobandis. Now too, they claimed that JUIF regretted for Lahore incident but not formal apology has been issued neither by the JUIF nor by Jamaat-e-Islami. Nobody from Deobandis have apologized for takfiri slogans hence moderate Shia Muslims demanded the SUC to part ways with the pro-takfiri Deobandis at once and for all.
Source:
http://www.shiitenews.org/index.php/shiitenews/pakistan/shia-party-under-pressure-to-rethink-alliance-with-deobandi-clerics
Comments
comments