Mohsin Naqvi and the silence – by Abdul Nishapuri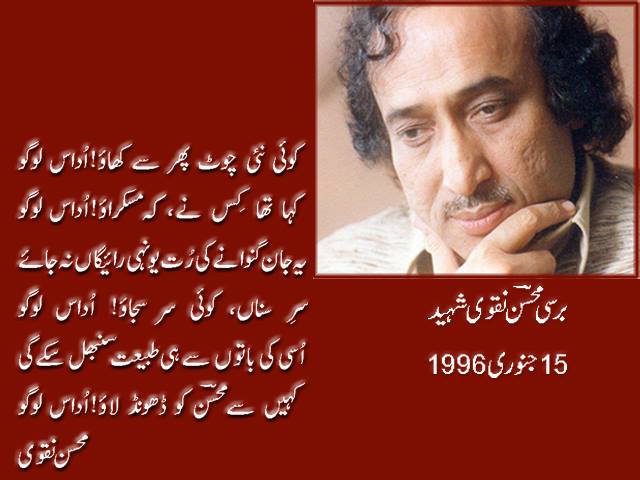 Nineteen years ago, Urdu's top poet Mohsin Naqvi was killed in Lahore by Deobandi terrorists of the Sipah-e-Sahaba Pakistan (SSP aka ASWJ) on 15 January 1996. His only crime: He was a Shia Muslim.
Pakistan's Shias along with Sunni Sufis and other persecuted communities face genocide at the hands of Deobandi takfiri terrorists.
While Pakistanis continue to appreciate, publish and share Mohsin's poetry, nobody wants to mention the Deobandi Takfiri hate ideology that killed him and has killed more than 45,000 Sunni Sufis and 22,000 Shias in the last few decades. There is Nazi style silence on Deobandi terrorism in Pakistan.
In particular, there is silence by writers, poets, literary figures and columnists, who are negligent of their duty to pay homage to Mohsin Naqvi and demand for action against his Deobandi takfiri murderers. I was expecting Mohammed Hanif, Wusatullah Khan, Adil Najam, Nadeem Paracha, Raza Rumi, Beena Sarwar and other champions of liberalism to write a column on Mohsin, his poetry and his murderers on his death anniversary. But apparently they have different priorities and interests.
I must also state that no tribute to Mohsin Naqvi is complete without clear condemnation of the Deobandi ASWJ terrorists who murdered him and continue to murder innocent Pakistanis.
Deobandi takfiri terrorists have killed enlightened Sunni clerics such as Dr Sarfaraz Naeemi from us, more than 400 Shia doctor have been traget killed, they killed ANP's Bashir Bilour, PPP's Benazir Bhutto and Sunni Tehreek's entire leadership in Karachi's Nishtar Park. They snatched Mohsin Naqvi from us. And still, the State and society of Pakistan is unable to take action against Ludhyanvi, Ramzan Mengal, Aurangzeb Farooqi, Mufti Naeem, Hanif Jalandhri and other takfiri Deobandi terrorists and their supporters and enablers in JUI and JI. Silence!
Comments
comments