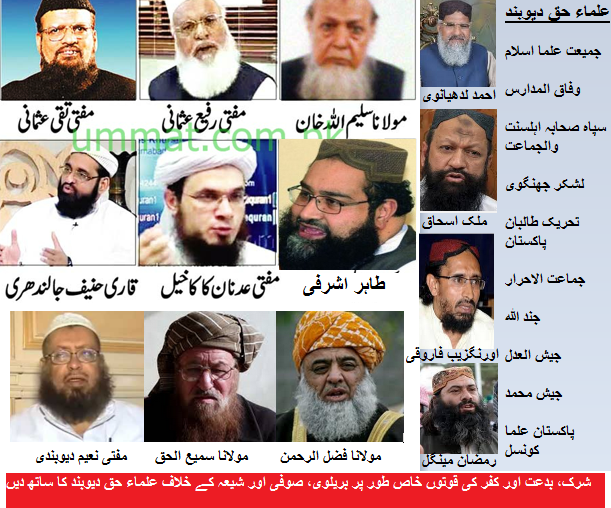 The tragedy of Junaid Jamshed
Daily Times
December 05, 2014
Once a heartthrob with a western outlook and uncommon coloured eyes, he has grown a long Shenandoah beard (without a mustache) after being impressed by the teachings of the Deobandi school of thought (a Sunni subsect) promoted by the Tableeghi Jamaat. As he got more involved in the organisation over time, he transformed into a different person; he quit wearing western clothes altogether, preferring shalwar kameez as his attire, and covered his head with a Taqqiya cap or turban permanently, all in accordance with the interpretation of Maulana Ashraf Ali Thanvi's understanding of Islam and the Tableeghi Jamaat.
Joining the Tableegh has lately become a fashionable trend in Pakistan. An increasing number of former cricketers and movie stars, after retirement, have taken up the responsibility to encourage other Muslims to follow the 'right path'. What they preach most of the time is not controversial and applies to every Muslim regardless of their sect but its details always remain Deobandi whether it is their pattern of offering prayers, the books they read, the size or shape of the beard, the length of the pajamas (pants), the size of the scarf, the attire of women or their independence as individuals. And the singer of Sanwali Saloni Si Mehbooba, until last week, was doing just that.
Source:
http://www.dailytimes.com.pk/opinion/05-Dec-2014/the-tragedy-of-junaid-jamshed
Analysis: Battle for 'Ameer-ul-Momineen'
Dawn
Many of the jihadis have been fighting alongside Mullah Umar for over three decades and find a strong emotional attachment to him; to them, Mullah Umar represents unity in jihad. Al Qaeda in particular feels that Mullah Umar preferred to lose his government rather than handing over Osama bin Laden and other Arab veterans to the US after 9/11. For some groups, the 'Deobandi' factor also plays a role in their support for Mullah Umar.
Source:
Myth or mystery
The News
December 7, 2014
Some experts believe that Abu-Bakr al-Baghdadi is Salafist and a majority of militant organisations in Pakistan belong to the Deoband school of thought. Al-Baghdadi, they say, started his jihadi career under the command of Abu-Musab al-Zarqavi who was a Deobandi. They also say the IS is fighting with Jabhat-ul-Nusra, an al-Qaeda branch in Syria. But this claim seems absurd because the IS is basically an off-shoot of al-Qaeda in Iraq.
Source:
http://tns.thenews.com.pk/islamic-state-in-pakistan-myth-or-mystery/#.VJfvq1ANBrC
Hypocrisy or mental illness?
Marvi Sirmed
The Nation
December 09, 2014
This has now turned into a whack-a-mole. There emerges one Barelvi 'mufti' or 'aalim' who declares JJ liable to be killed and there appear several Deobandi 'aalims' to exonerate him based on his video apology that he sought from Muslims. The consensus however, so far, is to let him go. Great, isn't it? The Ummah is coming of age, right? The Ummah seems to have decided that blasphemy can be an error of judgment or a mistake. The Ummah seems to have decided that such mistakes, if realized and apologized for, can be forgiven.
Source:
http://nation.com.pk/columns/09-Dec-2014/hypocrisy-or-mental-illness
An opportune time
December 14, 2014
The News
Junaid Jamshed's case has highlighted some inherent flaws of blasphemy law and the way it is implemented in Pakistan. The main reason why the case has attracted so much attention is that Junaid Jamshed is affiliated with the Deobandi brand of Islam — a powerful Sunni denomination which has a large network of madrassas throughout Pakistan.
The case of Junaid Jamshed can lead to some positive outcomes. Since Jamshed is associated with the powerful Deobandi group, he can count on their support and protection. Given the hostile mobilisation carried out by the Barelvis to settle their sectarian scores, Deobandi groups have not been able to keep themselves aloof from this controversy. Several Deobandi scholars have come on social media to say that since Junaid Jamshed has repented, he should be pardoned. They overlook the fact that the current law on blasphemy in Pakistan does not accept apology. Junaid Jamshed could have either kept silent or insisted that he had not committed blasphemy and there would have been some legal scope still left. But the fact that he has admitted to being disrespectful implies as per the law that he be awarded extreme punishment.
Given the nature of Junaid Jamshed's Deobandi connection and the power which Deobandi Islam has in the state and society of Pakistan, there is a possibility that if this case goes to trial, its proceedings will take place in a relatively secure environment and taken to a logical conclusion. My presumption is that in this particular case, the judges of the superior court — preferably from Federal Shariat Court — will be more at ease to discuss this case without the fear of reprisals. This will allow a platform on which to discuss the issue of blasphemy and the blasphemy law at length.
Source:
http://tns.thenews.com.pk/junaid-jamshed-time-to-revise-blasphemy-laws/#.VJfv8VANBrB
Out of my mind: The idea of Pakistan
Meghnad Desai
Indian Express
December 14, 2014
Jinnah's Pakistan was not a theocratic state. He was not religious and did not care for the ideology of Islam. The devout Muslims of Deoband and other seminaries were against the very idea of a Muslim state as it was contrary to the Quran. Jinnah wanted a liberal constitutional state with a Muslim majority.
Source:
National Review
Welcome to the world of the Pakistani Taliban: Tehrik-e-Taliban (TTP).
Blending Deobandi fanaticism with warped Pashtunwali traditionalism, despising individual freedom and intellectual curiosity, these fanatics found an Army school in Peshawar to be a tempting target. Some might be shocked by this attack, but I am not. This kind of rampage has been coming.
Source:
http://www.nationalreview.com/article/394855/pakistans-911-tom-rogan
Australia Cafe Lindt: How to demonize the Shia
ABNA
December 17, 2014
The tragic 'Siege In Sydney' by a Wahhabi terrorist was misrepresented to incite further hatred against the already targeted Shia muslim communities in Australia. Shias are being targeted worldwide by Wahabi and Deobandi terrorists from ISIS/Taliban/Boko Haram/FSA/Al Qaeeda/Ikhwan/ASWJ-LeJ. Hopefully, now Australia and the global community will realise the dangers posed to them by the radical Salafi and Deobandi extremists whose biggest targets are Shias and Sunni Barelvis and Sufis.
A friend based in Sydney called me early in the morning. A Shia, she married a Wahabi man some two decades ago after, what she now describes, "losing my sanity". Her husband had been in a permanent state of embarrassment because almost every act of Islamofascist terrorism anywhere in the world has involved Wahabis and/or Deobandis. Thus, when the Australian media informed its readers and viewers that Sheikh Monis was an Iranian, the man who took innocent Australians hostage in Cafe Lindt in Sydney's Martin Place, he went mad in excitement denouncing the Shias in veiled terms.
It was a gala time for Wahabi-Deobandis and their sympathisers in Australia who now (at last!) could 'prove' that terrorism is not a Wahabi-Deobandi monopoly.
The moment the Iranian (read: Shia) 'credentials' of Sheikh Monis were announced, Australia's Wahabis and their fellow Deobandis began to shout claiming that they (read: Wahabis and Deobandis) had nothing to do with the terrorists. The media in its ignorance claimed that the flag waved by the Sheikh was a Shia flag. Sydney's media told people that the Shia sect was a "Cult of Death". The black flag waved by the Sheikh was the "Shia flag of permanent mourning". The media did not tell people that the flag waved by the Sheikh is the flag of the al-Qaeda-backed terrorist group Al-Nusra that has been killing innocent civilians in Syria and Iraq.
Shia hatred is not new. The Shias have battled discrimination for centuries. They will continue to do so. However, those who live their lives based on Shia hatred have only blinded themselves. They live the lives of witches. Ultimately, those Establishment elements in Western countries that support the Wahabis and Deobandis are placing their own countries and lives of people all over the world in grave danger.
Source:
http://www.abna.ir/english/service/east-asia/archive/2014/12/17/658834/story.html
 Peshawar killings: Time cannot heal all wounds
The Taliban — as the Afghan Taliban have demonstrated in the past — have shown open hostility towards education, especially for girls, and displeasure when public school curriculums do not propagate Deobandi religious content found rampantly in Pakistan's religious seminaries. Targeting schools and places of worship not only reveals a disregard for human life but points to political terrorism and militant ideologies as the gravest global threat to nations where children, women or even minorities are not secure.
Source:
Massacre in Pakistan
Syed Jafar Askari
December 18, 2014
The Diplomat
In Pakistan, the madrassas, or religious seminaries, are regarded as breeding grounds for religious terrorism. There are more than 46,000 of these schools, mostly founded during the last three decades, which usually attract students from poorer classes. They are considered a major factor in encouraging extremism and militancy in Pakistan. A majority of the madrassas belong to Ahl al-Hadith and Deobandi schools. Usually these seminaries are funded by Arab countries, especially Saudi Arabia.
Undoubtedly, Pakistan has been a haven for extremists or Islamists militants belonging to various outfits, including Tehreek-e-Taliban Pakistan (Pakistani Taliban), al-Qaeda, Lashkar-e-Jhangvi, Jundallah, Jamaat ul Ahrar, Ahle Sunnat Wal Jamaat (ASWJ), and the Haqqani network. All of these radical groups follow the extreme political and religious views of Wahhabism or Deobandi fundamentalism. These groups have demonstrated their resilience, as they have been fighting the Pakistan army – the world's sixth largest army – since 2004.
Source:
Terrorism and domestic politics
G Parthasarathy
Dec 18 2014
Tribune India
In our public discourse on terrorism from territory under Pakistan's control, there has been a tendency to hold the military establishment as being solely responsible for the rise of terrorist outfits in Pakistan, as though the country's political parties are devoid of any responsibility for the burgeoning of radical Islamic groups in the country. The Deobandi-oriented Jamiat Ulema e Islam (JUI) headed by Maulana Fazlur Rehman has backed the Taliban in Afghanistan, Harkat ul Mujahideen in J&K and Jaish e Mohammed, responsible for the hijacking of IC 814 and the December 2001 attack on our Parliament. Pakistan Government assistance to the Taliban was organised by Benazir Bhutto's Interior Minister, Gen Nasrullah Babbar, when Maulana Fazlur Rahman was her political ally.  Jamat e Islami, a perennial ISI favourite since the days of General Zia, backs Hizbul Mujahideen in Jammu and Kashmir.
Source:
http://www.tribuneindia.com/news/comment/terrorism-and-domestic-politics/19267.html
We have cast-iron case against Mehdi Masroor Biswas: Cops
Sowmya Aji
Dec , 18th 2014
The reference is to the Salafi stream of Islam which, in Pakistan, is close to the Pakistan establishment and army, in contrast to the Deobandi stream to which the Taliban is said to belong. "From this we gather that for Biswas, Indian Muslims have accepted the Indian state as against the Islamic state which is ruled by Allah and the Sharia," the officer said.
Source:
http://articles.economictimes.indiatimes.com/2014-12-18/news/57196636_1_isis-indian-muslims-ideology
Beware the modern-day moral crusaders
19 December 2014
In the case of Pakistan, the full-scale civil war that jihadists have been waging against non-Deobandi Sunnis, secularists, Shia and Christians has barely registered in the Western media, despite the fact that 5,000 Pakistani soldiers have died fighting the Pakistani Taliban since 2008, while reports of American drone strikes have provoked outrage both in Pakistan and in the West. Local voices that supported drone strikes against the Taliban did not penetrate the anti-drone narrative.
Source:
http://sluggerotoole.com/2014/12/19/beware-the-modern-day-moral-crusaders/
Beware the modern-day moral crusaders
19 December 2014
In the case of Pakistan, the full-scale civil war that jihadists have been waging against non-Deobandi Sunnis, secularists, Shia and Christians has barely registered in the Western media, despite the fact that 5,000 Pakistani soldiers have died fighting the Pakistani Taliban since 2008, while reports of American drone strikes have provoked outrage both in Pakistan and in the West. Local voices that supported drone strikes against the Taliban did not penetrate the anti-drone narrative.
Source:
Mangal Bagh cronies held in covert Abbottabad raid
Samaa
Dec 21, 2014
Bagh is said to be a successor of Mufti Munir Shakir, a Deobandi cleric who established a pirate radio ministry in Khyber Agency in 2004 after being ejected from Kurram Agency by tribal elders for inciting sectarian hostility.
Source:
http://www.samaa.tv/pakistan/20-Dec-2014/mangal-bagh-s-cronies-copped-in-covert-raid
Evolution of the terror machine
The Asian Age
Maulana Fazlullah, whose name triggers revulsion across much of the subcontinent today, was once known Mullah Radio. His sordid story starts in 1989 in the beautiful Swat valley, where his father-in-law, a Deobandi cleric named Maulana Sufi Mohammad, founded an organisation called Tehrik-e-Nihaz-e-Shariat-e-Mohammadi (TNSM).
Source:
http://www.asianage.com/editorial/evolution-terror-machine-818
Deobandis – A reply to Akbar Ahmed Chaudhary
Ataa us Salam
Pakistan Christian Post
December 22, 2014
In my last article 'An introduction of Deobandi sect and its branches' I wrote the names of different branches of Deobandis (Ahl-e-sunnat- wal-jamat) and their activities. In its response a person named as Akbar A. Chaudhry of QeRN academy asserted that my article was completely wrong and requested the editor of Pakistan Christian Post to either amend or retract my article.
He claimed that terrorists have no faith but they are just terrorists. Apparently it seems a great idea and a large number of politicians and religious leaders who belong to Deobandi sect also cleverly claim the same. Unfortunately the reality has been different from it because after most bomb attacks in Pakistan, Taliban has been declaring it as their activity. These devils never hesitate in killing innocent people and taking its responsibility. They very proudly inform the international media about their bloody activities. Every person in Pakistan knows that Taliban follow the Deobandi school of thought.
All representatives of Taliban were Deobandis when they started talks with Pakistani government. Even they selected Maulana Abdul Aziz who was the Imam of Lal Masjid (Red Mosque) and leading many hate preaching activities in Pakistan.
In Croydon city centre, where we hold Ahmadiyya preaching (tabligh) stall on every Saturday, members of Khatam-e-Nabuwwat group come and very proudly claim those terrorists as their members who have killed dozens of Ahmadis. They also openly say that they wish if that they could burn all books of our stall including Holy Quran if they get a chance to do so. I have no doubt that this satanic sub-group of Deobandis attain enlightenment from Pastor Terry Jones. Their philosophy basically starts at hate and ends at death and nothing else.
Source:
http://www.pakistanchristianpost.com/viewarticles.php?editorialid=2212
Women say they can get better jobs if they have better public transport
Pakistan Today
23rd December 2014
Dr Naeem Ahmed, Assistant Professor of Department of International Relations, University of Karachi presented a detailed case study of Karachi and how the periodic violence and crime affected the economy. 'Many conflicts in Karachi flourish under political umbrella. Increasing migration in Karachi changes the demography of the city', he said. Four waves of migration were discussed by him. According to Dr Naeem, sectarian conflicts in Karachi are more pervasive. 'Afghan war and Zia's formation of Deobandi Medrassas in the city added a new chapter of violence. Later, Due to US war on terror thousands of Taliban sneaked into Pakistan and many made their way to Karachi and joined Deobandi medrassas', he said. 'There are reportedly 40 splinter TTP groups operate in Karachi and ISIS has also made inroads', he added.
Source:
http://www.pakistantoday.com.pk/2014/12/24/city/karachi/women-say-they-can-get-better-jobs-if-they-have-better-public-transport/
The idea that created Pakistan
Dawn
December 25, 2014
The Jamiat Ulema Islam Hind (JUIH) was a well organised party of Deobandi ulema and clerics who were opposed to the League's notion of Muslim Nationalism, even though some of its leaders broke away and began to support the League's calls for a separate Muslim homeland.
Source:
http://www.dawn.com/news/1153105/the-idea-that-created-pakistan
You Are Free
The Nation
December 25, 2014
Pakistan, as it exists ideologically, is facing a crisis of existence, and not putting up a fight to survive. A country based on hatred of other religions that do not see eye to eye with Deobandi and Salafi schools of thought will never allow its people to live as citizens; what to talk of citizens having equal rights. Sunni radicals and their sympathizers can be found in the police, judiciary and government. Pakistani Christians and Ahmadis are routinely and disproportionately accused of blaspheming. Pakistan is home to some 2,000 Hindu temples that are at least a century old.
Source:
http://nation.com.pk/editorials/25-Dec-2014/you-are-free
Peshawar attack: they ripped my heart out
Daily Times
December 25, 2014
The TTP has a Deobandi doctrinal hue but Fazlullah's own creed remains Salafi due to his education at the Panjpir madrassa (seminary) that was established and run by the security establishment's darling, Maulana Tahir Shah. Another Panjpir alumnus, Jamilur Rahman, founded the Salafi emirate in Kunar and Nuristan in the 1980s and later served as the Taliban's shadow governor till he was killed in 2012 by the International Security Assistance Force (ISAF) and Afghan National Security Forces (ANSF). Large pockets of active Salafi support still remain in Afghanistan's northwest. Not coincidentally, another set of the 'good' jihadists, the Salafist Jamat-ud-Dawa (JuD)/Lashkar-e-Tayyaba (LeT), trained in Kunar and Nuristan clear up to 2001.
Source:
http://www.dailytimes.com.pk/opinion/25-Dec-2014/peshawar-attack-they-ripped-my-heart-out
A terrorism overview
Daily Times
December 25, 2014
In December 1979, the USSR invaded Afghanistan in order to support pro-Soviet forces and to crush the anti-Soviets. The western bloc, led by the US and its NATO allies along with Pakistan, China and Saudi Arabia, also rose to the occasion. Pakistan was centre-stage due to its important strategic location. Training camps were established near the Pak-Afghan border. Saudi Arabia used its religious stature and influence in the Islamic world to spread the slogan of holy war against the Soviets. Hundreds of thousands of Muslim motivated youth from all over the world were brought into FATA, where Pakistan and the CIA trained, equipped and launched them into Afghanistan to fight the 'holy war' against the Soviets. A chain of Deobandi madrassas (seminaries) was established across Pakistan. Religious figures and parties in Pakistan were funded with millions of dollars and given a huge central role to combat the Soviets in Afghanistan. This situation created a militancy culture in Pakistani society where every youth felt proud to own an AK-47 and be termed a mujahid (holy fighter). Deobandi seminaries, religious figures and parties with Pakistan's security establishment backing were at the forefront to brainwash the youth for jihad. General Akhtar Abdur Rehman, being the mastermind of this ISI-CIA joint venture, broke the back of the USSR in Afghanistan through one of the best guerilla wars fought on earth.
Source:
http://www.dailytimes.com.pk/opinion/25-Dec-2014/a-terrorism-overview
Comments
comments