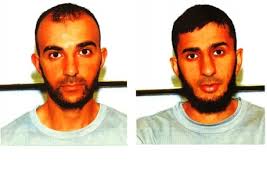 Two jihadist brothers have become the first Britons to be jailed for going to Syria to attend a terrorist training camp.
Hamza Nawaz, 24, and Mohommod Nawaz, 30, took photographs and videos of themselves as they travelled via France and Turkey to the war-torn state in August last year.
They were caught on their way home weeks later at the port of Calais where officials who searched their car found the older brother had stashed a "trophy" from their time there – five AK-47 bullets.
At a hearing at the Old Bailey today, the the younger brother was jailed for three years. The older sibling and "prime instigator", who was out of prison on licence at the time, was sent down for four-and-a-half years by judge Christopher Moss QC.
The judge said they had trained at the camp in support of rebels but there was no evidence they had actually engaged in fighting.
Prosecutor Kate Wilkinson told the court the family of the brothers had reported them missing on August 25 last year after they failed to come home from a night out in Walthamstow, east London.
They claimed they had gone to Scotland to do charity work despite a text from Hamza to say: "we've left to come to Syria. We know everyone will be angry with what we've done but its something we wanted to do."
Ms Wilkinson suggested the brothers did not want to tell their family in advance because Mohommod was on licence having been jailed for six years in 2009 for blackmail, false imprisonment, kidnap and wounding.
When they were stopped on a ferry back to the UK on September 13 last year, a search uncovered five 39mm rifle cartridges for use in an AK-47 type rifle, mobile phones, a balaclava, heavy duty clothes and travel documents.
Details of their travel plans to go by car to Lyon in France and then by air to Turkey bound for the Syrian border were found on a laptop in the bedroom of the older brother.
Police also uncovered 19 photographs and videos from their time in Syria on an iPhone, the court heard.
There were several pictures of Mohommod posing in camouflage kit with an AK-47 rifle and a video clip showing road signs for Aleppo, East Al Bassett and Latakia.
Another video of the defendants crossing a river in a small boat and into Syria from Turkey was of "real significance", Ms Wilkinson said.
Someone waiting to cross asked them: "Who do you support?" and they replied: "Junud Al-Shaam" meaning Soldiers of Damaskus, an extremist group in Syria. Then asked if they were there for jihad, they say "Jihad. Yeah".
Police also found an image on the phone of a timetable for a typical day at the training camp including "military training" and "Islamic lessons".
The training day started at 4.30am and ended at 10pm with "lights out (everyone in rooms except for Rabit") – in reference to guard duty against enemies of Islam.
Ms Wilkinson said: "It is plain that the defendants kept their trip a secret from many friends and members of their family but had revealed to some their true purpose."
The men, who are British of Pakistani origin, sent texts to friends letting them know they were in Syria. One friend sent a message saying: "Wat is camp like? Hw many of is der?….send me some pics of both of you and the scenery!"
The prosecutor said the defendants shared an "extremist ideology" and this was borne out by internet searches that had been made.
However, defending Mohommod, Imran Khan said the trip was "amateurishness in the extreme".
He went to Syria because he was sympathetic to the rebel cause and to "force" his then girlfriend to marry him, the lawyer said.
Mr Khan added: "He thought what they were doing at the time was not unlawful."
Michael Ivers, defending trained mechanic Hamza Nawaz, argued that the case was at the lower range of seriousness because they were not training to oppose anyone in the UK or coalition forces abroad.
He said: "It looks like a pretty hastily made decision by my client's older brother and my client having lost his job decided to join him. It is not well planned. It is not particularly sophisticated.
"These young men having gone out there full of ideological recklessness of youth had looked around and found out they have bitten off more than they can chew. "
Following the hearing, Counter Terrorism (SO15) Acting Commander Terri Nicholson, said it was "the first in a series of landmark sentences" for travelling to Syria to attend a terrorist training camp.
At an Old Bailey hearing in May, both men, from Stratford, east London, pleaded guilty to conspiring to attend a place used for terrorist training between January 1 2012 and September 16 2013.
Mohommod Nawaz also pleaded guilty to having ammunition without a firearms certificate in relation to the "trophy" bullets found in the gun.
The maximum sentence for attending a terrorist training camp is 10 years in jail.
Source:
http://www.independent.co.uk/news/uk/crime/british-brothers-jailed-for-training-at-terrorist-camp-in-syria-9885632.html