Asma Jahangir and the dancing women in PTI's rallies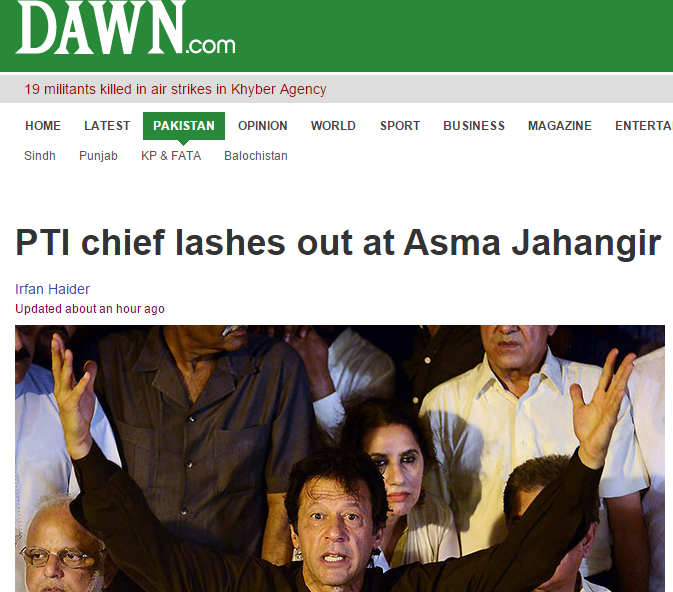 According to Dawn: "Asma Jahangir in a talk show on Monday night said that the PTI sit-ins were characterised by dancing and in a separate comment talked about women's participation." http://www.dawn.com/news/1143896/pti-chief-lashes-out-at-asma-jahangir
Is that how she denigrates female political activists in Pakistan? Is she any better than Fazl-ur-Rehman and Mufti Naeem, the bigoted Deobandi clerics who issue similar derogatory statements against female political activists?
Her personal friendship with Najam Sethi, Nawaz Sharif and Punjabi Deobandi elites has completely blinded her?
Why are Desi liberals and champions of women's rights silent on on Asma Jahangir's derogatory remarks against female activists of PTI?
One may not agree with Imran Khan's criticism of Asma but how can one agree with Asma's attack on female political activists of PTI? Shame!
Asma Jahangir insulted political female activists of PTI reducing their political struggle to dancing. How's she any better than Fazloo and other misogynist mullahs?
Related posts:
تحریک انصاف کی سیاسی خواتین کارکنوں پر تنقید اور شیر مارکہ لبرلز – از عمار کاظمی https://lubpak.com/archives/321314
اعتزاز احسن اورعاصمہ جہانگیر کے نام کھلا خط – از عمار کاظمی https://lubpak.com/archives/321995
نواز شریف حکومت کی ریاستی بربریت کے طوفان میں عاصمہ جہانگیر اور دوسرے کمرشل لبرلز بے نقاب ہو گئے – عامر حسینی https://lubpak.com/archives/321915
Comments
comments