Notes of an Indian Deobandi Jihadi – by Praveen Swam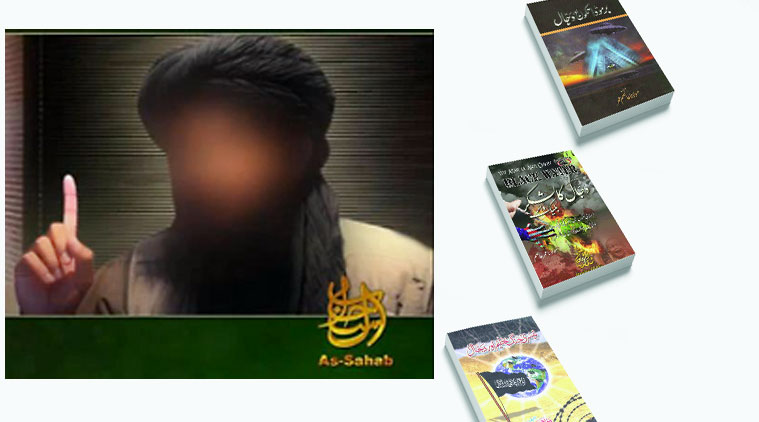 Covers of books authored by Maulana Asim Umar. His Dajjal, printed on high-quality paper, has run into eight print editions in Pakistan.
Coca-Cola's bright red logo, splashed across half a page. That's the image that screams out from the dense exegesis on global jihad that is Maulana Asim Umar's book Blackwater: The Army of Antichrist. Just below is the logo again, this time as its mirror image. "Look," writes the cleric who heads al-Qaeda's branch in the Indian subcontinent, "it reads, 'Without Muhammad', and 'Without Mecca'."
Maulana Umar's writing, arguably the largest body of intellectual work by a South Asian jihadist, does not contain exhortations to become suicide bombers, or to behead unbelievers. Instead, it calls for the dismemberment of the modern world itself.
Early on September 4, India time, al-Qaeda leader Ayman al-Zawahiri had issued a video announcing the formation of a new wing of his terror group, dedicated to waging jihad in the subcontinent. The Jamaat Qaidat al-jihad fi'Shibhi al-Qarrat al-Hindiya, or Organisation of The Base of Jihad in the Indian Subcontinent, would be led by Maulana Umar, al-Zawahiri announced.
Last month, The Indian Express was the first to report that Maulana Umar could be an Indian national. He is said to have studied at the famous Dar-ul-Uloom in Deoband — the seminary, however, said its records don't show him as  a student — before emigrating from the country in the late-1990s.
As his books show, for Maulana Umar, the Apocalypse is upon us — it is an experienced reality, not a metaphor.
In The Third World War and the Dajjal, or Antichrist, he describes omens of the reign of the Devil, a time that he says has crept up on us: "The propaganda during his time would be so ghastly that the truth would be presented as falsehood and the falsehood would be presented as the truth, and this twisted reality broadcast to the entire world."
The Dajjal, Maulana Umar continues, obtains power by obscuring the truth of our condition from us. "This so-called civilised world," he writes, "is built on lies; so much so that even educated people take these lies to be the truth. Even if entire books were to be written about lies, propounded through the media of the disbelievers, their authors would soon tire".
He notes that the "gravity of the Dajjal's strife can be realised from the fact that even Prophet Muhammad used to seek refuge from his deceptive ability".
Maulana Umar cites prophecy that the Apocalypse would be preceded by a time when "the sky would rain and the earth yield crops, but neither would benefit the people, who would face drought". This, he says, is precisely what is happening, as a result of "policies concocted by the Jews".
It is clear that there is an audience for Maulana Umar's vision of the modern world as continued…
Source:
http://indianexpress.com/article/india/india-others/notes-of-a-jihadi/
Comments
comments