The Globe and Mail: Pakistani Deobandi terror outfit ASWJ sending activists to Canada on a secret mission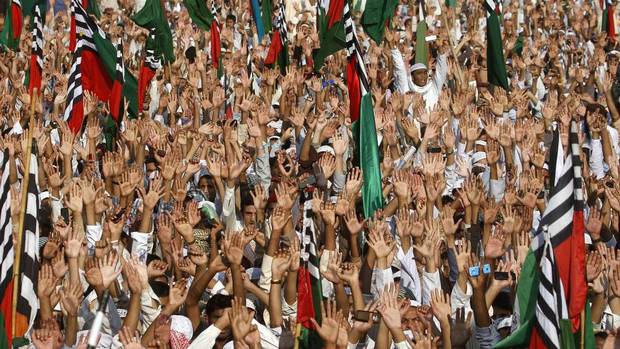 An immigrant computer programmer accused of being part of an overseas terrorist organization claimed he was sent to Canada on a secret mission, according to an alleged audio recording recovered by police.
A federal tribunal also heard Friday that Muhammad Aqeeq Ansari, a 30-year-old Pakistani citizen with permanent residency status in Canada, said he worked for an extremist group known as Ahl-e-Sunnat Wal Jamaat.
Federal officials, who claim to have access to about 1,500 messages Mr. Ansari posted on extremist Internet forums in the span of a decade, also say they have evidence showing he maintained a key website for the ASWJ and set up a PayPal account for the group. That PayPal account was also allegedly used to purchase a thermal night vision camera kit and other spy equipment.
The ASWJ, which is made up of militant Sunni extremists in Pakistan who frequently denounce or attack members of other Islamic sects, is listed as a terrorist organization in Pakistan and the United Kingdom, but not in Canada.
Mr. Ansari has legally lived and worked in Ontario since the late 2000s. But federal officials arrested him last month, alleging he is a threat to national security who should be jailed until he can be deported to his homeland. That arrest occurred in the wake of the slaying of two Canadian Forces soldiers, killed in separate attacks in late October by two alleged extremists.
Mr. Ansari has never been accused of links to any acts of violence. Last year, he was forced to surrender 12 legal guns – including several assault rifles – on the grounds he was not storing them safely. He was given a conditional discharge for these criminal charges, with no jail sentence.
The inadmissibility case against Mr. Ansari that is now before Canada's Immigration and Refugee Board is in many ways a standard deportation hearing. Yet the details and investigative effort behind it – including specialized counterterrorism detectives, and volumes of seized electronic messages – exceeds what's typical in such cases.
Anser Farooq, a lawyer involved with the case, told The Globe that materials in the case show that Mr. Ansari was of interest to police before he was arrested by immigration officials. He said Mr. Ansari was considered a person of interest to an RCMP Integrated National Security Enforcement Team in Ontario — an investigative effort known as "Project SeaShell." No other details about this case are known.
The deportation bid "makes no sense" in this context, Mr. Farooq said. He argues that the federal government needs to explain why it is seeking to deport Mr. Ansari, rather than prosecute him for any alleged criminal offences under the Anti-Terrorism Act.
"If he is what you say he is, you're going to send him abroad so he causes more problems? Is that the objective here?" Mr. Farooq said. "Let's have him dealt with in the criminal justice system, have a judge decide if he did something wrong or not and if he did, put him in jail."
Jessica Lourenco, counsel for Canada's immigration minister, told the tribunal that Mr. Ansari allegedly posted many Internet statements of support for the ASWJ and its leader Maulana Muhammad Ilas Ghuman. She said some of Mr. Ansari's electronic messages indicate he worked directly with Mr. Ghuman.
"This is… a longtime membership in this organization and an expression of extremist views," she said. The Ahnaf.com site he helped set up, she added, was used to spread "the beliefs of ASWJ to the public."
She said Mr. Ansari's ties to the ASWJ go back to when it was known by another name, Sipah-e-Sahaba or the SSP. "When I used to work with the SSP I used to be very passionate," Mr. ANsari allegedly wrote in one Internet posting. Authorities also say he was once caught throwing out a stack of ethnic-press newspapers in Canada, papers in which the SSP was referred to as a terrorist group.
Ms. Lourenco did not give much details about the audio recording in which she said Mr. Ansari was caught saying he was sent to Canada from Pakistan on a secret mission.
She said it was recovered from a mosque, but she did not say which mosque, who made the recording or how the RCMP got ahold of it. The actual audio was not produced at the tribunal hearing on Friday.
Records related to the case indicate that Mr. Ansari was first reported inadmissible to Canada on Aug. 8 of this this year but wasn't arrested as a potential deportee until last week.
At the conclusion of Friday's hearing by the Immigration and Refugee Board, he was denied bail for a second time.
Mr. Ansari is being charged under the national-security provisions of Canada's Immigration and Refugee Protection Act. IRPA cases can take several years to complete in Canada. Typically suspects, even those accused of being national-security threats, are not detained in jail beyond a few months.
Source:
http://www.theglobeandmail.com/news/national/arrested-ontario-man-said-he-was-sent-to-canada-on-secret-mission-board-hears/article21506566/?service=mobile
Comments
comments