Deobandi militant group threatens to kill Maulana Fazlur Rehman and Bilawal Zardari – Amir Mir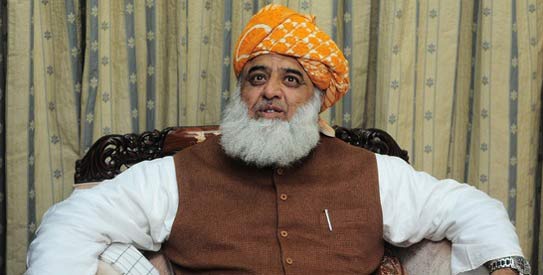 ISLAMABAD: Maulana Fazlur Rehman is not the only politician to be on the hit list of Jundallah, a sectarian-cum-jehadi subsidiary group of Tehrik-e-Taliban Pakistan (TTP), which has claimed responsibility for the failed attempt to kill the JUI-F leader in a suicide attack on October 23 in Quetta. PPP chairperson Bilawal Bhutto also faces threats to his life from the Pakistan chapter of Jundallah (or the Army of Allah).
While the group is sometimes confused with a terrorist organisation in Iran's Sistan and Balochistan, no definitive proof has ever emerged regarding the linkage between the two apparently distinct outfits. Claiming responsibility for the failed assassination attempt on Fazlur Rehman, after a public meeting, which killed two of his supporters, Jundallah spokesman Ahmed Marwat said in a telephone call to AFP: "We very proudly claim responsibility for the Quetta suicide attack on Maulana Fazlur Rehman, and we will do it again. The Maulana was targeted because of his pro-democracy views and because he has been speaking and acting against us." On the other hand, Maulana Fazal has said that he has never heard of Jundallah before. Interestingly, while Jundallah wants to kill a religio-political leader like Fazlur Rehman, who had been tagged as the father of Taliban by the western media in the past, it also wants to target a liberal and secular Bilawal Bhutto Zardari, who openly challenges the Taliban mafia and makes a mockery of their extremist ideology, for they killed her courageous mother, Mohtarma Benazir Bhutto Shaheed.
As Bilawal Bhutto had decided to hold a gathering of his party supporters at the mausoleum of Mohammad Ali Jinnah in Karachi on October 18, he was warned against doing so due to grave security threats to his life from several jehadi groups, especially Jundallah. Hardly four days before his Karachi public meeting the Sindh Home Department wrote a confidential letter about a terror plot being orchestrated by Jundallah to target Bilawal in Karachi with the help of a human bomb. Subsequently, the Pakistan Rangers headquarters and the office of the Inspector General of Sindh Police were directed by the Sindh government to ensure foolproof security for the PPP chairperson on October 18. Almost six months ago, Bilawal had himself tweeted about threats he had received from the Lashkar-e-Jhangvi. In a tweet posted on March on 27, 2014, Bilawal warned that he would hold the Punjab government responsible for any attacks, especially, if they failed to act against the banned outfit. The original tweet read: "Received threat letter from LeJ. Will hold Punjab govt responsible for LEJ (sic) attacks if Sharif continued to give them protection and refuse to take action against it."
Those investigating the Quetta attack on the JUI leader insist that the Jundallah, TTP and LeJ are inter-linked. Jundallah is one of the dozen-plus several subsidiary jehadi groups of the Tehrik-e-Taliban, most of which operate in Karachi under different names, including Tehrik-e-Islami, Lashkar-e-Muhammadi, Lashkar-e-Islami, Mehdi Militia, Hezbollah, Kharooj, Tawheed Brigade, Al Mukhtar Group, Punjabi Mujahideen, Asian Tigers, Jundul Hafsa and Lashkar-e-Jhangvi Al-Alami. An intriguing common aspect in the profiles of most of its members is their past association with the Jamaat-e-Islami Pakistan and the Islami Jamiat Tuleba. To tell the truth, the Pakistani Jundallah was established in 2003 by a former Islami Jamiat Tuleba leader Sheikh Ataur Rehman alias Umer alias Ibrahim aka Zubair, who holds a Master's degree from Karachi University in Statistics.
Ataur Rehman was assisted in recruiting youngsters to wage 'jehad' by Karachi's Dr Arshad Waheed, an orthopaedic surgeon, his brother Dr Akmal Waheed, who too was a neurosurgeon and Engineer Ahsan Aziz. These three were not only active members of the Jamaat-e-Islami Pakistan but also had close links with al-Qaeda which were proved later. While Ataur Rehman is currently imprisoned at Karachi Central Jail after being convicted by an Anti-Terrorism Court, Arshad Waheed was killed in a US drone strike in South Waziristan in March 2008 and Engineer Ahsan Aziz was droned in North Waziristan in August 2012. While Ahsan's funeral prayers were led by the then Jamaat-e-Islami chief, Qazi Hussain Ahmed, the then chief operational commander of al-Qaeda Mustafa Abu Yazid gave a eulogy for Dr Arshad in a video message.
Ataur had links not only with Tehrik-e-Taliban and Lashkar-e-Jhangvi leaders but also with al-Qaeda people in Waziristan, especially with Hawza al Jawfi alias Haji Mumtaz, an Egyptian who used to run Jundallah after Ataur's arrest. Jawfi was also killed in a drone strike in Karikot near Wana in South Waziristan. Most members of the Jundullah are residents of Karachi who had previously been working with different other terrorist outfits, before finally travelling to South Waziristan where Joffi had recruited them for training in terrorism. Ata and his comrades had travelled to Wana, the largest town in South Waziristan, in October 2003, from where they were taken to the Shakai area for training in terrorism by al-Qaeda men. Ata revealed during questioning after his arrest that his brigade was tasked to target Westerners, foreign missions and officers of the Army, the Rangers and the Karachi police officials.
Even today, their targets are no different. The Karachi police have already concluded that the September 25, 2014, suicide attack on the bullet proof vehicle of SSP Farooq Awan [who is head of Special Investigation Unit], outside Gizri Graveyard in Karachi was a joint operation carried out by Jundallah and Lashkar-e-Jhangvi. Jundullah, which had emerged in the wake of the 9/11 attacks, has a long and gory history. Initially, patronised by Taliban commander Nek Mohammad [who was droned to death in 2004 in South Waziristan], the Pakistan chapter of the group is reputed to draw its cadre from the educated and professional classes like doctors and engineers. Jundallah mostly comprises elements of the now banned sectarian and jehadi outfits which have turned their wrath on Pakistani establishment in the wake of Gen Pervez Musharraf's U-turn on Jehad-e-Kashmir and Jehad-e-Afghanistan by becoming a US ally in the war on terror following the 9/11 attacks.
The failed assassination attempt on Fazalur Rehman is not the only incident for which Jundallah has claimed responsibility. The group had already claimed responsibility for killing 10 foreign climbers [on June 23, 2013] at a base camp of the Nanga Parbat, the second highest mountain in Pakistan after K-2. Ten foreign mountaineers were among 11 persons killed, when terrorists who were wearing uniforms of the Gilgit Baltistan Scouts, attacked Nanga Parbat base camp in the Bonar area of Diamer District and shot the climbers and a Pakistani guide at point-blank range. The victims included an American national, three Ukrainians, two Slovakians, two Chinese, a Lithuanian and a Nepalese. The attack was claimed by the TTP spokesman, saying it was carried out by an affiliate of the TTP – Jundallah.
Jundallah had once again claimed responsibility for the September 22, 2013, twin suicide bomb attacks targeting All Saints Church in Peshawar, in which 127 people were killed and over 250 injured. It was the deadliest attack on the Christian minority in the history of Pakistan.
However, the only act of terrorism for which Jundallah militants had been convicted remains the June 10, 2004 bomb attack on the cavalcade of the then Karachi Corps Commander Lt Gen Ahsan Saleem Hayat. While the corps commander had a narrow escape in the attack on the old Clifton bridge 12 people, including eight military personnel, were killed in that ambush. Subsequent investigations revealed the involvement of Jundallah, which at that time was led by Ataur Rehman and patronised by the South Waziristan-based Taliban commander, Nek Mohammad. Barely six days after the botched attack, Nek was killed in the first ever US drone strike in Pakistan, on June 17 2004.
However, as Justice Feroz Mehmood of the Anti Terrorism Court in Karachi sentenced to death 11 Jundallah militants in the corps commander attack case on February 20, 2006, they chanted slogans of 'Allah-o-Akbar'. "Such convictions cannot stop us from waging jehad. The death penalty is an honour for us. If one Ata dies, another will be born in this way of jehad," Ataur Rehman told newsmen after being sentenced.
Source:
http://www.thenews.com.pk/Todays-News-2-280409-After-Fazl-Jundallah-wants-to-attack-Bilawal
Comments
comments