Darul Uloom Deoband is like Oxford or Harvard – Hamid Mir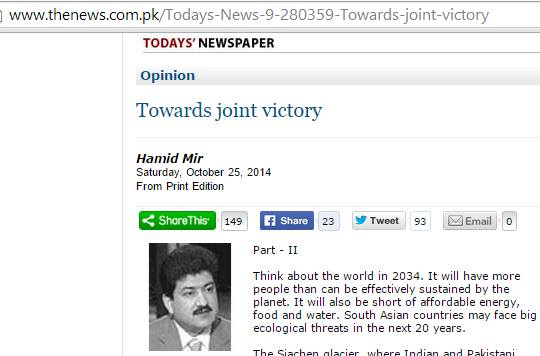 Deoband for peace, the Hamid Mir Model: Hamid Mir, an icon of SAFMA and Aman ki Asha, wants the people of India, Pakistan and Afghanistan to study at the Darul Uloom Deoband for the Harvard-Oxford level of education and to build lasting peace in the region. This is a classic example of what exactly is wrong with projects such as SAFMA and Aman Ki Asha, the Deobandi establishment led proejcts of deception and hypocrisy.
In his article in The News, Mir writes:
"The good news for India is that if the Afghan Taliban are ready to talk to the US and they are allowed to establish an office in Qatar, it means some positive vibes could flow…..South Asian countries must open the doors of educational institutions for each other. Many Pakistanis and Afghans would love to study in the Darul Aloom Deoband in Saharanpur India. This religious institute is like Oxford or Harvard for a particular school of thought. We can further explore possibilities for joint education projects. These three countries can defeat terrorism and extremism with the help of education, cricket and music."

Towards joint victory — Hamid Mir
The News, Saturday, October 25, 2014
http://www.thenews.com.pk/Todays-News-9-280359-Towards-joint-victory
Comment by Syed Riaz Al-Malik Hajjaji:
I welcome this great proposal by my hero is Hamid Mir al-Deobandi al-Salafi who supports oppressed Taliban and oppressed OBL Shaheed and equates Mama Qadeer with Mama Ramzan Mengal. He forgot to mention how Ramesh from Madhya Praddesh will leave Madras IIT to study at Deobandi Harvard Jamia Binoria and how Joseph Seth will apply for D Cambridge Jamia Akora Khattak/Haqqania. Here, Hamid Mir will personally escort Indian students to the lectures of his friend ASWJ-LeJ chief Ludhyanvi Deobandi who will educate them on Noora Democracy, PCO judiciary and how to commit Genocide
Meanwhile King Edward College, LUMS, IBA, AKU students will all abandon their studies here and instead of applying for IITs, IIBs, they will flock to Zakir Naik to learn Salafi Sonnets in praise of Hazrat Syedna Yazeed and while Hamid Mir and Tahir Ashrafi will go on Dossa rampage and Tahir Ashrafi will sample the local toddies
Hamid Mir will also start debating former Indian Supreme. Court judge Markandey Katju for why he have temerity to criticize PCO Chaudhary – the God of Pakistani Jihadis, secular sectarians and Deobandi atheists and Marxists. Nawaz Sharif will quickly register 500 more shell companies which will do "trade" with India and of course pay no duty and be financed by Pakistani exchequer
Urdu Video: Pakistani Deobandi cleric criticizes Indian Wahhabi Salafi cleric Zakir Naik and explains the difference between search and research.
Deobandism = Idiocy
Comments
comments