We condemn massacre of eight Saraiki labourers by BLA terrorists in Balochistan
We condemn massacre of eight innocent, poor Saraiki labourers the BLA terrorists in Balochistan. The so called Balochistan Liberation Army (BLA) terrorists are no better than Deobandi ASWJ-LeJ terrorists when it comes to massacre of innocent people. http://jang.com.pk/jang/oct2014-daily/19-10-2014/index.html
We condemn systematic attakcks on non-Baloch settlers, particularly those of Saraiki, Punjabi, Mohajir, Sindhi and Pashtun backgrounds, by the BLA and other nationalist militants whose attacks on non-combatant civilians amount to war crimes and human rights violations.
According to Dawn newspaper (http://www.dawn.com/news/1138981/bodies-of-seven-labourers-recovered-in-balochistan):
QUETTA (19 Oct 2014): Police on Sunday recovered the bullet-ridden bodies of seven labourers in the Lasbela district of Balochistan province, an official confirmed. A police official based in Hub who declined to be named told Dawn that militants had kidnapped nine labourers from a poultry farm in Sakran area. He said police later found the bullet-ridden bodies of seven of the labourers. There was no information regarding the other two abductees.
"This seems to be targeted killing," the police official said.
He added that local residents had claimed that the armed men easily managed to flee from the poultry farm in their vehicles.
No one had claimed responsibility for the incident till the filing of this report. In the past Deobandi ASWJ-Junduallah terrorists have been target killing Suni Sufis and Shia Muslims in Balochistan while Baloch BLA terrorists have been target killing non-Baloch settlers in the province.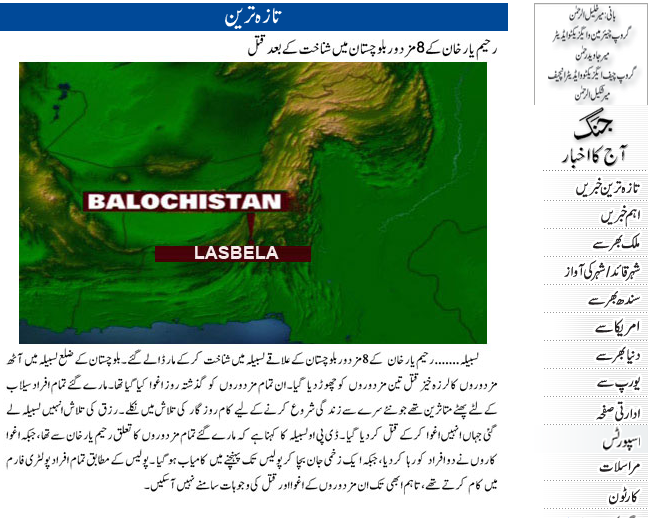 Comments
comments