Saudi Arabia, Qatar funding extremism: British commander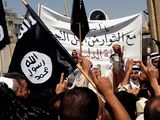 A former British commander in Iraq says that Saudi Arabia and Qatar are accountable for globally spreading extremism.
In a recent interview with The Telegraph, General Jonathan Shaw said that both of the Arab states have ignited a "time bomb" by funding extremism that has triggered the rise of the ISIL.
Britain's former Assistant Chief of the Defense Staff went on to say that the two countries have spent billions of dollars on funding Wahhabi and Salafist militant groups.
Shaw also said Qatar and Saudi Arabia's rulers, who are now more threatened by their creation than any other countries, must lead an ideological struggle against the ISIL terrorists.
The former commander also referred to the current military campaign against the ISIL as "futile" unless the underlying Takfiri ideology was also directly tackled.
"It (this ideology) is funded by Saudi and Qatari money and that must stop," he added.
The US and its allies, including Saudi Arabia, Bahrain, the United Arab Emirates (UAE), Qatar and Jordan, have been conducting airstrikes against the ISIL inside Syria without any authorization from Damascus or a UN mandate for over two weeks.
According to a report published by The Telegraph, wealthy individuals in the Persian Gulf region have raised tens of millions of dollars for terrorist groups. The report also says Arab leaders have either chosen to ignore the problem or are complicit in the funding of the terrorists in Syria and Iraq.
The ISIL terrorists currently control large swathes of territory across Syria and Iraq. They have carried out heinous atrocities in both countries, including mass executions and beheadings of people.
Source:
http://www.presstv.ir/detail/2014/10/08/381538/saudi-arabia-qatar-funding-extremism/
Comments
comments