Media discurse on Deobandi terrorism 15 Sep – 4 Oct 2014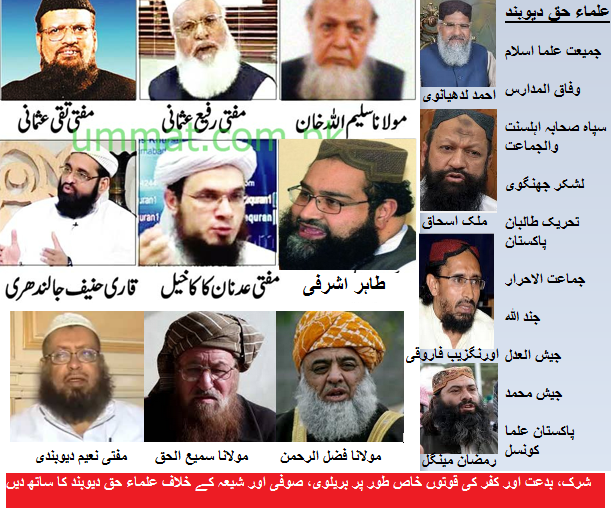 The great South Asian schism
Daily times
October 01, 2014
The Deobandi madrassa (seminary) and its alumni were the first repository of this deadly contagion, as their founding maulanas had visited Wahabi madrassas in Saudi Arabia and had their beards dyed fully red.
Source:
http://www.dailytimes.com.pk/opinion/01-Oct-2014/the-great-south-asian-schism-ii
Global Wahhabi and Deobandi terrorism: Lessons from the past
Jenny Holland
30 September 2014
And in Pakistan, which has been living through what amounts to a sectarian civil war for several years now, Sunni radicals (often referred to as Deobandi) continue their campaign of murder, mostly unnoticed by the mainstream western press. Shockingly, an explosion on Sunday at a displaced persons camp in North West Pakistan seemed to go totally unreported by Western outlets, despite the death toll climbing to 8 people, including several children.
So let's go back to the basics. "Politics is war without bloodshed, war is politics with bloodshed," said Mao Tse-Tung. By Mao's logic, and the man knew what he was talking about in this arena, air assaults and even boots on the ground will not defeat the Islamic State in Syria/Iraq, the Taliban in Afghanistan or the Deobandi in Pakistan. Opening up new battle spaces really just opens up more opportunities for the theological gunmen.
Source:
http://sluggerotoole.com/2014/09/30/lessons-from-the-past/
Redical Islam, Israel and Agitprop
September 28, 2014
The major Muslim countries in Asia — Pakistan and Indonesia — were not especially present in the news. Pakistan declared Islam as its state religion in 1949: most Pakistani Muslims belonged at the time to the Barelvi movement, much influenced by Sufism. The Deobandi movement, inspired by Wahhabism, was not politically influential. And in Indonesia, the main Muslim groups — Nahdlatul Ulama and Muhammadiyah — advocated religious moderation.
Source:
http://www.gatestoneinstitute.org/4721/radical-islam-israel-agitprop
AlQaeda In the Indian Sub Continent
September 27, 2014
Daily times
Maulana Asim Umar, the head of AQIS, is a recognised yet elusive name in jihadist circles in Afghanistan and Pakistan. In his video sermons on online forums, his face remains hidden. He was formerly associated with the Harkatul Mujahidin (HM), a militant group operating in Indian occupied Kashmir. A Sunni Deobandi scholar and firebrand speaker, he specialises in Islamic eschatology. Umar is the author of various books in Urdu, including Third World War and the Anti-Christ, Black Water: The Anti-Christ's Army and The Battle of Religions: Islam or Democracy. He has emerged as an important ideologue for the Tehreek-e-Taliban Pakistan (TTP) and al Qaeda in this region
Source:
http://www.dailytimes.com.pk/opinion/27-Sep-2014/al-qaeda-in-the-indian-subcontinent
Terror bid foiled in capital, 9 held
September 27, 2014
The Nation
The source said TTP was being given active support by seminaries in Rawalpindi and Islamabad, arguing that mosques in the capital had become safe havens for miscreants.
"Seminaries in Islamabad, particularly those being run by clerics of Deobandi school of thought, extend support to TTP," a police official told The Nation.
Source:
The Rise of Lashkar-e-Taiba: A Q&A with Arif Jamal – by Benazir Shah
Foreign Policy
26,September 2014
S: And what, if any, is the nexus between JuD and other terrorists groups in Pakistan?
J: In the last two years, the Tehreek-e-Taliban Pakistan's chief, Mullah Maulana Fazlullah, has started to espouse Saeed, ideologically. Remember that most of the jihadists groups in Pakistan follow the Deobandi sect of Islam, not the Salafist, which is the faith that rules the behavior of JuD. But they can become JuD's natural allies when the latter turns against the Pakistani state. Iraq and Syria are a case in point. Here several divergent groups amalgamated under the banner of the Islamic State. So if JuD decides to set up a caliphate in South Asia, many outfits will support this ominous development.
But let's talk about Fazlullah again. He is not an ardent follower of Deobandi Islam, and has drifted closer to Salafism over the years. His father-in-law actually trained in a JuD camp in Afghanistan. One more thing, to further explain the imprint of JuD in the way modern terrorists wage war. Dawa, in fact, revived the tradition of beheading in the 1980s during the Afghan War.
S: What role, if any, can Saeed play in Afghanistan after military drawdown?
J: The Pakistani military is disillusioned with the Deobandi jihadist groups. These terrorists have turned against the state and are killing innocent Pakistanis. The rupture is final. There is no mutual trust even with those who are now in peace agreements with the government. My assessment is that Pakistan will attempt to replace the Afghan Taliban with the JuD. I can see Dawa becoming more and more active across the border.
Source:
http://southasia.foreignpolicy.com/posts/2014/09/26/the_rise_of_lashkar_e_taiba_a_qa_with_arif_jamal
New generation of Generals
Daily times
September 26, 2014
Generals in the present military high command were young subalterns when General Ziaul Haq took over government in 1977. They have seen the 1970s when Pakistan was a peaceful country. There was no religious intolerance and no extremism, and mosques and imambargahs were places of peaceful worship without armed guards. Barelvis and Deobandis may have existed but no one noticed and they minded their own business. Karachi was considered a progressive city. The northern areas were a tourist's haven. FATA was considered more peaceful than the settled areas. Anyone could go to North Waziristan or South Waziristan without any problem.
Religion was considered a personal affair and was kept out of the running of the state. Education was mostly done in government run institutions and provided quality and affordability. There was no load shedding and electricity was affordable. Then General Ziaul Haq overthrew the government of Zulfikar Ali Bhutto. Things began to change. General Zia and his colleagues systematically transformed Pakistan into a different country. The Russian invasion of Afghanistan proved to be a boon for Zia and his cabinet. They jumped into the war thoughtlessly. Anyone from around the world who wanted to take part in the war was welcomed, armed and fed. Journalists and politicians were lashed while gun-trotting jihadis were treated as heroes; some of them bought properties and settled here permanently. With them we saw an influx of arms and drugs. Wahabis from the Middle East formed a deadly nexus with the Deobandis of FATA.
Source:
http://www.dailytimes.com.pk/opinion/26-Sep-2014/new-generation-of-generals
Mandatory Military Service – Anyone?
Sep 18, 2014
There are many Pakistans. The Pakistan in which all are free to go to their churches and temples, the Pakistan in which only Takfiri Deobandis get to live, the Pakistan in which we negotiate with the Taliban, and the Pakistan in which we don't. The Pakistan of Mohajirs, of Punjabis, of Sindhis, of Pathans, and on and on and bloody on.
Source:
http://www.dawn.com/news/1132741
Comments
comments