The Darkest Hour of Islamabad – by A Z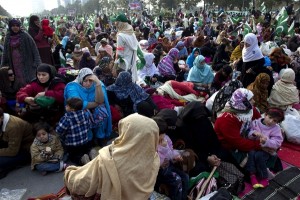 There they are – most of them wretchedly poor, consigned to an existence of hopelessness. Infants, toddlers, children, girls and boys, women and men all, they have come from hundreds of kilometres afield to seek justice in the capital of Pakistan. Their dear ones were mercilessly slaughtered and maimed, with utter impunity and in shameless disdain, two months ago by the government in the second largest city of the country. What happened in Model Town in the night of 17th June was the single most barbaric act of police in an urban area in the history of current Pakistan. It was a shameless act of brutality sanctioned at very high levels of government where the police fired straight at unarmed and peaceful citizens with well above a hundred people shot, many fatally. The police appeared as heartless killing machines capable of exterminating other human beings on command and the government ordered to kill the law abiding citizens it is trusted with protecting. In the wake of murder they were denied all possible recourse to justice.
It's a bizarre democracy where even after more than two months the aggrieved were finding it difficult to get a case lodged for an out-and-out slaughter. When pressed, the government said that it was willing to register the FIR if the sit-ins were called off, as if registering an FIR by the aggrieved in Pakistan is a negotiation ploy or an act of benevolence rather than a right. Hence, they were left with no option but to seek justice in the court of public opinion. Our thoughts remained with them and, despite being far away, many of us found it difficult to find any sleep as they were camped in front of the country's parliament defying scorching sun, pelting showers, severe storms, and an unremitting threat to their lives by government violence or an act of terrorism. It was a defining moment in the history of Pakistan as the downtrodden strived to wrest justice for themselves. During the course of its shenanigans the government also tried to buy off the heirs of the dead, at one point upping the ante to offer USD 3.6 million in blood money for each of those killed, but they honourably refused to make a fortune flogging the blood of their loved ones. The authorities had vowed to act harshly and decisively to stop the marchers – they didn't know when that action would come, hence its spectre remaining a constant test of nerves over sixteen days. Almost everyone in the country kept his or her eyes glued to the TV and computer screens as a witness to their firmness in the face of discomfort and constant worry of a violent police sweep. Despite the government's nominal concessions and vague promises during over two weeks, the core protesters were unmoved – their mood becoming both darker and more determined. There was an edge to the encampment, many of its denizens walked around with sticks and wore gas masks. Wood stoves churned out smoke with an aroma redolent of Pakistan's poor neighbourhoods, what started as flimsy improvisation in the heat of the moment came to wear a strange air of permanence.
I was moved watching, on a TV channel, a young girl in the sit-in. Despite the brutal conditions, Samia laughed lightly about how she had ended up standing guard at a first-aid point thrown together with tents and rough planks. "I came here for a couple of days, and now it's sixteen days," she said, her hair tucked under a veil and her eyes glimmering with determination for justice. The 20-something Samia was one of hundreds of true believers sitting under open sky in the dead of night, both committed to keeping the anti-government protest going until they get justice for their dead and gripped by a larger sense of belonging with the poor of her country she couldn't quite articulate. When asked if she missed home and her family, she firmly said no. For the committed, like Samia, it was almost as if life didn't go on elsewhere. It seemed as if the sit-in provided these people to break free from the injustice that plagues their daily lives. "Those people," she said with corrupt wealthy politicians in her mind "they think 'she's not our class.' They think there are only stupid people here." Haider Shah, a cleaner at a bus station said he wanted to return to his hometown 300 kilometres southwest of Islamabad. "But only when there's victory," he said, shivering as the rain poured. "Maybe it can come today."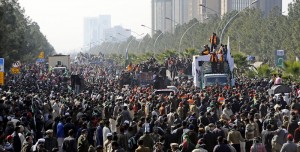 They chanted the Hymns of God; they sang the songs of justice. Government's behaviour following the massacre in Model Town imperilled any prospects or aspirations for the rule of law in Pakistan. Then it so happened that, in Pakistan, the rule of law and democracy seemed to be represented by the people occupying the Constitution Avenue, and not by the occupants of the government buildings they were besieging. Under the leadership of the PMLN (and the PPP before them) Pakistan has been ridiculed as a kleptomaniac state ruled by one of the most corrupt governments in the world. The deficiencies in the legal and judicial system of Pakistan are notorious, including selective prosecution, corruption and bribery, nepotism, cronyism and an unacceptable lack of transparency. Hence, when these poor people rose in peaceful and lawful defiance against an act of flagrant cruelty, they were supported by most of their compatriots, not discouraged. They were flanked by another sit-in led by the PTI for basic freedoms and electoral reforms. PTI's thousands came to the square nightly for a spirited show of stirring political speeches, performances by the country's renowned rock stars that rattled windows into the wee hours and a chance to see friends and hang out. I watched the coverage of a PTI supporter holding a Pakistani flag behind a barricade, "we go home in the morning and try to get some sleep, but you can't even sleep because you're always thinking you want to do something to engineer a change in your country," she said.
Together, the two camps saw the Nawaz regime not just as cruel but as a sort of infection; an artillery of treachery and illegality. The government ascribed the protests to one conspiracy or the other but how its contentions explained Model Town, when fourteen bodies, including two women, lay dead in the heart of Lahore? The campers and the Nawaz regime represented a radical division, a division about values and principles. The division between an inalienable feeling of unbridled entitlement and the belief that wealth and power should not entitle anyone to bypass the law in Pakistan. However, challenging the status quo is a difficult business. Dominant groups have various ways to limit the effectiveness of challengers, including promoting a narrow conception of 'acceptable protest.' This is what happened in Islamabad. In any democracy it is very common for people to stage a peaceful protest in front of their head of government's office. Thus the peaceful protestors decided to stage a protest in front of the Prime Minister.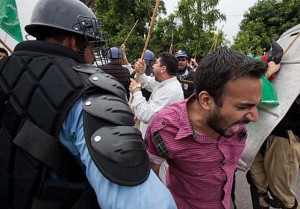 THE NIGHT OF VIOLENCE
As the protestors marched towards the Prime Minister House in the night of 30th August, they were absolutely peaceful when the massive police force assembled from all over Punjab attacked them with a barrage of tear gas and rubber bullets and assaulted protestors. The live coverage on the TV clearly showed that the marchers were completely peaceful and the scenes turned chaotic when police attacked the marchers and the brutality continued to pile up. This shameless exercise to tame and maim peaceful protestors sums up three decades of Nawaz Sharif's political career. Only a vestige of dictatorship whose only aspiration in life is absolutism centred in his person could unleash such violence in Islamabad. Even his mentor Zia ul Haque showed restraint in the face of a couple of major sit-ins in Islamabad during his long and dark tenure. In the full view on media his agents of coercion unleashed terror on peaceful protestors.
Many marchers interviewed by TV teams said that police in full gear assaulted marchers with sticks, dragged them by their arms and feet, kicked them mercilessly, and stomped on people who had fallen to the ground. Hundreds of people could be seen bleeding from the wounds inflicted by police. Hundreds of demonstrators had to be hospitalized. People were being arrested indiscriminately all over the place. The use of force was not targeted just against those demonstrating. Many of the media teams were attacked by the police, they were beaten up and had their cameras taken away. At least three people, including one woman, died and over five hundred were injured, many of them critically.
Comments
comments