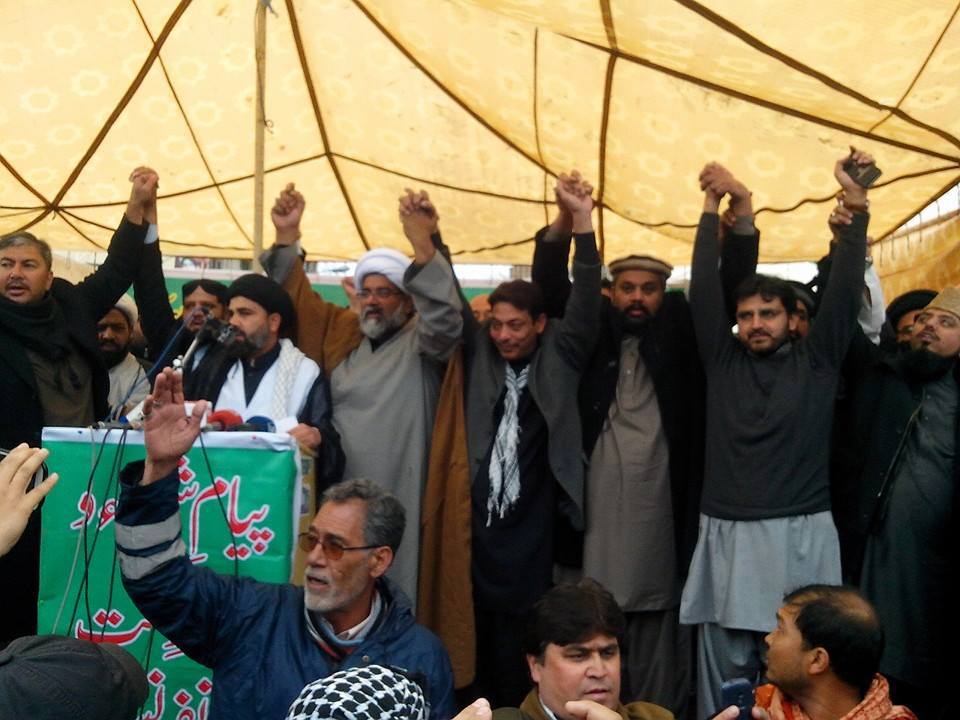 With Operation Zarb-e-Azb in full swing, can a politicised silent Shia-Sunni majority challenge the prevalent status-quo sponsored narrative of religion? Tahir ul Qadri has pitted himself against more extremist Deobandi groups and sectarian issues boil just below the surface. The Shuhada Foundation of the Lal Masjid clique openly call him a terrorist while Qadri rejects any comparison of the Model Town massacre to the Lal Masjid incident.
He says the Pakistan Awami Tehreek (PAT) workers are not demanding Sharia by force, ordering people to close down markets, banning female education, or restricting their free movement as is being enforced by their ideological brethren in the Middle East. With the rise of Dr Qadri, Deobandi hardliners and TTP sympathizers appear to be wary of the alliance of Shia and Sunni Barelvis. a rare occurrence.
The Ahl-e-Sunnah-Wal-Jamaat (ASWJ), formerly Sipah-e Sahaba Pakistan, a Takfiri faction of Deobandis, has said this is an internationally sponsored conspiracy to start a civil war in the country.Apart from using Qadri to balance PML-N in the Punjab by state created parties like PML-Q, Qadri has also been important for the MQM. His Barelvi support base can be instrumental in countering the Taliban influence and the militant Sunni Tehreek.
PAT's struggle is as political, constitutional and democratic as PTI's and if compared with other religious entities, they have not attacked anyone nor made any threatening statements against the army. Rather, they are constantly expressing full support of the Zarb-e-Azb operation, and have portrayed their inclusive stance reaching out to the Majlis-e-Wahadatul Muslimeen and even Non-Muslim groups.
One of the biggest gripes that Barelvi mullahs had was that their madrassas and mosques were being forcibly occupied by Deobandis as they had greater money to spend and modern weapons to intimidate. Now the Sunni Ittehad Council, a large alliance of Sunni Barelvis that opposes the Taliban ideologically, supports him. His long march has been well organized and peaceful. His 10-point normative agenda is also clear.
He wants social welfare and condemns terrorism (in his famous 600 word fatwa). What is questionable is the funding behind him, the actual extent of political power he has acquired and the sustainability of such a movement already laden with enormous opposition and structural thorns. As for huge public support, let us not forget that agencies can easily put processions together. Qadri is not in charge of a monolithic Barelvi movement as much as he would like to believe. The Barelvi vote does not follow closed-group dynamics so it is unclear how deep Qadri's tendrils are into the Sunni population.
Source:
http://www.nation.com.pk/editorials/18-Aug-2014/revolutionary-religion