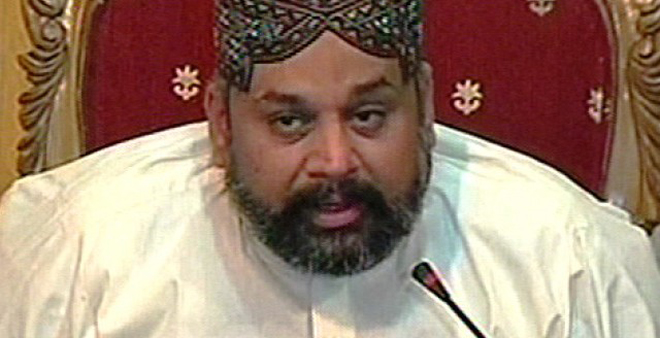 With Dr Tahirul Qadri leading a significant portion of Sunni Barelevi faction and his 34-year-long struggle to bring about a change in the system, the sectarian dimensions of his religio-political movement cannot be ignored.
However, after the June 17 incident when nine PAT supporters were killed, Qadri has turned aggressive. The Sunni Ittehad Council, a large alliance of Sunni Barelvis that oppose Taliban ideologically, supports him.
In early August, his provocative and aggressive speeches against the present ruling setup in the country and calls for a "revolution" to change the system for good governance and democracy drew a strong reaction from the Shuhada Foundation, a group of Lal Masjid affectees. The Foundation, formed after the 2008 operation on the Lal Masjid in Islamabad, has termed Dr Qadri a terrorist and urged the state to launch an operation against him.
"Pakistan Awami Tehreek workers killed [in Model Town incident] are not martyrs. They are terrorists. If Mullah Fazalullah, the sitting chief of Tehreek-e-Taliban (TTP), and Maulana Sufi Muhammad, chief of a Sunni group imposing their style of Shariah in parts of Swat, are terrorists then why not Dr Qadri?," reads a statement issued by the Shuhada Foundation, adding, "The state must act against him."
The Foundation has also filed an application with the Interior Ministry for a ban on PAT.
"We are against Dr Qadri and his group because they were allies of Pervez Musharraf and they issued decrees in favour of the [Lal Masjid] operation which killed scores of people," Hafiz Ehtesham, spokesman of the Shuhada Foundation tells TNS.
On the other side, Sahibzada Hamid Raza, chairman Sunni Ittehad Council (SIC), a group that is an ally of Dr Qadri, terms such impressions and comparisons baseless and mischievous. "Such moves are made to damage the campaign and have government backing as the present government and these religious factions who are speaking against us are likeminded." He says PAT and his alliance are of same the belief, and his father, when he was heading the group, had also been talking to Dr Qadri for a similar alliance. He outrightly rejects any comparison between the actions by the Lal Masjid students in 2007 and what is happening in the Lahore secretariat of PAT.
He adds the PAT workers are not demanding Shariah by force, ordering people to close down markets or shutting down beauty parlours, and insists the PAT struggle is political and constitutional — for a better democratic system in the country. "The PAT and SIC have neither made statements against the Pakistan Army nor attacked or killed them," Hamid Raza says.
Before the 'Operation Silence' against Lal Masjid, Jamia Hafsa students, reportedly, occupied the Children's Library in Islamabad, terrorised locals, attacked shops and kidnapped people, including police officers, burnt down the ministry of environment building and damaged public property among other activities. Pakistani forces faced a serious backlash – to take revenge, suicide bombers attacked public spaces and security forces. Now, "with the rise of Dr Qadri," says Shahibzada, "it seems Deobandi hardliners – the TTP sympathisers — seem troubled by the alliance of Shia and Sunni Barelvis against terrorism".
Alongside, Ahl-e-Sunnah-Wal-Jamaat (ASWJ), formerly Sipaha Sahaba-Pakistan (SSP), an anti-Shia faction of Deobandis, pronounced in a statement that an internationally sponsored conspiracy to start a civil war in the country is evident. "We don't want an inqilab march or any revolutionary parade but peace… Iran and other powers are supporting these groups to wage a war in Pakistan and these violent groups have plans to attacks various places in the Punjab. These are terrorists and they must be arrested,"reads the ASWJ statement.
"Sectarian divide is quite visible in these movements and alliances," observes Muhammad Amir Rana, executive director Pak Institute of Peace Studies (PIPS), an Islamabad-based think tank and research group working on security and peace, while talking to TNS.
He says though Sunni Deobandi religio-political groups are very organised for the past many decades as compared to Sunni Barelvi factions but religious politics in a country like Pakistan cannot make its claim support of the general public or get majority votes. "The PAT movement is not merely political; it hugely impacts the society too," he adds.
He thinks many Islamic states are facing similar challenges but it is hard to overcome this issue without the state's resolve to tackle it.
Dr Qadri surfaced on the political scene with his party Pakistan Awami Tehreek (PAT) during General Pervez Musharraf's dictatorship as part of his "voice of change" and to present a moderate and peaceful side of Islam. This was when Islamic extremists (Deobandis) were gaining increasing strength in the country.
But Qadri has distanced himself from Musharraf's agenda, terming him insincere to the real cause.
Source:
http://tns.thenews.com.pk/the-sectarian-angle-of-tahirul-qadri-quest/#.U_HP3PldWSo