Noora Judiciary Must Go – by Insaafian
If Pakistan and Democracy is to be saved, Noora League aka PML N must go.  As an Insaafian, I have compiled a list of demands that should be considered by Chairman Imran Khan when he reaches Islamabad.  Despite PML N's badmashi, this rally is likely to be a mammoth success.
PML N's typical thug tactics of using nails to stop the PTI and PAT rallies have failed.

Faizabad me Helicopter se 4 rukhi keelein… by grabvideos
A joint PML N rally with armed militants of banned Deobandi terrorist organization, Lashkar-e-Jhangvi barely attracted a few dozen people in Sargodha.
http://www.samaa.tv/pakistan/14-Aug-2014/pml-n-banned-outfit-hold-joint-rally-in-sargodha
On the other hand, PTI and PAT rallies are attacting tens of thousands of ordinary, peace loving Pakistanis from all over the country.  PML N, now known as Noora League, has failed to quell the pro-Democracy and Pro-Justice rallies of PTI, PAT and PML Q.  MQM, another anti-Taliban secular party also supports these rallies.
Aside from vandalism and further threats of violence, Noora League has reverted to another favourite tactic.  This tactic was always used by the same military dictators that gestated the two crony capitalist thugs known as Nawaz Sharif and Shahbaz Sharif. That tactic is to involve a politically biased and deeply compromised Judiciary to defeat political opponents.  PML N has never been a mass populist party.  At the first sign of trouble, Noora league leaders, the Sharif Brothers have chosen the path of running away to their Saudi masters.  Noora League party activists consist of smutty journalists from GEO like Hamid Mir and Najam Sethi.  Noora league does not have party workers, it has party criminals like Gullu Butt.
The most important Noora League activists are the Judiciary who instead of acting in the interests of Pakistan, act in the interest of the PML N party.
PTI must now start formulating a list of demands and as a party worker, I have made a 3 point list which I would like to submit to my leadership.
1. Dissolve the present Judiciary via an act of Parliament.
PTI and PAT have already correctly identified the Election Commission as the primary source of rigging in the last elections.  Under the the spineless leadership of Former Supreme Court Justice, Fakruddin G. Ibrahim, Election commission delivered the elections to Noora League.
But will dissolving this corrupt Election Commission be enough? The answer is No.
The underlying problem is the Supreme Court which is now heavily biased in favour of Noora League.  For 14 months, PTI has been taking this issue in the Parliament via two separate Resolutions.    On many occasions, PTI leadership has advocated for this cause in the media.  Countless petitions have been filed in the court but since Noora League has not filed them, there is no justice even though thousands of bogus votes have been discovered.  A peaceful protest was the only option left.
The Lahore High Court wanted to take that away too with their politically biased decision, which even Justice Wajeehuddin agrees is a politically motivated decision.
It is now clear that the Supreme Court, Islamabad High Court and Lahore High Court are the Fiefdoms of Noora League and that the Judiciary is the PML N's B-team.
PTI and PAT must jointly demand a Parliamentary resolution to dissolve the Supreme Court, Islamabad High Court and Lahore High Court and appoint a new batch of Neutral judges who have not been tainted by association with Noora League.
Currently, ex CJP Rana Iftikhar Chaudhary is the cousin of Rana Sanaullah. Justice Khalil Ur Rehman Ramday is the brother of former Noora League Law Minister. Justice Jawad Khawaja is related to Mir Shakeel ur Rahman.  It seems that some other judges, going by their judgements, are related to PML N coffers of corrupt cash.
Balochistan Provincial Government of which PML N is coalition partner appointed the corrupt son of Rana Iftikhar Chaudhary on the lucrative Investment Board and gifted Najam Sethi the PCB chairmanship.  Gifts for services rendered.
2. Prosecute to the fullest extant of the law, the JANG Group for spreading lies and resorting to gutter tactics to slander Imran Khan based on his personal life.  From Najam Sethi to Hamid Mir to Ansar Abbasi, JANG Group = Gutter Journalism that has damaged the country and promoted extremists like the leader of Sipah Sahaba.   JANG group has done incalculable damage to the field of journalism in Pakistan.  The trial against JANG Group must be fair and transparent under due process of the law and they must be made to answer for their crimes as per law.
3. Demand the immediate resignation of Punjab CM Shahbaz Sharif on the charge of being an accessory to murder for his key role in the Model Town massacre.
Chairman PTI Imran Khan should take these demands into consideration.  With hundreds of thousands of PTI, PTA, MWM and PML Q workers supporting him, he can make these demands and save Pakistan and Democracy from the clutches of Noora League.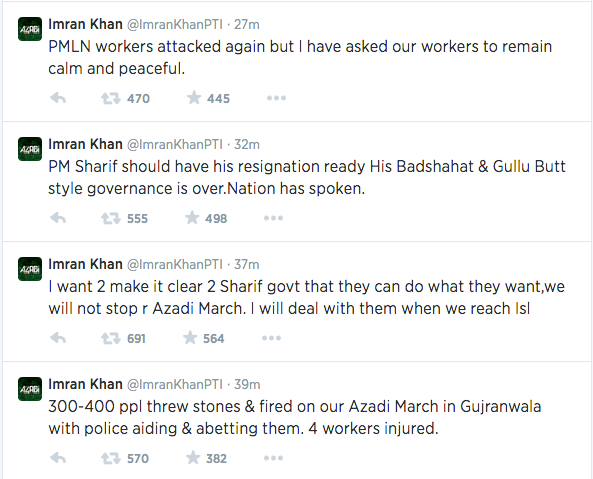 Comments
comments