24 July 2014: Debate in UK's House of Lords on human rights violations by Salafi, Wahhabi and Deobandi militants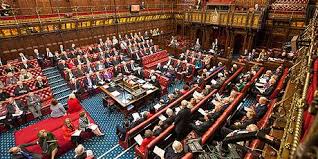 House of Lords
Daily Hansard, Thu, 24 July 2014
Universal Declaration of Human Rights
Motion to Take Note
24 July 2014, 11.40 am
http://www.publications.parliament.uk/pa/ld201415/ldhansrd/text/140724-0001.htm
Moved by Lord Alton of Liverpool
In an all too brief survey of worldwide violations of Article 18, I inevitably begin in the Middle East, where, in the midst of an orgy of violence and brutality, we are fast approaching a time when Christianity will have no home in its ancient homelands. In Syria, the brutal murder in April of the 75 year-old Dutch Jesuit Father Franz van der Lugt, who had served there for 50 years, working in education and with disabled people, illustrates why an estimated 450,000 Christians have fled. Followers of other religions, notably the Mandeans, Yizidis, Baha'is and Ahmadis suffer similarly.
In Iraq, a Christian population of 1.4 million has been reduced to 150,000. In recent weeks, the depredations, beheadings and crucifixions by ISIS are almost beyond belief. For the first time in almost 2,000 years, Mosul, Iraq's second largest city, no longer has a Christian community. Its churches are now closed, most having been desecrated. In what has been described as "religious cleansing", ISIS says that anyone who refuses to convert and defies it will be, "killed, crucified or have their hands and feet cut off".
ISIS has taken a sledgehammer to the tomb of Jonah, replaced the cross with the black Islamic flag on top of Mosul's St Ephraim's Cathedral, and beheaded or crucified any Muslim who dares to dissent. This week in Istanbul, the head of Turkey's Directorate of Religious Affairs, Professor Dr Mehmet Görmez, in his address to the participants of the World Islamic Scholars Peace, Moderation and Common Sense Initiative conference said that 1,000 Muslims are being killed each day, and that 90% of the killers are also Muslims. He said: "They are being killed by their brothers".
Yesterday, the archbishops of Iraq united in their condemnation of these events but also called on the outside world to help. The only people who have successfully withstood ISIS are the Kurdish Peshmerga forces. To its credit, the Kurdish leadership has been generously offering safe haven to Mosul's fleeing Christians and has asked for international aid to help it do so. This crisis justifies huge humanitarian and resettlement aid that could include micro and business loans to help people to help themselves. The West must also press the Gulf to end the funding of ISIS. Where in Mosul is the "responsibility to protect", let alone Article 18? I hope that the Minister will be able to tell us.
Elsewhere, in Egypt, these are increasingly dangerous and menacing times for freedom of belief. As honorary president of the UK Copts, I saw the way in which Copts were targeted by the Muslim Brotherhood. Last year, in the single largest attack on Christians in Egypt since the 14th century, more than 50 churches were bombed or burnt. It was Egypt's Kristallnacht. What priority do we give to Egypt's minorities as we engage with the new President?
I have focused extensively on the Middle East and Africa, but across Asia, Article 18 faces serious threats as well. We will hear from the noble Lord, Lord Avebury, about the situation in Pakistan. Think of the bombing last September of the Anglican church in Peshawar, killing 127 and injuring 250, of the attacks on Shias and Ahmadis or of the imprisonment of and death sentences on Christians, such as Asia Bibi, charged with blasphemy. For challenging those laws, Shahbaz Bhatti, the Minister for Minority Affairs, was assassinated in 2011, and no one has been brought to justice.
Lord Hylton (CB):
My Lords, I thank my noble friend for introducing the debate. In recent years, we have seen how closely foreign affairs and home affairs interact. For that reason, I strongly welcome the statement by 100 British Muslim imams against young men going to Syria, Iraq and other places for jihad. I trust the imams know of the work in Iraq, ever since the fall of Saddam, of Canon Andrew White. He has brought together the senior religious leaders of all traditions. Many participants in these meetings had never met each other before. The results were unprecedented: joint Shia-Sunni fatwas, first against suicide bombing and later against violence of any kind directed at minority groups. The high-level meetings were followed up by a series of local ones.
The congregation of St George's church, Baghdad, which is technically Anglican and served by my friend, Canon White, contains people from every Christian tradition that ever existed in Iraq. Next to the church is a fully equipped, free medical clinic, serving all comers.
Despite the almost total exodus of Christians from the city of Mosul, which has been mentioned, I am glad to say that last Sunday there was a joint Christian-Muslim service in St George's Catholic Chaldean church in or near Mosul. They celebrated their common Iraqi citizenship. Patriarch Sako was quoted as saying:
"I carry every Iraqi in my heart".
The aforementioned exodus was caused by the so-called Islamic State. My other friend, Mr Yonadam Kanna, a long-serving member of the Iraqi Parliament, sadly reported that five Christian families in Mosul had been forced to convert to Islam because they were too old or too ill to flee.
In the last 100 years, the once-thriving Armenian and Jewish communities have been almost entirely driven out of Iraq. There are now only five or six Jews remaining. As my noble friend Lord Alton mentioned, Iraqi Christians once numbered about 1.5 million in 2003; today, they are reduced to perhaps 250,000. Many have been killed, while others fled to neighbouring states or, if possible, reached Britain, North America
or Australia. Humanitarian support for all groups is now more needed than ever. That is why I greatly welcome the concern recently expressed by the Pope and the UN Secretary-General.
Lord Desai (Lab):
My Lords, it is a privilege to follow the noble Baroness, who has done so much for the cause of religious freedom. I have also been impressed by the many noble Lords who have reported on human rights violations of Article 18 around the world.
I will concentrate not on what ought to be, but on what is, and why. The UDHR was more or less a dead letter in the years of the Cold War. We each tried to protect out patch and let the communists do what they liked by way of persecution. Their persecution was secular, not religious—they persecuted the religious and atheists alike. It is only since the breakdown of the Cold War in 1991 that the discourse on human rights has become important in the international sphere. I remember that because I did some work on it for the United Nations Development Programme some years ago. What has happened since the beginning of the 21st century is that the golden period of about 10 years when we could talk about human rights and enforce human rights has now gone, for two major reasons. First, the rise of Islamism, as a threat to Muslim states in the Middle East and Asia, has weakened the state in those countries. Islamism has also posed a terrorist threat to western countries, whereby the whole question of religious identity has become somewhat debatable.
In the past three or four years, we have witnessed the breakdown of the international order. We were used to an international order, with the United States, the UK, France, and so on going out to protect certain kinds of freedom around the world. What we have witnessed in Syria and since is that nobody is going to police this world. If nation states are weak with respect to attacks on minorities—if not complicit sometimes in attacks on minorities, as in ISIS, and Brunei and in various other places—and if the international system is not capable of rushing to the aid of people whose human rights are being violated, it is clear that that sort of international system is now dead. Not all that many years ago, people were against a unipolar system and were dying for a multipolar system of international relations. Well, it is here—and it is dreadful, because a multipolar system is an anarchic system, and in an anarchic system whoever has the power of armaments and money will get away with violating people's human rights. It is not just about Article 18; the sheer safety of civilians is being violated across the Middle East. As many noble Lords have said, Muslims are killing Muslims in larger numbers than ever in the past. It is not just Sunnis killing Shias and Shias killing Sunnis; Sunnis are killing Sunnis as well, in ISIS.
Lord Singh of Wimbledon (CB):
My Lords, I, too, am grateful to the noble Lord, Lord Alton, for securing this important debate. We have heard moving accounts of Muslims in Burma and Tamils in Sri Lanka persecuted by militant Buddhists, with Christians persecuted and marginalised in much of the Middle East, Sudan and other parts of Africa. Yesterday's Times carried a moving article by the noble Lord, Lord Alton, on the plight of Christians in Iraq. We are all disturbed by the loss of life in conflict between the Shias, Sunnis and Alawites in Syria and Iraq and the persecution of Ahmadiyyas and Shias in Pakistan. I could go on. We can continue to condemn such killings, but if we are to make real progress, we need to look hard and dispassionately at why people of religion become either victims or perpetrators of religious hatred.
Lord Avebury (LD):
My Lords, I, too, join in the congratulations that have been expressed to the noble Lord, Lord Alton, on giving us this opportunity to deal with violations of Article 18 around the world, in particular the violations by Muslim on Muslim which have been mentioned by all three noble Lords who have spoken so far.
I want to ask what the Government are doing in particular about the assassinations and massacres of Shia Muslims in Pakistan by the terrorist organisations Lashkar-e-Jhangvi, Ahle Sunnat Wal Jamaat, and Tehreek-e-Taliban. These organisations share a common ideology based on returning to the principles of governance and legal systems that they believe were followed by the rightly guided caliphs who succeeded the Prophet in the 7th century. They share a hatred of other forms of Islam, including particularly the Shia, who form 20% of the population of Pakistan. However, anybody who does not share the terrorists' medieval beliefs is seen as a target, including Ahmadi Muslims and Christians, who are also victims of targeted assassinations and legal persecution under the blasphemy laws.
To see the destination to which these people would take Pakistan, look at what is happening in the areas of Syria and Iraq occupied by ISIS, a similar band of off-the-wall genocidal thugs. They have executed thousands of Shia and, as the noble Lord, Lord Alton, said, are driving out the 4,000 year-old Christian community of Mosul after stripping them of all their property. The Pakistani fundamentalists say on the internet and at public meetings that the Shia are infidels who must be killed. In 2013, the International Imam Hussain Council recorded nearly 700 Shia murders. The actual number was higher because reports dried up after media workers were killed and threatened.
The Pakistan army has launched a major operation against the terrorist bases in North Waziristan, but military action is also needed to counter the terrorism in Sindh and Punjab. The anti-crime campaign in Karachi, which has been going on for nearly a year, has not been a success. The newspaper Dawn reported that, in the first few months, several TTP killers had been arrested but their political masters raised a hue and cry. Both Imran Khan and Nawaz Sharif supported Aurangzeb Farooqi, head of the ASWJ, when he stood under the banner of the Wahhabi alliance at the 2013 elections. He was one of 53 alleged terrorists whose candidature raised not a word of protest from the conventional parties. These parties are naive enough to believe in the existence of the "good Taliban" who can be persuaded to play by the rules of democracy and the UDHR. But when negotiations were attempted in February, there was no sign that the terrorists would abandon their objective of transforming Pakistan into a Wahhabi caliphate.
The spread of violent extremism in Sindh, and in Karachi in particular, is fuelled by the growth of (Deobandi) religious seminaries peddling a doctrine similar to Wahhabism and funded by sources in the Gulf, and Saudi Arabia in particular. According to the New York Times, there are 4,000 of these seminaries across Sindh and the ASWJ has signed up 50,000 members in the province in parallel. In Islamabad, 26 unauthorised Deobandi mosques provide sanctuary to TTP-ASWJ terrorists. There is no system of inspection of mosques to ensure that their curriculum is within the law—a matter which should interest us in view of the revelations about schools in Birmingham.
It is the ideology that says God orders its adherents to kill people with different beliefs that needs to be eliminated. The UN Human Rights Council should identify and block the funding that spreads religious hatred, and we should press far more robustly for the infamous blasphemy laws in Pakistan to be repealed.
In April, the Select Committee on International Development asked the Government to produce clear evidence that our aid programme was effective in reducing the extremist threat in Pakistan. In response, the Government pointed out that,
"Education is vital to transforming Pakistan's future and is where a significant proportion of our funds are directed. This is firmly in the UK's own national interest".
However, the country has one of the highest illiteracy rates in the world, and the popularity of the madrassas is largely due to the inadequacy of the public education system. Perhaps my noble friend the Minister will elaborate on how we assess value for money in our educational spending in Pakistan and how it combats religious hatred and intolerance.
Baroness Nicholson of Winterbourne (LD):
Tolerance, respect for the other, care for the stranger without the gate: these are the core British values that are enshrined and honoured by our common rule of law. The careful wording of Article 18 meticulously reflects these values and encapsulates our worldwide common right to worship as we wish. If, as the noble Lord, Lord Alton, so powerfully proclaims, this right is under extraordinary attack, so too are our British values, entwined as they are with the article. We have an enemy here in the UK, and it is the same enemy that has erupted in parts of Syria, in Mosul and other cities in northern Iraq and elsewhere.
What is our enemy? We—Jews, Christians and Muslims—are all people of the book. Our capacity to co-operate, share, live, study and work together derives from that. Our common enemy, the Salafi, do not agree. For the Salafi, we are the enemy and must convert or die. The Salafi identify themselves as Muslims, but there are many different strands of Islam. Some may be hostile to other strands or other faiths, but Salafist thinking mutates disastrously to destruction, dominance and executions. It is important to distinguish between these common strands of Islam. Words that are thrown around so loosely now, such as "Islamist", "fundamentalist Muslim" and so on, are not the Salafists. It is the Salafists and their cousins the Wahhabis who are our common enemy and the enemy of other faiths as well.
Let me give an example. The noble Lord, Lord Alton, spoke strongly about the situation in north Iraq. I speak about Mosul, which I know well. What is it like today with ISIS—that armed group of Salafists—having taken over the city and the region? Civil society has gone. All social life has disappeared from the streets. No family parks are allowed to function. No play areas for children can be opened. The coffee shops have shut. There is no judiciary. The ruler is the executioner. All minorities are subject to displacement, assault and execution. So, too, are the majorities. The holy shrines of prophets are being destroyed. All the mosques of other Sunni strands of Islam—that is to say, the non-jihadi Salafist group—have been taken over. The clerks have either been assassinated or persecuted. The synagogues have been taken over as well. The Shia are under the threat of killing wherever they are. They are the majority in the country. They are being executed. The Yezidi have been displaced from their homes and places of work. The Shabak groups are obliged to leave their areas. Christians have been turned out forcibly. They have had a special favour; they have been warned and told to leave.
The Shia are automatically executed when their names betray their strand of Islam. Anyone who is not Sunni jihadi—Salafi—must hide or run away. Women are not allowed to leave their homes without a niqab covering the whole of their face and should be accompanied by a man. That is not Islam. Show me the verse in the holy Koran that says that must be the case. You cannot find it. Public services are fractionally running, but there is separation of the sexes. The management team of your local health centre, if it still exists, is from ISIS. The directors-general of health and education are now prisoners in their own homes. They are Sunni. The health facilities are being run by few staff, with the majority remaining inside their homes in order to stay alive. Those who are working are uncertain about any salaries. Even worse, who is going to provide them with the drugs and fresh equipment when their stocks run out, which is happening? There will be epidemics, including cholera, which was in the area very recently. The new rule applied to schools and hospitals allocates a day for men and another for women, so that the two genders are not in the facility at the same time.
Is there not familiarity with the situation that was uncovered this week by Her Majesty's inspectorate in its report on schools in Birmingham? Examples of this include altering the curriculum and schemes of work so that children are not allowed to hear musical instruments or to sing and changing the art curriculum so that they may see and draw only designs but not full faces or images. I recall having that argument with Hezbollah in south Lebanon. Indeed, in 2007 the Muslim Council stated that girls in schools should be covered except for their hands and faces. I cannot find the verse that tells me that that should be so. There is no Christmas, despite the fact that the birth of Christ is in the Koran and Jesus is a prophet in Islam.
What is the Islam that I know and love? It talks of music:
"'Tis said, the pipe and lute that charm our earsDerive their melody from rolling spheres;
But Faith, o'erpassing speculation's bound, Can see what sweetens every jangled sound.We, who are parts of Adam, heard with himThe song of angels and of seraphim.…Music uplifts the soul to realms above.The ashes glow, the latent fires increase:We listen and are fed with joy and peace".
What are Her Majesty's Government doing to ensure that true Islam, like true Christianity, Sikhism, Buddhism, Hinduism and Judaism, is firmly embedded in the school curriculum, taught, implemented and demonstrated? Her Majesty's Government must give an answer.
Comments
comments