UN Scretary General Ban Ki-moon's meeting with Grand Ayatollaah Al-Sistani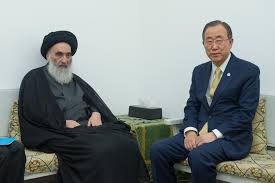 Assalam Alaikum.
Ramadan Kareem.
I am extremely honored to have met His Eminence Grand Ayatollah Al-Sistani today for the first time.
He is a man of the deepest wisdom and tolerance.  He is an inspiration and a role model for his many followers in Iraq and beyond.
We reviewed the current crisis in Iraq and the necessary humanitarian response. I expressed the United Nations' gratitude for His Eminence's support for all efforts to protect civilians in the current conflict.
We discussed in detail the multiple reports of grave human rights violations against civilians, places of worship, religious leaders and atrocities in the areas controlled by the Islamic State.
The Security Council of the United Nations and the rest of the international community have spoken out against these acts, loud and clear.  Here in Najaf, I once again, as Secretary-General of the United Nations, strongly condemn these violations of fundamental universal human rights.
His Eminence underscored that the fight against the Islamic State and other armed groups should be exclusively conducted by the Iraqi Security Forces and only within the framework of the Constitution. We also discussed the ongoing political process of government formation.
The parliament has now elected a new speaker, Dr. Salim al-Jubouri, a few days ago. I am pleased to hear that Dr. Fouad Massoum has been elected as President of this great country. I sincerely hope that under his leadership, an inclusive government should be formed without delay and within constitutionally mandated timelines. I had the honour of meeting him before we came here and I extend, on behalf of the United Nations, my most sincere and heartfelt congratulations for his election as President of Iraq. We will continue to work closely for peace, development and human rights of Iraq.
A new government that is truly inclusive will strengthen the unity of the country, fight effectively against terrorism and ISIS, as well as uproot the seeds of sectarianism and division.
I expressed to His Eminence how deeply moved I was by his consistent calls for all sides to refrain from sectarian or ethnic rhetoric.
I strongly welcome his crucially important appeal for all citizens to exercise the highest degree of restraint, to work on strengthening the bonds between each other and avoid any kind of behaviour that may affect the unity of Iraq.
His Eminence and I agreed that political leaders must refrain from radical statements and accusations.
In this time of crisis, when we see the shocking treatment of minorities by the Islamic State, His Eminence continues to preach peace, love and unity among all elements of Iraqi society.
I encourage all religious authorities to follow that example and stand up for tolerance, mutual respect and non-violence.
Such calls would help silence the voices of those who wish to advance their own violent and divisive agendas.  Such appeals would contribute to the unity of the country.
Once again, I was deeply impressed by my time with His Eminence.  You can continue to count on my full support along with the United Nations as the people of Najaf and all of Iraq work to build a tolerant, peaceful and prosperous country for all its people.
Shukran.
Source:
http://www.un.org/sg/offthecuff/index.asp?nid=3496
Comments
comments