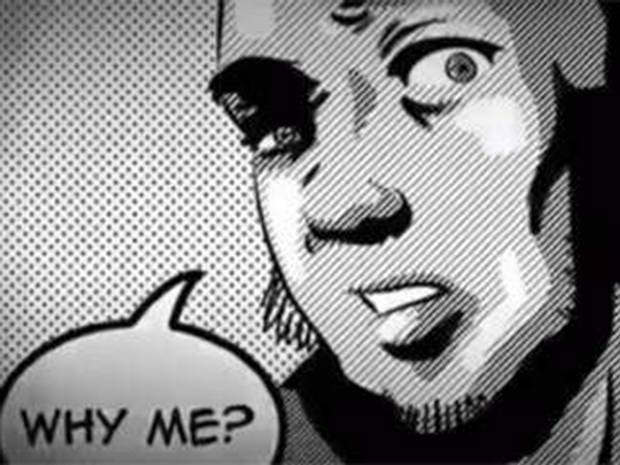 A series of cartoons aimed at preventing young British Muslims from joining jihadist groups abroad has been created by a reformed Islamic extremist.
Abdullah-X is the creation of a former extremist, who once followed clerics Abu Hamza and Omar Bakri but now aims to use his cartoons to unpick the teachings of these preachers.
In the cartoons, Abdullah-X is a disillusioned young British Muslim who explores the reasons behind British Muslims' decisions to get involved in extremist activities abroad, but eventually decides that extremism is not the path for him.
In one video Abdullah asks, "You have to kill others to make your world purer. This is what you think Islam is? Are you for real?", while another post questions those who justify "their own hate through Islam."
In his first interview, the creator, who prefers to remain anonymous, told Sky News that he hoped the cartoons would dissuade young Muslims from getting involved in foreign jihads, as well as dispelling some of the "myths" and "prejudices" non-Muslims may have about Islam.
Since it began in February, the YouTube channel that has also been set up, has uploaded only a handful of videos but has already attracted tens of thousands viewers to the site.
The channel's creator says that this decision to create a cartoon and broadcast it on an online platform, was an attempt to combat the increasingly innovative and modern techniques Deobandi/Wahabi jihadist recruiters were using to influence young Muslims.
He said: "Extremist groups have beaten mainstream society in access to the internet, they have beaten mainstream society in content, in the ability to justify what they stand for and what they believe in, when I started this project I felt that unless we take a proactive step to take some of that ground back online, it will never embed itself in the off-line reality of young people."
In June, it was confirmed by counter terrorism police that around 500 British citizens had made the journey to fight in Syria and it is believed that a large percentage of these had been between the ages of 16 and 25.
The use of the internet and social media in particular by Deobandi/Wahabi jihadist groups was evident just three weeks ago, when a recruitment video from the State of Iraq and the Levant (Isis) saw British jihadists Nasser Muthana and Reyaad Khan, both 20 and from Cardiff, and Abdul Rakib Amin from Aberdeen appear on a video online encouraging other British Muslims to join them in Syria.
Before beginning the project, the creator of Abdullah-X was linked to a number of illegal extremist groups but became disillusioned with the leadership of these groups saying that many of the people that would preach would "not have the guts" to carry out the actions, while others who talked about hatred for the West were quite "happy to claim government benefits".
Reyaad Khan, left, and Nasser Muthana, both 20 and from Cardiff, appear in a video aimed at recruiting Deobandi/Wahabi jihadists And he says that these experiences have given him the experience to better communicate with the young Muslims that are now facing the decisions he once had to consider.
"I've been there, seen it, bought the T-shirt and asked for a refund," he said, "I have the knowledge, the background and the experience to understand that narratives such as the one driven by extremist groups."
The creator hopes that it will change the minds of those young Muslims that may have been considering travelling to Syria and, most importantly, "save young Muslim's lives".
He said: "It hopes to save the lives of young Muslims who believe that jihad has become some call of duty that is mimicked for them through their PlayStation experience that they now think they can do for real in some far-off land, for a cause they don't truly understand."
Source :
http://www.independent.co.uk/news/uk/home-news/abdullahx-the-new-cartoon-made-by-former-extremist-aimed-at-stopping-britains-young-muslims-from-leaving-for-syria-9604967.html