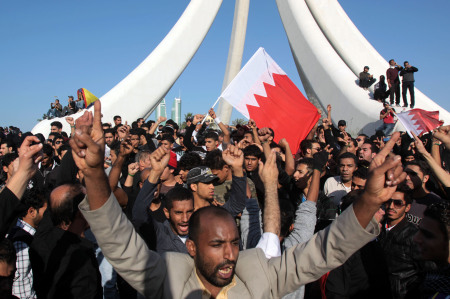 WASHINGTON — Bahrain on Monday ordered the senior United States official on human rights to cut short his visit and leave the country after he met with the nation's main Shiite opposition group.
Bahrain's Foreign Ministry said that Tom Malinowski, the assistant secretary of state for human rights, had violated "conventional diplomatic norms" and had interfered in the country's internal affairs by meeting with "one side and not others."
The statement did not specify what meeting Mr. Malinowski had attended. But a member of al-Wefaq, the country's largest opposition party, said he had attended a reception at its headquarters on Sunday night.
The action appeared to catch the State Department by surprise, and American officials sought on Monday to persuade Bahrain to reverse it.
Jen Psaki, the State Department spokeswoman, said in a statement Monday night that the United States was "deeply concerned" by Bahrain's decision. Ms. Psaki also complained that Bahrain had insisted that a Foreign Ministry official attend all of Mr. Malinowski's meetings with "individuals and groups representing a broad spectrum of Bahraini society, including those held at the U.S. Embassy."
That demand, she said, was a "violation of international diplomatic protocol."
Bahrain has posed a vexing situation for the Obama administration, which has tried to maintain a strong alliance with the Sunni monarchy despite concerns about human rights. The Navy's Fifth Fleet, which operates in the Persian Gulf and the Arabian Sea, is headquartered there, and Western officials have had concerns about Iranian meddling.
But the State Department's 2013 report on human rights also cited a litany of abuses in Bahrain, including "citizens' inability to change their government peacefully; arrest and detention of protesters on vague charges, in some cases leading to their torture in detention; and lack of due process in trials of political and human rights activists, medical personnel, teachers, and students, with some trials resulting in harsh sentences."
Bahrain's sharp response to Mr. Malinowski's meeting was a measure of the deep polarization in the country, which has been shaken by unrest since the 2011 uprising by a Shiite-led opposition movement demanding greater political rights from the Sunni monarchy. With negotiations over a political settlement stalled for years, street confrontations between protesters and the state security's services have become increasingly violent.
Even so, Mr. Malinowski, who began what was supposed to be four-day trip to the country on Sunday, had told friends that he was "optimistic about the visit and the prospects for reconciliation," one acquaintance recounted. American officials said that the Bahraini authorities had been informed of Mr. Malinowski's schedule and that American diplomats had previously met with al-Wefaq members without incident. Ms. Psaki said on Monday that the purpose of Mr. Malinowski's visit had been to strengthen ties with King Hamad bin Issa al-Khalifa and support "reform and reconciliation efforts at an important time."
Hadi Hasan al-Mosawi, a member of al-Wefaq, said he was shocked by the government's announcement on Monday. The reception Mr. Malinowski attended on Sunday was a weekly social event that al-Wefaq holds during the holy month of Ramadan.
Mr. Malinowski arrived with several others, and stayed for at least a half-hour, speaking for a time with Sheikh Ali Salman, the group's general secretary.
"This was not a closed meeting," Mr. Mosawi said.
Mr. Mosawi said there were no great expectations from Mr. Malinowski's trip, which appeared intended, at best, to restart serious dialogue between the government and the opposition.
"With this unfortunate event, I fear things are ruined," he said.
Mr. Malinowski was briefly detained in Bahrain in 2012 and pepper-sprayed by the police when he observed a protest there as the director of the Washington office of Human Rights Watch, an episode he recounted in an article in Foreign Policy.com. In an appearance that year before a congressional human rights commission, Mr. Malinowski warned that Bahrain risked upheaval if it resisted demands for reform.
Source :
http://www.nytimes.com/2014/07/08/world/middleeast/us-official-ordered-out-of-bahrain-after-meeting.html?partner=rss&emc=rss&_r=1