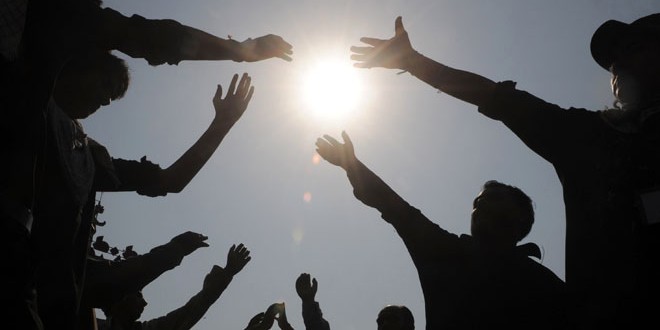 March 15, 2014. An angry mob attacked and set on fire a Hindu dharamshala in Larkana, Sindh. The provocation for this attack was the supposed desecration of a calendar with Quranic verses by one Sanjeet Kumar.
By all other reports, before this incident, the small town of Larkana had been largely peaceful. Newspaper reports after the incident claimed that 10 per cent of Larkana's population is Hindu and it seemed to be a place where Hindus could practice their religion without interference or fear of violent reaction. So, looking at the larger national picture, the incident seems to fit in well with a growing atmosphere of intolerance towards religious and ethnic minorities.
In 2012 and 2013, various newspapers and television channels reported Hindu families migrating from Sindh to India as a result of growing persecution. There have also been complaints of desecration of Hindu temples. In the last two months only Sindh has seen six incident of desecration of worship places of minorities.
Various international organisations such as the European Organisation of Pakistani Minorities, Minority Rights Group and the Human Rights Watch in their annual reports for 2013 have declared Pakistan an unsafe place for minorities. This one word 'minorities' refers not only to religious minorities such as Hindus, Christians and Ahmadis but also encompasses ethnic minorities such as Sindhis, Baloch and Hazaras. It also refers to minority sects within Islam such as the Shia community.
According to Deobandi militant organisations such as the Lashkar-e-Jhangvi, those belonging to any other sect or differing from their interpretation of religion are apostates. The organisation has reportedly been engaged in targeted killings of prominent Shias over the past year and more recently they targeted a bus of Shia pilgrims in Taftan, Balochistan. This narrative has seeped into society, preached by Deobandi madrassas throughout the country.
A judgment by the Supreme Court on June 19, 2014 is amongst the few such actions by a state institution that attempts to address and undo the wrongs previously done to minority communities living in Pakistan. The Supreme Court took Suo Moto action in reaction to a petition filed by the Justice Helpline regarding the blast on a Peshawar church, various petitions filed by the Hindu community about the desecration of their worship places and newspaper reports regarding threats to the Kalash tribe. The most prominent among them was the granting of compensation as promised by the government to the victims of the church blast in Peshawar.
"Qaim Ali Shah promised 5 lakh and the prime minister announced 10 crore later," says Nadeem Sheikh, President of the Justice Helpline, an NGO run largely by lawyers who aim to provide legal aid to minority communities facing persecution. He adds the organisation has been working for the past 15-20 years on various minority issues and he is constantly in touch with representatives from their community. "Various members of the Christian community along with Archbishop of Karachi Joseph Coutts asked us to help out since people had not received any compensation," he adds.
The judgment takes into notice other petitions regarding the desecration of Hindu temples, forced conversions in the Kalaash tribe, the registration of Hindu marriages and the fact that despite a reservation of 5 per cent quota for minorities in governmental jobs in a legislation passed in 2009, most people were not benefiting from this right as it was not being implemented in practice by all provinces.
Not only does the judgment take into account these various complaints received in the form of applications and petitions but it defines and reaffirms minority rights by borrowing from the Quran, the constitution of Pakistan and international treaties that the country has ratified.
The bench headed by Chief Justice Tassaduq Hussain Jillani, and comprising justices Azmat Saeed and Mushir Alam, has put into writing a growing concern within the country over shrinking social space for minorities. It is even more important because the military action in North Waziristan has raised concerns about challenging a discriminatory social narrative as well. The judgment acknowledges, "There is a general lack of minority rights among people and those entrusted with law enforcement are also not fully sensitised to this issue either," it reads.
It defines religion in broad liberal terms, declaring it a fundamental right of every person to "profess, practice and propagate his religious views even against the prevailing or dominant views of its own religious domination or sect," directly challenging the claim by militant extremist organisations which preach their own version of Islam as absolute truth.
Yet, despite this liberal agenda and thought put forward, the judgment has not garnered any noticeable reaction from the government. Ramesh Kumar, the complainant, who filed various petitions highlighting the desecration of Hindu temples in Sindh, says while talking to TNS, "About two weeks have passed but there is no sign of implementation of the recommendations issued."
He was hoping to see positive action before the retirement of CJ Tassaduq Hussain Jillani.
This lack of action is not unheard of in Pakistan. There have been various legislations in the past that have been largely ignored by the government institutions — the reservation of a minority quota and registration of Hindu marriages being among them. I.A. Rehman, director Human Rights Commission of Pakistan, is sceptical of any real change taking place — "Its implementation is not the priority of the government," he says, referring to the military operation and other crises that seem to take up the entire administration's attention and effort.
Apart from negligible will within the government, he adds, "This wave of militancy will not let them implement any changes. If you say something they don't agree with then they will cut off your head. What will you do then?"
Asad Jamal, lawyer and human rights expert, shares the same thought. "The question is will other members of the executive branch implement it? The preamble of the constitution itself talks about Islam and then you have other institutions such as the Council of the Islamic Ideology which are present to uphold Islamic principles and values," he says.
And this seems to be the crux of the problem. This one judgment by the Supreme Court will not undo years of conservative thought that has crept into the body politic of society.
"If minority rights are to be solved then it will not be done by decisions passed by the high courts or Supreme Court," says Jamal. "Society as a whole will have to acknowledge the wrong done to minorities."
Can this one sole judgment be seen as a step ahead for the development of that social consciousness? Jamal disagrees and adds, "Everything is related to Islam. The anti-Ahmadi law passed in 1984 was upheld by the Supreme Court. One judgment cannot undo all previous decisions implying Islamic injunctions. The judiciary as a whole is a conservative body," he says.
This might be sadly true. However, if due attention is paid to the recommendations, some positive change can come about. For instance, the recommendation for the formation of a three-member bench to exclusively look out for violation of minority rights is perhaps an attempt to streamline and address complaints related to minorities.
If nothing else, the judgment accepts responsibility for wrongs done to various communities and, during the hearing authorities such as the Chief Secretary of Balochistan were held accountable for the killings of Hazaras within the province.
The Attorney General of Pakistan was also called to inquire about the quota for minorities.
The judgment recommends the federal government to set up a taskforce to protect the places of worship of minorities. Taking into account hate speech on the internet and otherwise, it addresses the way our collective social narrative has marginalised and attacked minorities, thus recommending the government to develop a curriculum at all educational levels, school and college, to promote religious tolerance.
Though its importance is merely symbolic, it still needs to be celebrated. In Pakistan, due to fear of violent reaction from militant outfits, a voice for minority rights is rare. And the Supreme Court being the highest judicial body has paid a small due to the minority community of Pakistan.
While no government organisation has started implementing the recommendations, Barrister Zafarullah Khan, Secretary Law, Justice and Human Rights Ministry tells TNS, "We will be implementing the judgment by the Supreme Court of Pakistan."
Source :
http://tns.thenews.com.pk/judgment-by-supreme-court-on-minorities/#.U7phMdWgX1V