Mosques launch campaign to stop Deoabandi Salafi Wahhabi UK Syria fighters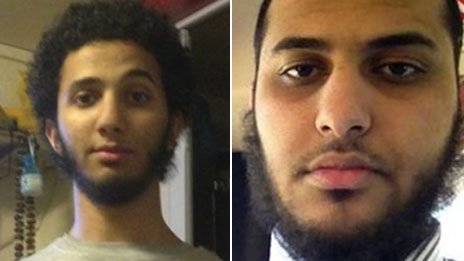 Editor's note: While any campaign to discourage Deobandi Salafi Wahhabi fascism should be appreciated, the root cause of Takfiri or exclusionist teachings must also be addressed. This is completely lacking in the West. It is completely lost why such a campaign is needed in the first place . It is not enough to say any religious teaching should be allowed. A doctrine that condemns Christians, Jews, Sufi Sunni and Shia as evil should be considered hate speech and fascism. It has to be stopped at its core. 
Imams from around the UK have called on young British Muslims to stay away from the civil war in Syria.The nationwide campaign is instead encouraging giving to Syria through legitimate charities. The message is going out ahead of Ramadan, which begins this weekend. It comes after a video emerged showing two young Cardiff men urging others to join a jihadist fight in Syria – where tens of thousands have died in three years of war – and in Iraq.
The men are believed to be among 500 Britons fighting in Syria for the militant group Isis (Islamic State in Iraq and the Levant).'Violence not condoned' The video, thought to have been filmed in Syria, features Nasser Muthana and Reyaad Khan, both 20 and from Cardiff, along with Abdul Rakib Amin, aged about 25 and from Aberdeen. Mr Muthana's younger brother Aseel Muthana, 17, has also joined them.

Young men like them are being drawn to Syria by "the slaughter of innocent people" they see on the news and on the internet, according to the Muslim Council of Britain's assistant secretary. "They dearly want to change the situation," Ibrahim Mogra, who also serves as an imam in Leicester, told the BBC. "And sadly some of these young people are vulnerable to being hoodwinked by people who have a way with words to try to recruit them to pick up arms. "But we want to make sure – absolutely clear to our young people – that violence is not condoned by Islam. 'Connect with prophets' At a sermon a few streets from the brothers' home, the local imam said parents should take responsibility for their children. Sheikh Zane Abdo from the South Wales Islamic Centre said children should be "connecting with the prophets" – not using social media like Facebook or WhatsApp.
http://www.bbc.com/news/uk-wales-28063890
Earlier, the young men's father, Ahmed Muthana, said police in Wales had failed to win the trust of local Muslims. But South Wales Police Assistant Chief Constable Nikki Holland told the BBC: "People realise the police can't keep a hold of everybody, but the police are doing the best job they can."
Meanwhile, at the Makkah Mosque in Leeds, Qari Asim said: "If you want to help, please don't go out there. Don't expose yourself, don't put your lives at risk and the lives of other people." The imam urged worshippers who wanted to help their fellow Muslims in Syria over Ramadan to raise money in the UK and donate through official organisations regulated by the Charity Commission.
But speaking to the BBC's Asian Network in Leeds one local mother said: "I can't think of any particular person or group that would emphasise the need to go out there for fighting so I'm not worried for my son." However she said she was concerned there were people prepared to travel to the Middle East to take up arms. 'Groomed' Earlier this week, Mr Muthana told the BBC he was "heartbroken" by the video featuring his son, while the family of Mr Khan said he had been "brainwashed" into supporting violent extremism. He criticised the government's anti-radicalisation Prevent strategy in Cardiff, which he said failed because it was made up of mainly white officers. But Sir Peter Fahy – national police lead for the programme – said responsibility for young Muslims' actions lay with their parents. "This responsibility cannot be transferred to the police or indeed any other agency," he insisted. "If families believe their sons or daughters have gone missing and may be abroad or thinking of going abroad, they should tell the police. "But they should also look out for the signs at an early stage, especially when people suddenly become more interested in politics or more extremist religious ideologies or are mixing with what they see as the wrong crowd." Mr Abdo, the local imam in Wales, has said he believed the men had been "groomed" by people they had met outside of their mosque. "These are young men who are very sincere, they want to do something good," he said. "But you can be sincere and you can be sincerely deluded in what you want to do, and they have been groomed to think a particular way."
Source : http://www.bbc.com/news/uk-28061173?utm_content=buffer6de83&utm_medium=social&utm_source=twitter.com&utm_campaign=buffer
Comments
comments