Airlines Halt Flights to Pakistan City After Attack on Plane – by Ismail Khan and Declan Walsh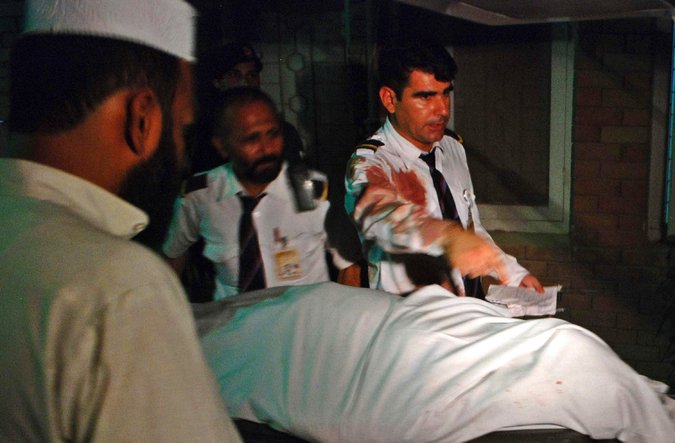 PESHAWAR, Pakistan — Two major airlines suspended their service to Peshawar in northwestern Pakistan on Wednesday, after a gun attack on a crowded airliner here that killed a passenger and raised fears of a concerted militant campaign against the country's airports.
One of the airlines, Emirates, said in a statement that the attack late Tuesday, in which gunfire ripped through the fuselage of a Pakistan International Airlines flight as it came in to land, had caused it to suspend flights to Peshawar "until further notice."
The other airline, Etihad Airways, said it had canceled a flight scheduled to land here on Wednesday and would make further decisions based on an assessment of the security situation.
Although there was no claim of responsibility for Tuesday's attack, most suspicion centered on the Pakistani Taliban, which have threatened to attack foreign airlines in retaliation for a sweeping military drive into their stronghold of North Waziristan that started on June 15.
It occurred just before midnight, as the Pakistan Airlines flight from Riyadh, Saudi Arabia, approached the runway with at least 198 passengers on board.
A volley of at least 10 bullets struck the plane, an Airbus A310, said Najibur Rehman Bhagvi, a senior city police official. One passed through a window and killed a female passenger. Two flight attendants, who were in the galley at the rear of the plane, were also hit, but their injuries were not life-threatening, Mr. Bhagvi said.
It was the second major attack on a Pakistani airport in three weeks, and the first to kill or hurt passengers. On June 8, militants carried out an audacious assault on Karachi airport, the country's largest, that killed at least 36 people, most of them security forces or airport workers.
Public outrage at that attack spurred Pakistan's political and military leadership to begin the long-awaited North Waziristan operation.
Now, with a second attack to put passenger aircraft at risk, the disruption of international air service to the country has become an immediate concern.
Abid Ali Qaimkhani, a spokesman for the Civil Aviation Authority, said the militants had attempted to create a "big disaster" with the attack in Peshawar. But he insisted that no international airline had signaled a permanent cancellation of its services to Pakistan.
Still, the decision by Emirates to suspend its Peshawar service was taken by many Pakistanis as an ominous sign. The airline, based in Dubai, had fallen foul of Pakistan's tumultuous political scene earlier in the week.
On Monday, the Pakistani authorities diverted an Islamabad-bound Emirates aircraft to the eastern city of Lahore because Islamabad's airport was surrounded by supporters of a passenger, Muhammad Tahir-ul Qadri, a preacher who says he is leading a revolution against the government of Prime Minister Nawaz Sharif.
In Lahore, Mr. Qadri refused to emerge from the plane for five hours, distressing other passengers who chanted "shame, shame" after he finally emerged into the airport lounge.
Airlines from gulf states, especially Emirates and Etihad, have grown their market share in Pakistan — a country of 200 million that presents a lucrative market — despite risks that have driven some Western airlines away.
British Airways pulled out of the country in 2007 after a violent battle outside the Red Mosque in Islamabad made the airline afraid for the safety of its crew members spending the night in the city.
But security is increasingly an issue for all airlines. Peshawar's airport has always been among the most vulnerable airfields in the country and was hit by rocket fire at least once since the start of the Taliban insurgency in 2007. It is near the Khyber tribal district where the Pakistani military recently carried out airstrikes.
In Tuesday's attack, at least one of the rounds that struck the plane pierced an engine cover.
"A light submachine gun appeared to have been used in the shooting, most likely a Kalashnikov," Mr. Bhagvi said. "It has just about the same range."
"Kalashnikovs are a common weapon here," he said.
After the attack, the police rounded up over 100 people for questioning in an area southwest of Peshawar.
It was not immediately clear who carried out the shooting or why, Mr. Bhagvi said.
The attacks come against the backdrop of the military operation in North Waziristan, which the military says has caused nearly a half-million people to flee to adjoining districts. The United Nations has appealed to the Pakistani government to allow it greater access to the affected population to provide food and shelter.
The military claims to have killed almost 350 people so far in the North Waziristan operation, all of whom have been described as militants.
But most journalists have left the area, and the number and identity of those killed could not be independently confirmed.
Comments
comments