Evil vs evil: Salafi Wahhabi militants in Afghanistan hang Deobandi Taliban militants – by Hasan Khan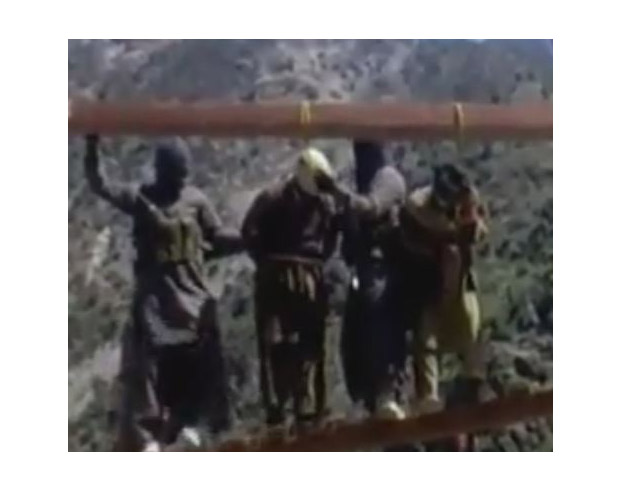 ISLAMABAD – Militant groups adhering to different ideologies are battling for ground, particularly in eastern and north-eastern Afghanistan, according to observers in Pakistan and Afghanistan.
A video of unidentified militants in Nuristan Province hanging Taliban insurgents appeared online recently. The militants lynched the men allegedly to pressure the Taliban into more vigorously fighting the Afghan government.
"Militants of all hues are present in Nuristan and Kunar provinces, but nobody is in control," senior Afghan analyst Sami Yusufzai told Central Asia Online. "Al-Qaeda, the TTP [Tehreek-e-Taliban Pakistan], LeT [Lashkar-e-Taiba] and Arab fighters are striving for influence."
Possible culprits
While no group has claimed responsibility for the hanging, analysts and officials suspect a couple of factions.
One possible culprit is a Taliban splinter group, Afghanistan Islamic Movement, also known as 'Fidai Mahaz' (suicidal front), said Karachi-based journalist Zia Ur Rehman, who covers terrorism.
Hard-line factions and mainstream militants within the Taliban are at odds over things like co-operation with the Afghan government, "and the killing of rivals indicates a weakening of control by leadership," Rehman said.
Nuristan Governor Hafiz Abdul Qayyum, though, accused LeT.
LeT and the TTP have a history of clashes.
In June 2013, then-TTP spokesman Ihsanullah Ihsan accused LeT of hatching a plot to attack the TTP's bases and supporters in Mohmand, Afghan political analyst Asmat Qani said, adding that reports of clashes between the two in Kunar Province appear frequently.
Incident could encourage more violence
Regardless of which faction is responsible, Afghans are concerned that the act will cause more violence.
The differences between LeT and the Taliban are not only operational but ideological, Afghan political analyst Asmat Qani said, with LeT claiming to come from the Salafi school of thought, while the Taliban draw from the Deobandi.
Groups from different Islamic schools of thought do not trust one another, Safi, a youth organisation leader in Afghanistan, said.
The militant-on-militant violence is a by-product of every group positioning itself for post 2014-Afghanistan, Aoun Sahi, a journalist covering militancy, told Central Asia Online.
"LeT is expanding its presence in Kunar and Nuristan from Bajaur and Chitral, and this naturally would not be taken well by the Afghan and Pakistani Taliban," he said. "The [TTP] uses the same two provinces to launch attacks and cannot afford losing them to some other organisation."
Source :
http://centralasiaonline.com/en_GB/articles/caii/features/pakistan/main/2014/06/18/feature-01
Comments
comments