Top Bahrain activist released from prison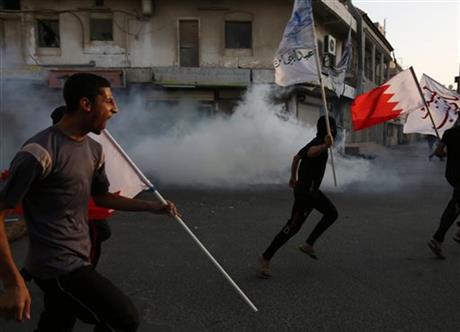 Bahraini anti-government protesters, carrying Bahraini and religious flags, run from riot police firing tear gas during clashes in Diraz, Bahrain, Friday, May 23, 2014. Clashes erupted in several northern towns after last-minute notification that a planned opposition rally would not be authorized by authorities. Tensions are high in the Gulf island kingdom, following two recent deaths of protesters and delays in releasing the body of another man who died earlier. (AP Photo/Hasan Jamali)
MANAMA, Bahrain (AP) — A prominent human rights activist in Bahrain has been released from prison after spending nearly two years behind bars.
Nabeel Rajab, who heads the Bahrain Center for Human Rights, was sentenced to three years in 2012 on charges of encouraging "illegal gatherings" tied to anti-government protests in the country. An appeals court later reduced the term by a year.
Moments after his release on Saturday, Rajab told The Associated Press that he is happy to be out after more than 600 days in prison. He also called for the release of all political prisoners.
Rajab says Bahrain can only achieve stability "through respect for human rights."
Since 2011, Bahrain has seen near-daily protests demanding greater rights for the nation's Shiite majority from the country's Sunni monarchy.
Source :
http://bigstory.ap.org/article/top-bahrain-activist-released-prison
Comments
comments