Saudi Arabia employer 'pours boiling water' on Filipino woman – by Antonia Molloy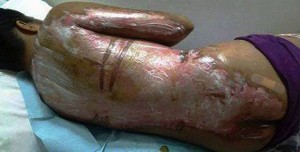 A Filipino woman was left with severe burns after her Saudi Arabia employer allegedly poured boiling water on her.
The 23-year-old household service worker, from Pikit, North Cotabato, suffered burns to her back and legs after being doused with the scorching liquid in the incident in Riyadh on 4 May, ABS-CBN News reported.
Photos of Fatma, which is not her real name, were posted by her cousin on Facebook on Saturday in an appeal for help.
According to ABS-CBN News, the mother of Fatma's employer became angry after Fatma was slow to bring her coffee and then poured boiling water on her.
Fatma was not taken to hospital for several hours, but when there she was able to contact relatives in the area by giving a phone number to one of the nurses.
She was saved by her cousin during a further trip to the hospital.
Fatma has now been taken under the wing of the Philippine Embassy.
A representative from the Department of Social Welfare and Development said they are providing her with medical treatment and other necessities.
According to a study by the Committee on Filipinos Overseas, 70 per cent of Filipino domestic workers in Saudi Arabia have reported physical and psychological abuse.
Tales of mistreatment are common – and not just among Filipinos.
Last year a young maid from Sri Lanka was beheaded in the country after being accused of killing her employer's four-month-old baby.
And Indonesia banned its nationals from working in Saudi Arabia when a maid was beheaded after confessing to killing her employer, claiming he abused her.
Source :
http://www.independent.co.uk/news/world/middle-east/saudi-arabia-employer-pours-boiling-water-on-filipino-woman-9397433.html?utm_content=buffer085ea&utm_medium=social&utm_source=facebook.com&utm_campaign=buffer
Comments
comments