Why over 250 abducted Nigerian schoolgirls remain missing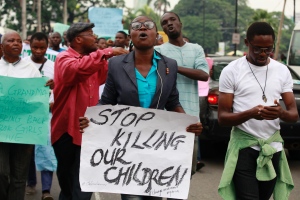 It's been nearly three weeks since men dressed as soldiers kidnapped more than 300 girls from a Nigerian boarding school, an attack that has critics decrying the lack of action from a military that may not have the capability to mount an effective rescue operation.
"It's really hard to say what will happen,"said Brandon Kendhammer, assistant professor of political science at Ohio University, who focuses on religion and politics in northern Nigeria . "The Nigerian military doesn't have a particularly strong track record in being able to free hostages."
Although they haven't claimed responsibility, nearly all have pinned the kidnappings on the Islamic extremist group Boko Haram, which had threatened to take young women captive almost a year ago.
Nigerians have expressed their outrage that the girls have not been found, accusing the government, even with its limited military capacity, of not doing more.
According to a report from allAfrica.com, the army has drawn up plans to storm Sambisa Forest this weekend with about four battalions in an attempt to find and rescue the students. It would be the first substantial move from a military that, according to experts, is squeezed for resources, under-trained and possibly compromised.
"You hear they've got fighter jets but clearly [they are] not the right tools to help find young women in an area like this," Kendhammer said. "The sense is that the tool kit that is available here is not particularly apt given what needs to happen."
Darren Kew, a professor of conflict resolution at the University of Massachusetts Boston, and executive director of the schools' Center for Peace, Democracy, and Development, said the Nigerian military is clearly overstretched, noting that troops are deployed in most of the country's states and involved in overseas peacekeeping operations.
The military also lacks the capacity of counter insurgency or a counter terrorist strategy or the surgical strike capacity of a more advanced military, said Lew, who was in Nigeria in March.
Military compromised
There has also been speculation that the military has been compromised by members of Boko Haram, with reports that some members of units engaged in firefights with the extremist group have either refused to fight, left the fight, or joined the insurgent organization.
Meanwhile, the military's attempts to secure the release of hostages in past kidnappings have often been fatal.
"[There's] been rampant speculation that the military has hesitated to go where at least some of the girls might be held because previously when they've done that in kidnapped situations, the kidnappers have promptly murdered the victims," said John Campbell a senior fellow for Africa policy studies at the Council for Foreign Relations and author of Nigeria: Dancing on the Brink.
On April 14, about 300 girls from various institutions had gathered at the Government Girls' Secondary School in Chibok, Borno to take their final exams after all schools in the state had been shut because of attacks by Islamic extremists. Around midnight, men dressed in military clothing burst into the school, claiming they had evidence that the Islamic extremist group Boko Haram was about to strike and that they were there to move the girls to a safe place.
People attend a demonstration calling on government to rescue kidnapped school girls of a government secondary school Chibok, during workers day celebration in Lagos, Nigeria. (Sunday Alamba/Associated Press)
The girls were loaded into trucks and buses and shipped out. Some of the girls got suspicious and escaped while en route, while others managed to flee the camps of their captors. Those interviewed have said their captors identified themselves as fighters in the Boko Haram network. About 50 girls escaped, while 276 remain missing.
Although they haven't claimed responsibility, nearly all have pinned the kidnappings on Boko Haram, which had threatened to take young women captive almost a year ago.
"Boko Haram has been doing a wide range of things that are horrific and this is just the latest one," Kew said.
The militant organization believes Western influences have corrupted their society and only an Islamic state can restore purity to Africa's most populous nation of about 170 million people, divided almost equally between Muslims and Christians.
"From their twisted perspective, they see this as improving the lives of these women, bringing them to the proper faith and putting them under the supervision of men who are living the righteous life," Kew said.
Taking the girls is 'just a sideshow'
The motivation may also be more base – to force the girls to become slave wives of their fighters.
"The central goal of Boko Haram was not to take these girls. Their central goal is the establishment of a utopian Islamic state — in their eyes very much like the Taliban-style governance — that returns at least northern Nigeria if not all of Nigeria to the way things should be in their eyes.
"The taking of the girls just a sideshow from their perspective."
As to where the girls are, reports say they have been divided into groups, some sent to Cameroon or Chad, while others sent to various Boko Haram camps.
"But we have to underline the fact that we don't know, which is part of the massive frustration you see coming from Nigeria," Campbell said.
Source :
http://www.cbc.ca/news/world/why-over-250-abducted-nigerian-schoolgirls-remain-missing-1.2630389
Comments
comments