Saudi princess calls for uprising in Saudi Arabia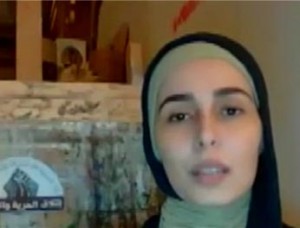 A Saudi Arabian princess has called on people across the kingdom to rise against the ruling regime. Sahar Al Saud, 42, the eldest daughter of Saudi King Abdullah bin Abdulaziz, made the call in video message from a house in Jeddah where Sahar, along with her three sisters, have reportedly been confined, according to a Lebanese television station. According to Lebanon's Al Manar TV, Sahar, in her video message, also greeted the martyrs and prisoners in Al Saud jails.
"Victory is theirs. Greetings to martyrs and to free men in jail. It is an honour for me to learn the meaning of freedom, rights and dignity from you revolutionary people," Al Manar TV, which sourced the news from unnamed websites, quoted Sahar as saying. "We promise to follow in your footsteps and not to let go of your hands. God's hand will be above us," she went on.
"We learn determination from Ayatollah Nimr al-Nimr, the Sheikh of free men," Sahar said referring to Sheikh Nimr al-Nimr, who was attacked, injured and arrested by security forces in Qatif region over calls for the release of political prisoners. "For this reason, we will press ahead on the path by our own will," she stated in the VDO message. "And we will become victorious with faith in God. Good luck, you who have honored us by raising the flags of freedom. Your sisters, Sahar and Jawahir," she added. Al Mana said Sahar, along with her three sisters, is confined in a house in Jeddah, the capital of Saudi Arabia.
On April 20, Sahar told the New York Post in a phone call that "We are cut off and isolated and alone." Sahar, Maha, Hala and Jawaher Al Saud are daughters of King Abdullah bin Abdulaziz, who are reportedly being confined against their will.
Source :
http://www.thefinancialexpress-bd.com/2014/04/28/31242
Related:
http://www.almanar.com.lb/english/adetails.php?eid=148366&cid=23&fromval=1&frid=23&seccatid=28&s1=1#.U1wt8jugVcA.twitter
http://www.channel4.com/news/saudi-princesses-sahar-jawaher-king-abdullah-barack-obama
 http://www.news.com.au/lifestyle/real-life/saudi-princesses-being-held-captive-by-the-king/story-fnixwvgh-1226890360769
Comments
comments