Saudi 'cultural vandalism' of Muslim heritage continues – by Hanan Chehata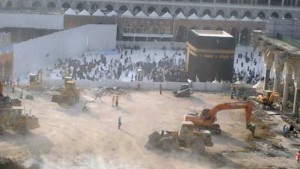 Sites associated with the life of prophet Muhammad have been close to the hearts of all Muslims for almost one and a half millennia. Over the centuries, rule over these sites has passed through numerous hands, including the Ummayads, Abassids and Ottomans. They are currently under the control of the Saudi royal family, under the self-appointed title "Custodian of the Two Holy Mosques". This is not just an honorific title but one of substantive authority. It is the Saudis who control which of the 1.6 billion Muslims worldwide are permitted or denied entry for the annual pilgrimage of Hajj.
Despite this title as custodians, the estimated 3.7 mn internationals that flock to Arabia each year for the annual Muslim pilgrimage of Hajj may be hard pressed to find clear evidence of what is traditionally thought of as guardianship. Instead of preserving and protecting holy sites, which the Saudi authorities themselves call a "sacred trust", critics say they are guilty of "cultural vandalism" there.
The Washington based Institute for Gulf Affairs estimates that 95% of Mecca's millennium-old buildings have been demolished in the past two decades. The one-time desert region now has a skyline, not lit by stars, but by gaudy luxury hotels and flashy shopping malls hosting the likes of McDonalds, Starbucks, Baskin Robbins, and several Paris Hilton boutiques.
Pilgrims who have scrimped and saved for a once in a lifetime spiritual journey to the heartland of Islamic history and want, for example, to visit the site of the home of Muhammad's first wife Khadijah will now find a block of 1,400 public toilets in the place where her home once stood. In place of the mosque of Abu Bakr – the first Caliph of Islam – they will now find a cash point. Cemeteries dating back over 1,000 years have been razed. Mountains have been crushed just to make way for car parks.
Global criticism has been muted to a large degree by fears that challenging the Saudi authorities would lead them to exert their control over the visa process; a risk not many Muslims are willing to take. Saudi Arabia also controls country quotas, i.e. how many pilgrims from each country can be admitted each year, leading to scant criticism at a government level.
Occasionally though there is vocal international condemnation of Saudi's razing of Islamic heritage sites. In 2003, for example, an ancient Ottoman fortress that once guarded Mecca from attack and which dated back over 200 years was completely demolished only to be replaced with a giant 601 metre Mecca Royal Hotel Clock Tower – the third tallest building in the world. This did not go unnoticed and the Turkish Minister of Culture strongly condemned the destruction of the Ecyad Castle stating "I condemn the pulling down of Ecyad Castle as an act of barbarism." He said, "Speaking on behalf of the Turkish State and Nation, after such destruction, it seems difficult to consider Saudi Arabia in a friendly light. This is not only disrespect to history, but is also a move to eliminate Turkish culture from their world and history." However, while it may be the case that there is some sort of nationalistic element behind removing evidence of other cultures from their land, there is certainly much more to it than that.
From a Saudi perspective, the changes are all necessary. Prince Khaled Al-Faisal has dismissed criticisms and defended the developments saying "Of all the countries that have ruled Makkah, Saudi Arabia has undertaken the greatest reforms in the city. The expansion projects are conducted in a modern and sophisticated manner." The Saudis claim that the multi-billion dollar expansion projects they are working on (including at least $6 bn to expand the Prophet's mosque in Medina, $21 bn to expand the mosque in Mecca as well as $16.5 bn to modernise the transport system in Mecca) are necessary to accommodate the increasing number of pilgrims who flock to the region every year, and there is certainly some validity to that point. In terms of health and safety alone it is significant that more than two thousand people have been killed in stampedes due to overcrowding in the last couple of decades. Modernisation is clearly called for.
Not even Saudi's staunchest detractors deny that expansion and development is needed but the expansion could easily be done in a way that also accommodates the preservation of ancient sites. Dr Irfan Al-Alawi, the Executive Director of the Islamic Heritage Research Foundation, a centre dedicated to the preservation of historical sites in Saudi, says "We do not deny that expansion is needed but there are ways they could expand while still preserving the historic sites. They could even move some of the buildings, hotels and so on just a mile further away into the desert area."
One of the explanations as to why they do not do that is simple economics. The religious tourism industry is substantial with $16.5 bn in revenues in 2012 alone.  According to Al-Arabiya, Mecca is one of, if not the most expensive areas of real estate in the world with the price of one square metre able to sell for well over $100,000. A royal suite in one of the Abraj al-Bait hotels can cost over $5,880 for a single night. That is quite a motivation when weighing up economics versus preserving an ancient burial plot or a centuries-old mosque.
There also seems to be a religious agenda behind the façade of modernity and development. Experts like Dr Al-Alawi directly blames the austere brand of "wahabism" that many Saudis adhere to as the motivating factor behind the destruction of historic sites. He argues that it is their fear of people committing shirk – associating anything or anyone with God – that is the driving force behind the destruction. While all Muslims consider shirk a sin, it seems the Saudis are taking their interpretation so far that they are trying to wipe out any place of historical significance that people might potentially attribute holy status to beyond those clearly set out in the Quran.
A prime example is the site where prophet Muhammad is believed to have possibly been born. At one point it was turned into a cattle market, then a library in the 1950s, and the Saudis are now on course to tear that library down, excavate the site and build part of the expanded palace, or Imam's residence in its place. In fact, almost as if to pre-empt and quell any outrage in advance they have put up a sign at the location stating: "There is no proof that Prophet Muhammad was born in this place, so it is forbidden to make this place specific for praying, supplicating or get blessing."
Religious figures in Saudi are cementing the status quo by not speaking out and on the contrary supporting expansion despite its impact on heritage sites. A case in point would be Saudi's Grand Mufti Sheikh Abdul Aziz Bin Abdullah al-Sheikh who has not only commended efforts to expand the mosques but have said that people should thank the government for the expansion projects.
Islamic historians like Dr Irfan Al-Alawi emphasise that international pressure is an important way to halt further destruction. According to him, several times in the past the municipality have changed their plans to demolish one historic structure or another as a result of negative international publicity. He called for people to keep up the momentum of complaining when Islamic heritage sites are at risk.
When asked why people are not doing more to prevent this cultural vandalism, as he calls it, Dr Al Alawi said "Muslims should have reacted to this years ago, but now we have incompetent people who lack the knowledge and experience to comment on the destruction."
It seems that if any other group was responsible for wiping out 95% of historical sites in a city considered to be as holy as Mecca is to Muslims, there would be widespread international condemnation. Whether it is fear, economics, an austere interpretation of Islamic teachings or anything else motivating this silence, it is already too late for many historically and religiously significant sites and artefacts in Mecca and Medina to be saved.
People are already mockingly referring to Mecca as a new Las Vegas. If Muslims want to retain any of the spiritual and religious integrity of their Islamic heritage sites, they need to start acting now before it really is too late.
(Islamic Heritage Research Foundation)
All photos: Credit to the Islamic Heritage Research Foundation.
Source :
Comments
comments