While Taliban are from Deobandi school, not all Deobandis are militants – Jan Achakzai, spokesman of Maulana Fazal-ur-Rehman
Writing in Express Tribune, Dr Ayesha Siddiqa exposed the role played by Deobandi militants, supported and nurtured by JUI-F, in religious extremism and terrorism across Pakistan.
Dr Siddiqa wrote:
JUI-F forms the political backbone of the Deobandi militant network. Over the past five years and more, the JUI-F has encompassed most of upper Sindh, expanding into Balochistan. This is a development worth watching because most Deobandi militant networks tend to creep into the province under the umbrella of political parties these are ideologically aligned with. The influence is further buttressed by connections with strong business and other mafias. Political involvement, in particular, is part of the process of building a support base, which in turn, is vital for developing a strong power base in society.

This is not an anomaly because this is exactly what happened in Punjab. The Sipah-e-Sahaba Pakistan (SSP) was grounded in the political legitimacy of its prominent leader, Maulana Haq Nawaz Jhangvi. He was part of the MRD movement and contested the 1988 elections on a JUI-F ticket against Begum Abida Hussain. The construction of the militant apparatus of the SSP was aided and abetted by influential individuals from the transport and construction mafias from Jhang. Later, the deep state and its foreign allies in the Middle East also joined in.

The militant networks use the cover of ideologically aligned religious political parties to their own advantage. The dependence continues up until militant networks and their leadership can launch themselves more forcefully. Not that the alignment between the militant and political cadres comes to an end but then militant networks tend to become relatively independent, often even chipping away the social influence of their political platforms. So, the influence and support base, which we find in Sindh in the form of the JUI-F, currently spearheaded by leaders like Senator Khalid Soomro will bolster the clout of Deobandi militant outfits that right now are parked in the shadow of this right-wing political party. In this regard, the JUI-F leadership in Sindh plays the same role as the JUI-F did in Punjab. The performance of Khalid Soomro in Larkana is worth watching. He received 15,730 votes in the 1993 elections. The total votes cast for all forms of religious parties that year were 21,238 against Benazir Bhutto's 59,376. In 2002, Soomro received about 32,000 votes.

Viewing the JUI-F's votes as a percentage of total votes cast is a flawed perspective. These are hardcore ideological votes, which means that there are enough people who genuinely believe that attacking a minority's place of worship is their religious duty, especially if it involves blasphemy. The PPP must not target all and sundry as it did in reaction to the religious parties' gains in 1993. This will make militant forces even more popular. Nor is running away an option. A strict implementation of the rule of law and bringing culprits to justice is imperative for strengthening a counter-narrative in this province (Sindh).

In case leaders have lost the plot, they must not forget that this act is the beginning and not the end. Sadly, the alignment with the JUI-F, allowing expansion of the madrassa network and not resisting ideological expansion is coming home to roost.
http://tribune.com.pk/story/684820/is-larkana-not-gojra/
In response to Dr Siddiqa's column, Jan Achakzai, official spokesman of JUI-F's chief Maulana Fazal-ur-Rehman issued the following clarification on Twitter.
1) Strongly dismiss Dr Ayesha Siddiqua's usual anti JUI-F biased rant;JUI-F nothing 2 do w/ "militant network" in Sindh, & Temple vandalism.

2) Dr Somro-JUI-F Sindh Chief- is a man of character. As Taliban r from Deobandi school, does n/t mean all Deobandi followers r militants.

3) Dr Ayesha is disingenuous in n/t mentioning 1000s of Deobandi Ulema moots in Lahore, Peshawar & Quetta denouncing militancy, suicide bomb.

4) Dr Ayesha may hates Madrasas, but they r lynchpin of Islamic civilisation in Pakistan & Sindh & r here to stay.

5) Dr Ayesha! JUI-F dominate areas in KP, & Balochistan, with no threat 2 1000s of Hindus, Sikhs & Christians & temples, Gordwaras, Churches.

6) They were JUI-F workers in Lahore who rescued Christians from their vandalised colony. Even state came late. Our RECORD is unblemished.
We agree with the Mr. Achakzai's assertion that not all Deobandis are terrorists. However, Mr. Achakazai may wish to clarify why almost all terrorists of TTP, ASWJ-LeJ, JeM, Jundullah etc happen to be followers of Deobandi school. He may also wish to clarify why Maulana Fazal-ur-Rehman and other senior Deobandi clerics are often seen together with leaders of banned Deobandi terrorist oufit Sipah-e-Sahaba Pakistan aka ASWJ-LeJ.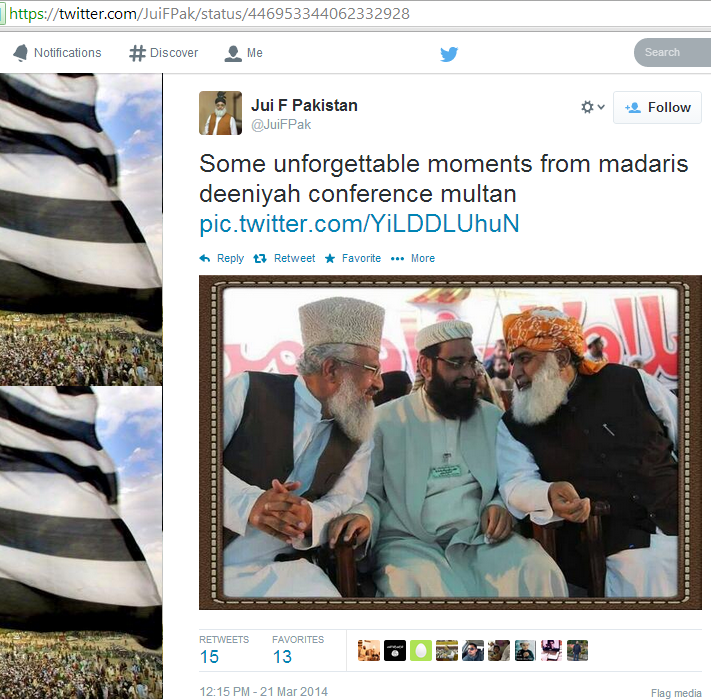 Comments
comments