Holi : Reminscences – by Zulfiqar Ali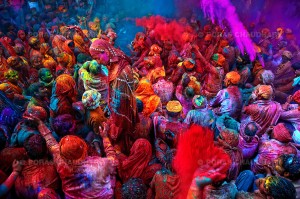 All friends, all should try to go to temples to participate in Holi. Some should protect the Hindu brothers and sister from terrorist criminals.
 Once upon a time even though Holi was primarily Hindu celeberation but many people in our village, and I am sure most places, used to celeberate too. We kids had extra reason because we would get some sweets from Naani JeevenreeN.She was "moon Boli" sister of my Naani so she was Maasi JeevnrreeN to my mom and her siblings and Nani to us. That continues. Her kids are massats to our parents, uncles and aunts, and Mamas and Maasis to us. Her eldest sister who is married in India is sister to my Khala and one sister is sister to my mom.in 1980s her brothers went to India and she still remembered our family and sent gifts as she could afford from her meager income.
 Many years ago, Me and mom went to wedding of my mom's sister's son in Sindh.Even though we had not asked ,they had arranged our food to be cooked by Muslim.Local Muslims were surpised and we felt so ashamed that we could not eat. It is strange that when we (or others) would go many cities in Sindh, we used to prefer Paerray, Jalebi etc (sweets) from Kiraarrs' (Hindu) Shops. But when we come back then would not eat food made by them. My eldest uncle gradually made us make comfortable in eating/drinking from same utensils though. He held masters degrees in Arabic and Islamic Studies.So by conventional wisdom he should have been double Mullah. But he was one the most tolerant person one can ever meet.Why can't we have those times back?
Source :
https://www.facebook.com/photo.php?v=383758435077014&set=vb.100003285833768&type=3&theater
Comments
comments