Pakistani version of Aam Admi launched – by Zahid Gishkori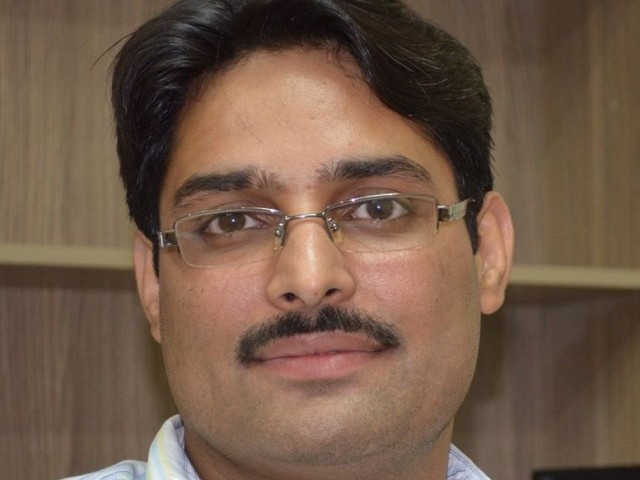 What is to be seen is whether this former bureaucrat can weave the Kejriwal magic in the hotly contested environs of political Islamabad. PHOTO: facebook.com/Adnan.H.Randhawa
ISLAMABAD: Meet Adnan Randhawa. You probably don't know who he is. Just like a few months ago, you didn't know who Arvind Kejriwal was – the doyen of India's Aam Admi Party (AAP).
Randhawa is a 34-year-old former deputy information secretary of the Pakistan Tehreek-e-Insaaf (PTI) and former high-achieving bureaucrat who is all set to launch his own local version of the AAP – a party which burst onto the Indian political scene by sweeping to power in Delhi just a few months ago.
Far from a household name, yet possessed by an indomitable household vision, Randhawa resigned from his post as deputy information secretary of the PTI in March after becoming disillusioned with the party over what he termed continued violations of party laws by its leadership.
This is not the first time the unassuming and soft-spoken young man from Burewala has resigned from a post in protest. Like Kejriwal, Randhawa too was once a bureaucrat. He quit the Foreign Services of Pakistan in protest against the release of CIA operator Raymond Davis while he was posted in China, and joined the PTI in 2011.
In fact, he has been a serial resigner-protester of sorts – which is perhaps the only thing mildly extraordinary about him. Having protested the unconstitutional formation of the party's Core Committee and vociferously opposed the dissolution of PTI's elected party set-up in Balochistan by Jehangir Tareen (who he termed an unconstitutional secretary-general of the party), Randhawa now has a new project. Randhawa says his disillusionment began when the PTI started to recruit and propel "old faces of the old order" despite promising new results and fresh faces.
Randhawa now says that he has closely studied the AAP of India, and wants to model his party around it – though stressing that his party AAPP has no connection to AAP. But Randhawa will have his work cut out. Without a political background and hailing from the middle class, he will be an outsider in Pakistan's politics – a nonentity.
Unfazed, a boisterous Randhawa insists that the "moral appeal" of his party will be enough. Optimistic, Randhawa is upbeat about his party's prospects and points to a trend towards fighting the status quo in the region. He doesn't have the money to back a powerful campaign but insists that it really doesn't cost much to run a party. "Jazba hai toh paisa nahi chahiyay," he says. "It costs Rs3,000 for a demonstration if you really want it," he adds, without batting an eyelash. He feels the concept (and the name) of the Aam Admi party and what it stands for should be enough. What is to be seen is whether this former bureaucrat can weave the Kejriwal magic in the hotly contested environs of political Islamabad.
Source :
http://tribune.com.pk/story/683736/pakistani-version-of-aam-admi-launched/
Comments
comments