Very disturbing video of a 2-year old Deobandi toddler chanting Shia Kafir, brandishing large knife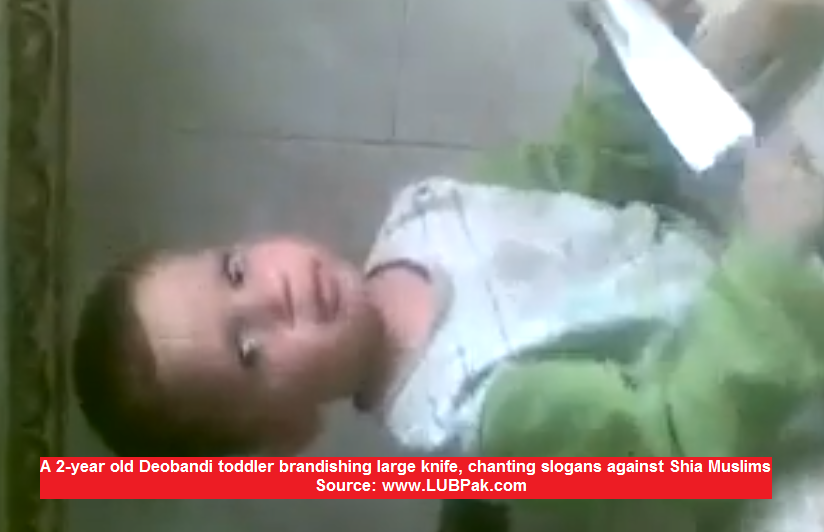 This very distrubing video shows how extremist Deobandi Muslims in Pakistan brainwash their children turning them into killing machines and terrorists of Taliban (TTP) and Sipah-e-Sahaba (ASWJ).
The video was uploaded on a Deobandi facebook page on 6 March 2014.
Deobandi is a sub-sect of Sunni Muslims, which is closer to Salafi/Wahhabi fanatics due to its violent and puritanical interpretation of Islam. According to government statistics, Deobandi terror outfits are responsible for at least 95% of terrorist activites in Pakistan. In the last few years, Deobandi militants have massacred thousands of Sunni Barelvis/Sufis, Shias and Christians. Sunni Barelvis constitue more than 80% of Sunni Muslims in Pakistan while Deobandis are no more than 15%. In the last few decades, Deobandi clerics, seminaries and political parties have received generous financial and political support from Saudi Arabia and other Salafi Arab countries.
According to Deobandi activists, this Deobandi toddler chanting Shia Kafir slogan, brandishing large knife, is a nephew of Ahmed Ludhyanvi, head of banned Deobandi terrorist oufti Sipah-e-Sahaba Pakistan, currently openly operating as Ahle Sunnat Wal Jamaat (ASWJ). The ASWJ is known to be a front of the Taliban (TTP) and Al Qaeda in Pakistan's urban areas.
Within Sunni women, Salafi preachers such as Farhat Hashmi and Deobandi preachers such as Umme Hassan of Jamia Hafsa have played a key role in spread hatred against Sunni Barelvi/Sufi and Shia Muslims in Pakistan.
Pakistan's military estbalishment remains tight-lipped on the common Deobandi identity of TTP, ASWJ, LeJ terrorists, and the media is instructed to amalgamate their identity with ordinary Sunni Muslims.
Specimen comments from Deobandi facebook page: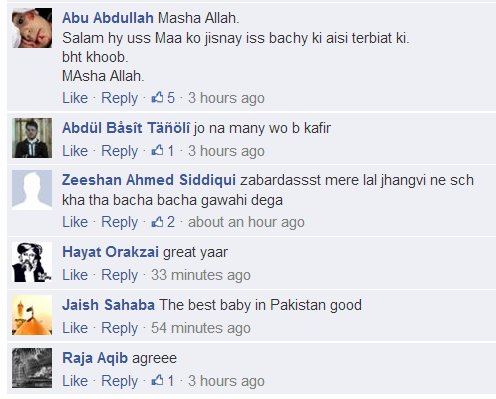 Other example:
On 17 July 2014, in a funeral of a Deobandi terrorist of ASWJ-LeJ in Rawalpindi, his 5-year old son chanted Kafir Shia slogan.
ASWJ Hate Video
Takfiris of banned Deobandi terrorist outfit Sipah-e-Sahaba Pakistan (currently operating as ASWJ, urban army of TTP) openly takes out a hate rally in Islamabad, in front of Pakistan's national parliament. The hate rally openly chants slogans against Shia Muslims (Shia Kafir or infidels) and Sunni Sufis/Barelvis (Barelvi Mushrik or polytheists). The rally in Islamabad (2014) is led by Ghulam Mustafa Baloch Deobandi, head of ASWJ Islamabad, who is the right hand of Ahmed Ludhyanvi (head of ASWJ) and Aurangzeb Farooqi (head of ASWJ Sindh).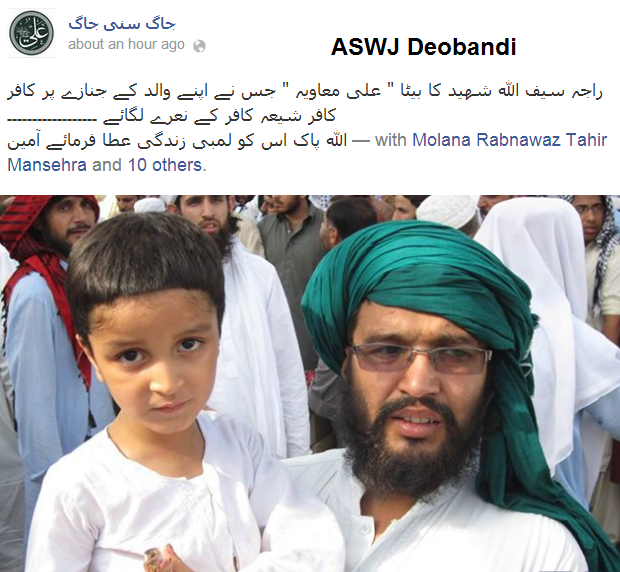 Reaction on Twitter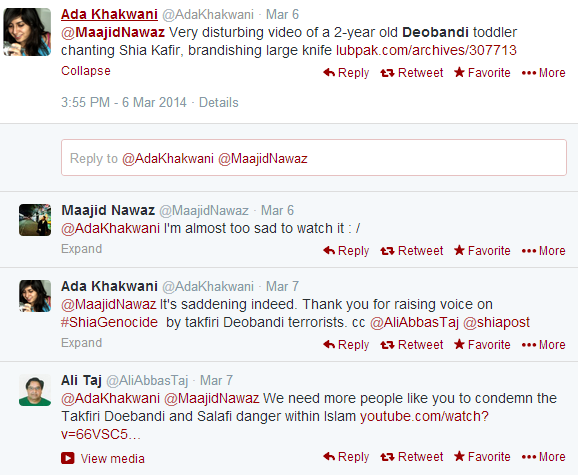 ——–
Appendix:
Speaker: Malik Ishaq Deobandi (VP of ASWJ, founder of LeJ)
Content: Hateful speech (Shias are infidels, Kafir Shia) against Shia Muslims inciting Deobandis to violence against Shias.
Date of speech: 19 June 2012
Location: Kabirwala, Punjab
In Attendance: 5000 radicalized Deobandis
Conference Chaired by: Maulana Muhammad Ahmed Ludhianvi (Head of Sipah-e-Sahaba Pakistan aka Ahle Sunnat Wal Jamaat)
Comments
comments