Through Many Pakistans: A Journalist's Journey Home – by Abdul Hai Kakar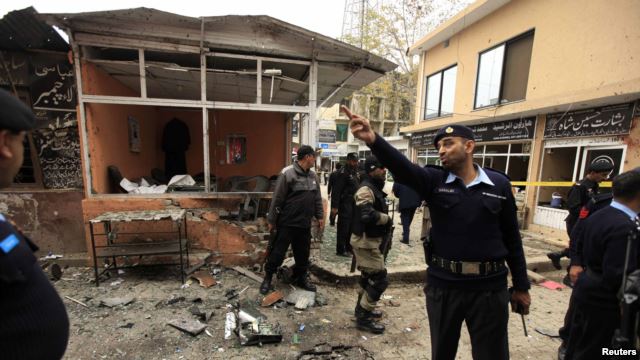 Visiting Pakistan, my home country, is never easy. I was eager to see friends and family after being away for more than two years. They did their best to dissuade me from making the journey, but I insisted, responding, "if you can guarantee that Pakistan will be any different in the near future, then I will postpone my trip."
Karachi
On a foggy afternoon in late January I landed in Karachi, returning to the city for the first time in five years.  The megalopolis of 20 million is Pakistan's commercial hub, key port, and the capital of the southern province of Sindh. The last time I was here I broke a story about Deobandi Maulana Fazlullah, the Deobandi Taliban leader in the northwestern Swat Valley who had escaped to Afghanistan after a large military operation in the summer of 2009. At that time there were no Taliban in Karachi and their violent campaign seemed limited to the northwestern Pashtun regions.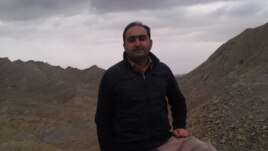 Abdul Hai Kakar in the wilds of his native Balochistan.
​Fazlullah is now the leader of the most lethal Pakistani extremist alliance, Deobandi Tehrik-e Taliban Pakistan (TTP). Within days I learned how the Taliban now controlled one-third of Karachi, and I was repeatedly warned against going into many neighborhoods now under jihadist authority. However, affluent neighborhoods in the city are a contrasting world. One evening I even attended a local theater's Urdu-language rendition of Nobel laureate Luigi Pirandello's famous play, "Six Characters in Search of an Author."
The political landscape of Sindh has also changed. The Pakistan Peoples' Party (PPP), which was once considered the only grassroots political movement with a national appeal, now only governs this province. During my stay, the party's provincial administration had organized a series of cultural events, entitled "Sindh Festival," to demonstrate its commitment to its core supporters.
Balochistan
As I boarded the hour-long flight from Karachi to the city of Quetta, the provincial capital of the southwestern province of Balochistan, I got a taste of what to expect in the days ahead. A woman physician on the plane told me that doctors have become attractive targets for kidnappers because they are perceived as being capable of paying hefty ransoms.
In Quetta I met doctors who had been kidnapped, some paying as much as $500,000 for their freedom after months of suffering. A common rumor circulating around Quetta was that government-backed militias involved in countering ethnic Baluch separatists used the abductions to generate funds. But the years-long, harsh government crackdown on autonomy-minded Baloch has failed to end their insurgency.
During the week in Quetta, where I went to university and began my journalism career 12 years ago, I felt like I was living in a giant garrison. Police, paramilitary checkpoints, and government spies were everywhere and fear permeated the city streets, which have been the scene of bomb attacks and drive-by shootings.
After horrific bombing attacks during the past few years, the city's Shia Hazara minority have given up their budding businesses in Quetta's commercial district. The Shi'ite minority now limit themselves to their homes and the two neighborhoods where they are a majority of residents.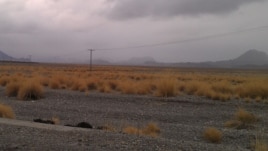 The desolate plains and mountains of Balochistan are rich in mineral resources.
The six-hour long drive from Quetta to Zhob, my northern hometown, was memorable. As a friend drove me some 20 kilometers north of Quetta to the town of Khuclak, he pointed out several trucks ferrying Deobandi Afghan Taliban fighters around the dusty towns. They were distinguished by their white and black turbans. We saw the same scene in Qilla Saifullah, a town 300 kilometers north of Quetta.
I found the once-serene town of Zhob nervously awaiting a Deobandi Taliban storm. Days before my arrival, the Deobandi TTP had circulated a list of nearly 100 local men, some were powerful figures who controlled criminal networks, accused of engaging in such un-Islamic practices as usury, adultery, homosexuality and drinking alcohol.  From my days of reporting on the Taliban, I recalled this as being a signature insurgent tactic. They were trying to carve out a new sanctuary by first targeting some local hate figures and then taking over their criminal networks to establish control.
Islamabad
The once sleepy Pakistani capital is now a crowded place. A decade of  Deobandi Taliban violence and military operations has turned Islamabad into a city overflowing with displaced northwestern Pashtuns, who now make up a significant portion of the city's population. Like Quetta and Karachi, Islamabad too was barricaded, although it is considered much safer.
Because of security worries many important neighborhoods of the sprawling city are, for practical purposes, off-limits to the public. The city had not suffered a large attack for several years, but periodic high-profile targeted killings have left local residents unnerved. Two weeks after my departure, Islamabad's courts suffered a gruesome attack just after the government and the Deobandi Taliban entered a month-long ceasefire.
Peshawar
The northwestern city of Peshawar was where I most wanted to return, having reported on the 'war on terror' from this provincial capital of Khyber Pakhtunkhwa from 2005 to 2010. I had never felt insecure in this frontier city, surrounded by the tribal territories from three sides. It is now a Deobandi Taliban stronghold.
A billboard in Pesahwar by the jihadist organization, Jamaat ud-Dawa, says, "Kashmir will not be free through resolutions. It will require violence against [Indian] Hindus."
Senior bureaucrats in Peshawar told me the provincial administration, led by Tehreek-e Insaf, a major political party, had removed 148 checkpoints around the city, which inadvertently facilitated Taliban attacks inside it. The party's rhetoric of pursuing dialogue with the Taliban has demoralized the police force, which has sacrificed hundreds of officers in anti-terrorist operations over the past few years.
Tehreek-e Insaf won last year's election with a pledge to restore security and improve governance, but its failure to deliver has made it a laughingstock.
Lahore
My final stop in Pakistan was the eastern city of Lahore, and I was surprised to discover how normal and peaceful the city was. As the capital of Punjab, Pakistan's prosperous eastern province, Lahore felt like a separate country, far away from the violence in Karachi, Balochistan, and the Pashtun regions.
A serene public park in Lahore.
As the most developed city in Pakistan, Lahore is brimming with life. The city's residents filled its markets and restaurants, traffic jammed the city's wide avenues, and tourists crowded its gardens, parks, and historic monuments. For a few days I felt like I was back in the once peaceful Pakistan I remember.
The city's intelligentsia are aware of the lurking dangers. Over a greasy and meaty dinner one evening, author Mubarik Haider provided this verdict.  "Pakistan was created as a homeland for South Asian Muslims," he told me, "but religious extremism now threatens its very existence."
Source :
http://gandhara.rferl.org/content/article/25283959.html
Comments
comments
Tags: Democracy, Imran Khan, Jihadi and Jihadi Camps, Military Establishment, Nawaz Sharif, PMLN, PPP, PTI, Religious extremism & fundamentalism & radicalism, Sectarianism, Shahbaz Sharif, Shia Genocide & Persecution, Sipah-e-Sahaba Pakistan (SSP) & Lashkar-e-Jhangvi (LeJ) & Ahle Sunnat Wal Jamaat (ASWJ), Takfiri Deobandis & Wahhabi Salafis & Khawarij, Taliban & TTP, Terrorism