A life less ordinary: Mian Iftikhar and the five stages of a man – by Zehra Abid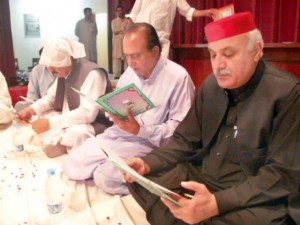 Hussain recites the Holy Quran during the first death anniversary of his son Mian Rashid Hussain held at Nishtar Hall, Peshawar
PESHAWAR:It's been many years since Mian Iftikhar Hussain slept at night with the sense of surety that there will be a tomorrow.
And so he is eager to share the stories of his life, quick to acknowledge his strengths as a politician and failings as a husband and father. He's a man overtly conscious of time – primarily that he may have little left of it – so he laughs loud, heartily, tells the most alarming tales with his signature wit, watches Kareena Kapoor films and tries to survive the pain of watching his country crumble.
At age 56, in the face of frequent death threats, the former minister reflects on his life like a man in his nineties acutely aware of his mortality. In many ways, his life has come full circle. Some early childhood decisions and whims now connect the dots.
"I would listen to my mother reading the jangnama (stories from Karbala in Pashto). I didn't know much about Hussain (RA) but I had this love for him." So when the school administration in his village asked the child his name for registration he said, "My name is Mian Iftikhar Hussain."
"My teacher insisted that this was not my family name, I told them I decide what my name is," the Awami National Party (ANP) politician said in an interview with The Express Tribune. "When my son was killed I understood why I had chosen the name Hussain that day."
It was this kindergarten in Pabbi, Nowshera that gave birth to his political consciousness. He was enrolled at the Azaad Islami Madrassa, a school run by the Khudai Khidmatgar. "My headmasters were not part of the movement but would teach voluntarily. They inculcated in me a passion to serve people. I didn't know then it would lead me to politics."
Pabbi also gave Mian Iftikhar his first and only home. The son of a labourer, he saw his father trying out different small businesses to support his family of a wife, three sons and four daughters. The house was initially a one-room residence near the railways tracks. The room with its termite-ridden wooden pillars and roof that his mother would spend hours fixing during the rain remains part of a treasured, nostalgic memory. "Jab barish hoti to hum rotay rehtay thay aur humari maa chat theek karti rehti thi…/Whenever it rained, we used to cry and our mother would be busy trying to fix the leaks."
Then things gradually changed for the better, the courtyard became bigger and adjacent houses were bought when his father's transport business thrived. As the family took small steps out of poverty, he was constantly reminded "Yeh na bhoolna kay tum aik mazdoor key betay ho/Don't forget you are the son of a labourer."
The hujra of the house was made after India bombed parts of Peshawar during the 1965 war and his father got a contract to rebuild the airport's runway. "One day my father said I'll take you to a place where you can only go on a plane, then he took me for a car ride on the runway. The runway that exists today was constructed by him." Forty-seven years later the airport that helped build his house was named after Bacha Khan, a man whose ideology inspired Mian Iftikhar enough to give his life to politics.
A political life at school
The ANP leader traces his involvement in student politics to sixth grade when he was studying at the Islamia Collegiate School in Peshawar. "In 1968 a movement started against Ayub Khan. Peshawar University was famous for its protests and rallies against the General and our school was in the university's premises so we were attuned to the politics of the country and would go around chanting slogans."
With every new class, the grades went down and political activism increased. The only time he managed to secure first position was in second grade – a story he tells with equal degrees of disbelief and pride.
And then there were the times when he left a chemistry exam to see Zulfikar Ali Bhutto's arrival in Peshawar and later persuaded his friends to hop on a train with him to Lahore. He is not sure what the purpose of this train journey was except an impulse to get into the heart of the country's politics and culture (his backup plan was to get a job with his favourite actor Mohammad Ali). The train got stuck at Rawalpindi and that was the end of any such ambition, but his antics forced him to quit the school in Peshawar and return to Pabbi.
In the mid-70s the former provincial minister rose to prominence as a student leader with the Pukhtun Students Federation (PkSF), which led to successive imprisonments.  "In 1983 a movement started against Ziaul Haq.  I was charged for treason and jailed in '83, '84, '85, '86 and '87. Sometimes it would be a year of imprisonment, sometimes around six months. I would watch other students pack up and leave but there would be no bail for me." In this time, it was his father, initially opposed to his politics during student years, who gave him the strength and courage to not give up.
Imprisonment and the 'art' of being alone
Politics, imprisonment and its consequent loneliness brought him one of his life's greatest loves – music and literature. Habib Jalib's divan remains by his bedside and Sahir Ludhianvi's poetry and life continues to inspire him. An avid music fan, one question about his favourite musicians leads to a list of names, including Mohammad Rafi, Mukesh and Lata Mangeshkar.
In prison, Mehdi Hassan's 'Zindagi main to sabhi pyar kiya kartay hain' was his lifeline. But he says he never quite fell in love himself. He was engaged when in ninth grade and his wife in third. Marriage to Sadaqat Begum happened a few years later, but it only remained a functional relationship which gave him two children. The solitude also gave him time to write and he penned two short stories, Surkh Cycle and Phansi.
An election defeat and a lifetime in politics
In 1988, Mian Iftikhar contested the general elections for the first time. He was the head of the PkSF at the time when Begum Naseem Wali and late Bashir Ahmad Bilour persuaded him to leave the student wing, join ANP and contest. He suffered an election defeat by 800 votes.
Upon losing the elections and unhappy with his personal life, he decided to sell the car his father had bought him to buy a ticket to the United States. "I was depressed and needed an escape so I left everything behind, including my wife and child, and went away to America. I stayed with Pukhtun families living in San Francisco, who I had never met before. They just knew of me as a politician." He stayed in the US for three months, in which two months were spent working at a gas station and general store to earn back the money he had spent on the trip – the fact that the minimum wage was tax-free still makes him visibly happy.
While his friends persuaded him to apply for a Green Card, he dreamt of Chowk Yaadgar, and finally returned to Pakistan on December 26, 1989 for Bacha Khan's death anniversary. He went straight from the airport to Jinnah Park for the ANP address.
Then came a consistent presence in practical politics, with his first win in 1990 when he became the youngest MPA in the assembly. Elected as MPA three times, he is proud of his politics which remain untainted by corruption charges. "I can swear on the martyrdom of my son that I did not indulge in corruption in any tenure. I had four portfolios as minister in the previous provincial cabinet, but no one can accuse me for embezzling a rupee."
Rashid's loss and 'dying every day'
For a man associated with the ideology of non-violence, he has seen too much violence in his life. Despite this, on most days the former minister travels alone. "I don't have the money to buy a car or hire security guards." On days when he's told the threat to his life is higher than usual, his security detail includes some good friends who dress like him, impersonating the man who is arguably one of the most threatened politicians in the country.
"There were days when I would recite a prayer before leaving the house every day and prepare myself that it might be the last. It was like dying every day." But now all that is over, he has decided he will only die once.
In some ways though, he has died many times. The death of his son has both strengthened his spirit and shattered him. After the fallout of the Swat peace deal, militants issued a religious decree "to cut the minister into pieces if found anywhere".  "I laughed and said what difference does it make after I die; whether they cut me into one piece or a thousand pieces. But I never thought they would cut my heart into pieces while I was still alive."
When Rashid Hussain was killed near his house in Pabbi, Nowshera in July 2010, he was heading to meet a friend to help him get a job. His father was a serving minister at the time. "He was with another cousin when they (assailants) asked which one was Rashid. When Rashid stepped forward they shot him four times in the head and four times in the chest. They stood there until he died."
But what hurts more is the feeling that his son died because of him. Mian Rashid died at the age of 26 and was the only son between Mian Iftikhar and his two brothers, who have no children of their own.  "It's very difficult to see the face of your son like that and then to face your wife and mother. When I was leaving after the funeral, my daughter Lubna held my arm and asked me why her brother was killed. What she actually wanted to ask was, would he have lived if he wasn't my son. I couldn't respond."
His loss has left a permanent void, but Mian Iftikhar is a man at peace. "As a father I am still in pain, but as the son of the soil I am proud. I am at peace with myself because in my heart I am satisfied that everything I did was for justice, for my country, for my land."
And so in this fifth stage of life, it's this sense of purpose that lets him keep living and gives hope in times of hopelessness.  A poem written for his son titled 'Fragmented Emotions' captures the transitions in his own life too:
"Injustice will be buried, Truth will suffice,
From the graves of martyrs will a new beginning rise."
Source :
http://tribune.com.pk/story/677754/a-life-less-ordinary-mian-iftikhar-and-the-five-stages-of-a-man/
Comments
comments