Bilawal Bhutto's plea for Pakistan – by Rob Crilly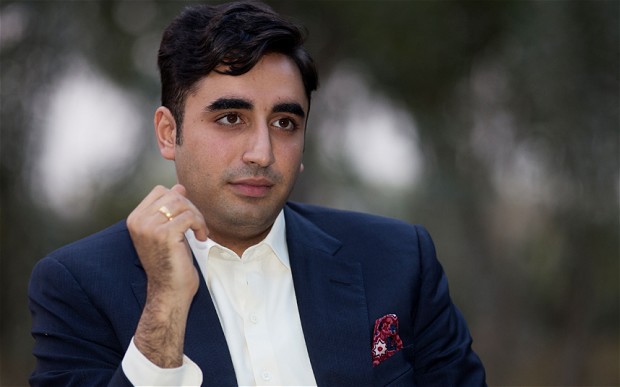 The son of Benazir Bhutto opened a new front in the war against extremism in Pakistan at the weekend, with a glittering gala of music and fireworks set against the illuminated ruins of a Bronze Age city.
In an interview with The Telegraph, Bilawal Bhutto Zardari, who at 25 is heir to the country's grandest political dynasty, said his two-week cultural festival was designed to reclaim ground lost to militants and extremists.
"This is Pakistan's history, this is Pakistan's culture and we're proud of it," he said. "We going to try to mark out a line in the sand and say this is who we are and fight back against that."
Bilawal Bhutto Zardari makes a speech during the opening event of 'Sindh Fest' (Max Becherer)
It is a bold move by a young man so far untested in the country's ferocious politics but his vision for Pakistan could yet provide the philosophical framework for a tilt at power and a revitalised country – or provide his death sentence.
Several hundred politicians, socialites and diplomats gathered at the ancient site of Mohenjodaro on Saturday night to witness an opening ceremony that combined imagery from the 5,000-year-old Indus Valley civilisation, that once dominated this part of South Asia, with dance beats and lasers.
Conceived with the help of a small circle of friends from his Oxford days, Mr Bhutto Zardari shrugged off the idea that the event marked his political coming out party.
"This is a pre-politics sort of thing," he said, speaking rapidly with excitement as the sun set and workers readied the stage.
Yet in four years time he could be prime minister of one of the world's most troubled countries: a fractured land with a growing nuclear arsenal, a hobbled economy and apparently bereft of ideas to tackle the suicide bombers who strike at will.
While the government of Nawaz Sharif continues to seek talks with the terrorists, Mr Bhutto Zardari has called repeatedly for decisive action against the Pakistan Taliban, the group that killed his mother as she left a campaign rally in 2007.
With such deeply-held differences coming to the fore, he declares his destiny lies in politics. "I am my mother's son," he says, when posed the inevitable questions about such an iconic figure in Pakistan.
He plans to overhaul his Pakistan People's Party (PPP) which suffered a humiliating defeat last year, learning his trade from the grassroots up.
However that means talk of him becoming prime minister can wait.
"That's not my aim," he said. "My aim is to have a PPP victory in the 2018 election. It's five years from now, and that's an extremely long time in politics. It's a lifetime."
Few people could make that phrase with more poignancy. Political lives in his family are all too frequently cut short by a hail of bullets.
Yet he has been ridiculed frequently for practising "twitter politics" and being nothing more than an empty figurehead for the Bhutto family party.
That criticism crescendoed during last year's general election. He stayed at his home in Dubai – after the Taliban singled out his party for death threats – under pressure from his two sisters who feared losing a brother as well as a mother to the family business.
It cemented the idea that he was a privileged outsider, more comfortable speaking English than Urdu.
Actors make final costume adjustments before performing at the festival (Max Becherer)
His critics have also seized on his two-week festival in the southern province of Sindh hinting he may be happier organising an Oxford May Ball.
The launch night will have given them ammunition. The audience was drawn from the country's liberal elite, ferried in by chartered 737 from Karachi some 300 miles away, rather than the ordinary Pakistanis that Mr Bhutto Zardari says he wants to reach.
Rather than helping tackle poverty in the region, which has the worst rate of child malnutrition in the country, his opponents wonder why he is promoting kite flying, concerts and a donkey derby.
"That would be an approach of someone who doesn't understand the depth behind the project or the scale of the concepts or the reach that this has," he said.
His point is that Pakistan is struggling to find a unifying idea. General Zia ul-Haq tried religion and General Pervez Musharraf tried the army.
Neither of those could prevent Bangladesh breaking away in 1971 and neither has stemmed the rise of the Taliban or its extremist ideology since.
"So I believe it's democracy that holds us together, and it's the democractic system, where culture and heritage are allowed to flourish, where they are not suppressed," he said. "There is a shared culture, a shared history that binds us together as nation – and that has not been allowed to happen because of our history of dictatorial rule."
Such is the level of fear in Pakistan that last month a book launch for Malala Yousafzai's memoir – detailing how she was shot in the head at close range for her campaign to get more girls into school – was cancelled under intense political pressure.
Traditional instruments are disappearing as children are discouraged from taking up music because parents believe they may provoke Taliban anger.
The opening act of Bilawal Bhutto Zardari's 'Sindh Fest' (Max Becherer)
By promoting Pakistan's culture – including its pre-Islamic history – Mr Bhutto Zardari hopes the country can reclaim its freedoms from terrorists who hunt down dancers and from their apologists in public office who ban YouTube.
Other events will have a more populist touch, he promised.
"For security reasons and because this is a heritage site we could only have a small number of people here," he said.
Money raised will be used to protect the ancient streets and clay-brick walls of Mohenjodaro, which is crumbling beneath annual monsoon rains and to train locals in the skill needed to preserve the site for years to come.
His university friends said he had found his niche with the festival, micromanaging every aspect of the event.
"This is the sort of thing he loves and that he is really good at," said one college mate.
Source :
http://www.telegraph.co.uk/news/worldnews/asia/pakistan/10613192/Bilawal-Bhuttos-plea-for-Pakistan.html?fb
Comments
comments