Sher-e-Punjab Salmaan Taseer : A man born in ages -by Hina Mehr Nadeem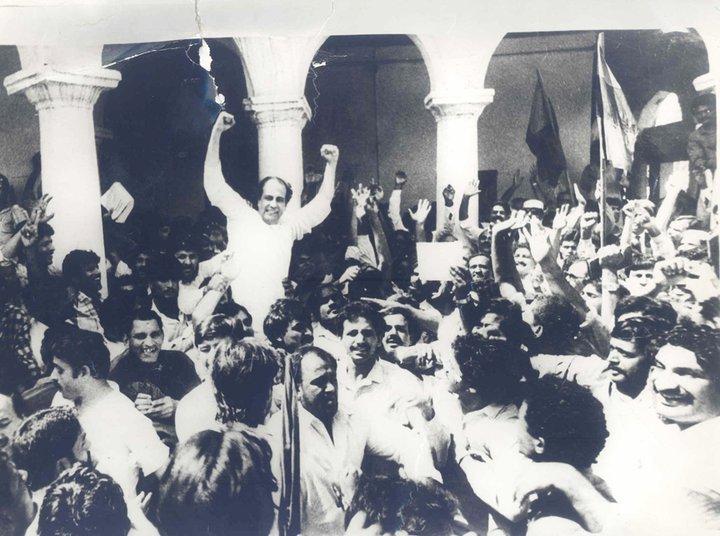 Three years back on this day a bright star left this world to shine forever in the sky. Even our tears could not stop him. The lion hearted man, Salaam Taseer, in the cold weather of Islamabad was assassinated by a cold hearted man. 27 bullets were fired in the chest of this brave man. He was a man who never committed blasphemy but was killed for it. What was Salmaan Taseer 's mistake?! Only that he raised his voice against injustice with minority. He was threatened with fatwas demanding his death and fundamentalist parties mounted demonstrations against him. He insisted that he was unfazed.
"It doesn't bother me. Who the hell are these illiterate maulvis [Islamic scholars] to decide whether I'm a Muslim or not?" (Salmaan Taseer)
Salmaan Taseer was a self-made man, an intellectual celebrity and above all the defender of human rights of poor and minorities. In 1960s, with Zulfikar Ali Bhutto, he founded Pakistan Peoples Party. Salmaan Taseer had suffered imprisonment under the dictatorship of Zia ul-Haq. He was tortured inside a Mughal-era dungeon in the historic Lahore Fort, and the family was told that the Messenger of Peace was dead. But he managed to smuggled out a note through the sweeper of his cell, "I'm not made from a wood that burns easily".
Salmaan Taseer's comrade Prime Minister Zulfikar Ali Bhutto was killed by the Islamist dictator Zia. And when another military dictator Musharraf ruled Pakistan, Zulfikar Ali Bhutto's benazir daughter Mohtarma Benazir Bhutto was assassinated in public. In 1984, the communal forces in India had killed Indira Gandhi. In Srilanka, the killing of Bandernayakes was the Tamilian communal forces. And in 2010, when Sher-e-Pakistan raised his voice for Asib Bibi, he was declared Wajab-ul-Qatal by the Mullahs who consider themselves thaykay dar of the religion. They protected against him, threatened him but they could not stop the gallant Taseer. He encouraged others to take to the streets against the law. A week before his assassination, he tweeted to his followers, "I was under huge pressure… 2 cow down b4 rightest pressure on blasphemy. Refused.Even if I'm the last man standing."
3 year have been passed but his murderer Qadri has not meet his fate yet. Poor Asia Bibi is rotting in the jail waiting for an angel to come to save her from the Thaykay dar of Mazhab, her children are waiting for a Superman who can reunite them with their mother with whom they haven't be able to meet since last 3 years. They are waiting for another Salmaan Taseer. Ahhh! But who, who will tell them that a fearless man like Salmaan Taseer is born once in thousand years?!
The Sher-e-Punjab Salman Taseer dedicated his life in the struggle for a democratic society where all citizens could enjoy equal rights, irrespective of gender, caste, region or religion. His martyrdom was not just the death of a great leader but also the death of justice and the death of the humanity. His death was a dark day in the history of this country.
We are all ashamed of ourselves. We are ashamed that when Sher-e-Punjab needed us we didn't stand with him. We didn't stand against the law which was instituted by Zia and Islami Jamhoori Ittehad (IJI). It's the common habit of all Pakistanis that we don't stand up for our leaders when they are alive but mourn after their death. We stayed at our homes when Quaid-e-Awam Zulfikar Ali Bhutto needed us. In the same way, we stayed at our homes when Sher-e-Punjab Salmaan Taseer needed us.
kuj sheher de lok vi zalim san;
kuj saanu maran da shok vi si
(Yes, my fellow citizens were oppressive;
but yes, I too had a death wish).
Comments
comments