Mohamad Chatah's murder in Beirut and the Saudi lies – by Laleen Ahmad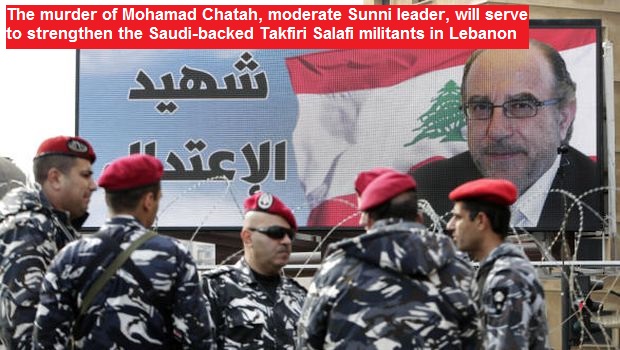 The murder of a moderate Sunni politician, Mohammed Chatah, on 27 December 2013 in Beirut has widely been interpreted by Saudi Arabia and the Saudi-lobby infected sections of media as a handiwork of Hezbollah. This is a very unfortunate thing because it will reinforce the Saudi-Wahhabi and Al-Qaeda discourse and further sharpen divisions amongst Shias and Sunni in an already beleaguered Lebanon.
Even the likes of the NYT have played up the divisive Shia-Sunni issue. For example, the New York Times titled its report on the Chatah murder as "Bomb in Beirut Kills Politician, a Critic of Syria and Hezbollah". This is a very provocative statement which is not expected of a publication of NYT's standing.
(Read: http://www.nytimes.com/2013/12/28/world/middleeast/beirut-explosion.html?_r=0)
In the similar provocative way, the Wall Street Journal reported,
A car bomb killed a prominent politician opposed to Hezbollah. . . . Hezbollah, whose militia is more powerful than the state's armed forces, has been steadily gaining political power. Along with its allies, it had dominated the last government.
(Read: http://online.wsj.com/news/articles/SB10001424052702303799404579283692798835878)
According to Al-Jazeera, "Chatah was a vocal critic of Syrian President Bashar al-Assad's regime in Syria as well as Hezbollah."
(Read: http://www.aljazeera.com/news/middleeast/2013/12/large-explosion-rips-lebanon-capital-beirut-2013122785524614.html)
Washington Post was not left behind in playing up the divisive issue,
Chatah and the political party to which he belonged — Hariri's Future Movement — were vocal opponents of the powerful Lebanese Shiite militant group and political party Hezbollah. . . . Chatah regularly criticized Assad and his backers, Hezbollah and Iran.
(Read: http://www.washingtonpost.com/world/powerful-explosion-rocks-downtown-beirut/2013/12/27/bcdf6f9c-6ecc-11e3-b405-7e360f7e9fd2_story.html)
It is true that Chatah was a pro-Hariri politician, but he was a moderate figure as noted by the BBC: "The BBC's Carine Torbey in Beirut says Chatah was not a controversial figure in Lebanon."
(Read: http://www.bbc.co.uk/news/world-middle-east-25524729)
It is also true that Chatah wanted to initiate a dialogue with Hizbollah. Recently, he had reached out to various Lebanese factions in order to restore peace in the country. But obviously Saudi Arabia did not like it. Saudi Arabia is the same country which has its hands full of Muslim blood in Bahrain and Syria. Why would it allow any politician to talk about peace? Saudi Arabia has even threatened the United States and Russia if its cynical solutions in Syria are not accepted. As a moderate Sunni Muslim, Chatah was weary of the increasing influence of the Al-Qaeda affiliated Takfiri Wahhabis in Lebanon, including in his hometown. At no occasion did he condone the Saudi-backed Takfiri Wahhabi cleric Assir's terrorist and violent actions in Lebanon against Christians, Shias and moderate Sunnis. It would appear that radical Wahhabi Salafi terrorists in Lebanon, funded by Saudi Arabia, are killing moderate Sunni Muslims. This will reinforce and strengthen the false Sunni-Shia sectarian violence discourse peddled by Saudi Arabia and Al Qaeda.
It is very easy for the media to demonize Hezbollah. No one has ever mentioned that Hizbollah has never resorted to car bombings. It is also a fact that if Hizbollah is behind an action, it owns up to it. Hizbollah has already expressed its condemnation of the Chatah murder. But the world media has not highlighted it. The world media has also failed to highlight another development: After Chatah's murder the Saudi government announced to give 3 billion dollars to the Lebanese government to destroy Hizbollah. It should be clear now who wants peace in Lebanon, and who wants destruction.
Gemayel: Accusations following Chatah's killing premature

BEIRUT – Kataeb Party leader Amine Gemayel warned against launching accusations following the assassination of former Finance Minister Mohammad Chatah.

"It is important to wait for [the result] of the investigation, especially after Takfiri and extremist criminal organizations have cropped up in Lebanon," Gemayel said in remarks published by An-Nahar newspaper on Saturday.

"It is therefore too early to launch accusations and point the finger [at suspects] here and there, and what is required is for the security agencies to lead the investigations to uncover the perpetrators as soon as possible."

The Kataeb Party leader also said that the killing of Chatah was an attack against Lebanon "on all levels."

He added that his death was a loss for the moderate political strand in the country.

Chatah, a close advisor of Future Movement leader MP Saad Hariri, was killed by a car bomb as he was heading to a March 14 meeting in Hariri's residence in Downtown Beirut.

https://now.mmedia.me/lb/en/lebanonnews/527599-gemayel-accusations-following-chatahs-killing-premature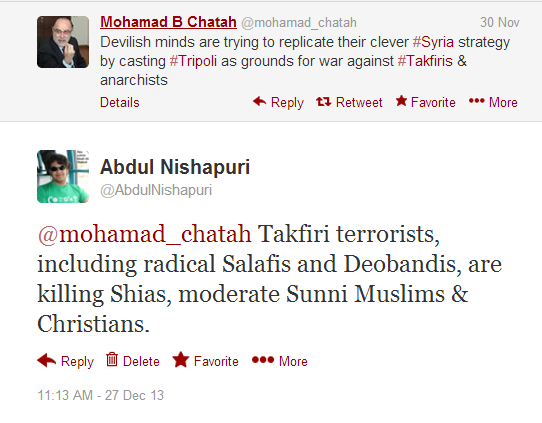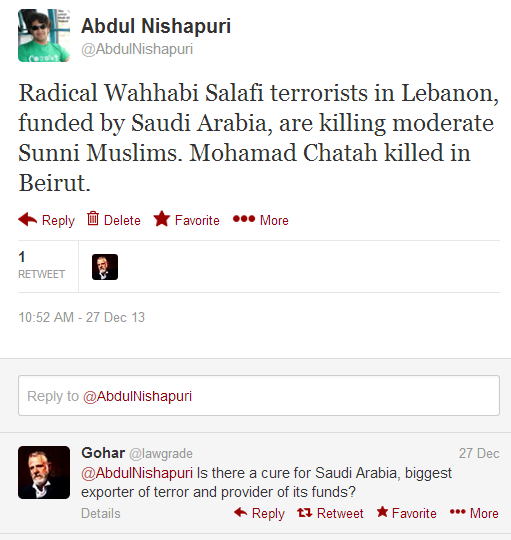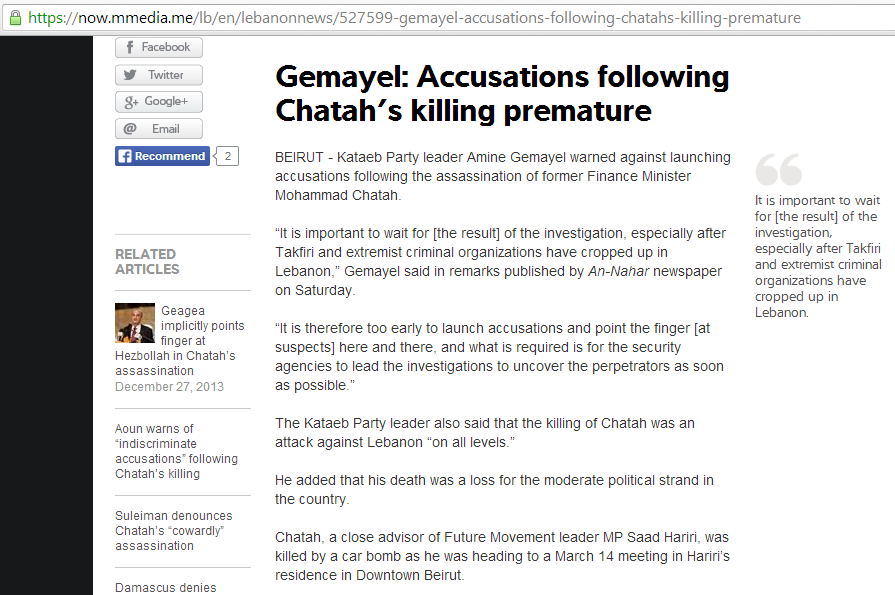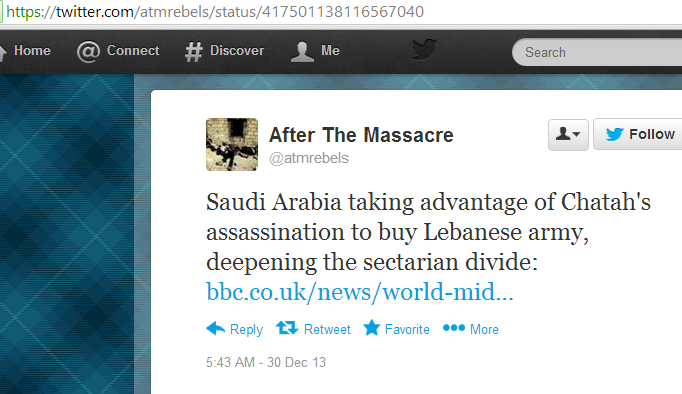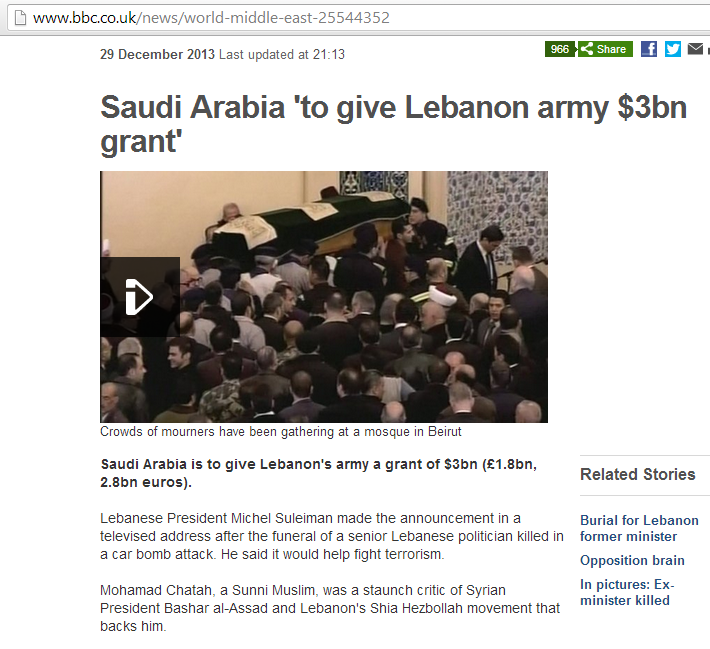 Comments
comments