Media is hiding that Dr Abbas Khan, the British Wahhabi doctor who illegally travelled to Syria, was suicidal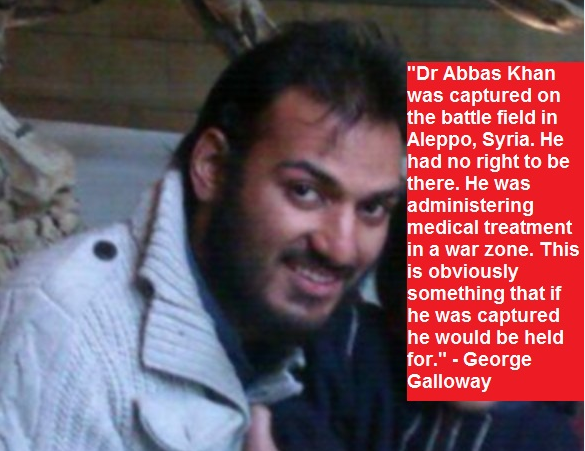 Related post: Overland to Syria: BBC documentary presents pro-Al Qaeda Wahhabi bigots Majid Freeman and Kasim Kas Jameel as humanitarian workers https://lubpak.com/archives/295281
The BBC's Contradicting Reports on Dr Abbas Khan
A year ago a British doctor of Indian origin, Abbas Khan, 32, went to Syria to provide help on the side of the insurgents. Initially he went to Turkey on 12 November 2012 to treat refugees coming over the Syrian border, and put together medical kits and a guide to help civilians and Jihadists to treat each other. The trip to Turkey was meant to last barely two weeks. At some point, porbably lured by Salafist Islamists, Abbas Khan decided to cross the border, and for around 48 hours he worked in a field hospital in Aleppo before being detained at a checkpoint on 22 November. (Source) He was caught by the Syrian government and sent to jail. He was to be released a few days ago, but then allegedly committed suicide.
The BBC, "reporting" on the issue, writes:
Syrian authorities have said their post-mortem examination showed he killed himself while in detention.But his family has said this is not credible as he was due to be released.
…
Mr Khan's brother said that it was "pure fiction" that Mr Khan had committed suicide as he had written to relatives saying he was looking forward to coming home for Christmas.

On Tuesday, the Foreign Office said that the doctor had been "in effect murdered" by the Syrian authorities and at best his death was "extremely suspicious".
Nowhere in that current piece does the BBC mention that the doctors family earlier feared, as the BBC itself reported just five days ago, that the doctor was likely to commit suicide: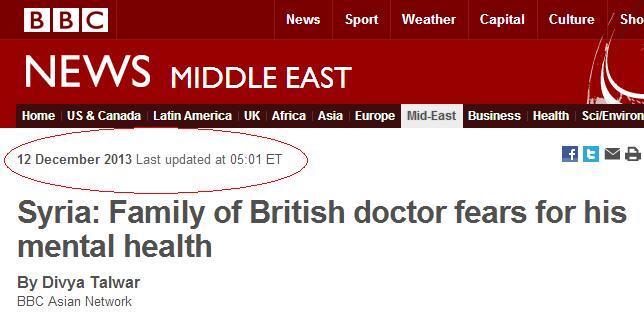 The family of a British doctor, imprisoned by the Syrian government for over a year, is growing increasingly concerned for his mental health.
…
His brother, Afroze, said Dr Khan was depressed. "There is a real possibility he may want to harm himself."
…
In his most recent letter Dr Khan wrote: "Being kept in appalling and inhuman conditions has seen my mental health markedly deteriorate, I suffer from almost constant depression and suicidal ideation."
The family feared, and the doctor himself practicality announced, his possible suicide. Five dates later the man is dead and has, according to the Syrian government, killed himself.
But now the earlier feared and reported possible suicide is suddenly called "not credible" and "pure fiction" and the BBC does not even mention the contradiction to its earlier report but goes solely with the family's (and British government) new propaganda line.
Is that official amnesia the BBC is practicing here or Big Brother like historical revisionism?
Robert Fisk wrote an article on the subject and in the second last paragraph of the article he casually mentions that the Doctor's brother was warning that "he feared for his mental health" a week before this hanging took place. If you are going to accuse Syrian security of staging the suicide of a prisoner, you should probably mention early on that you have information that the prisoner was suicidal and depressed in the weeks beforehand. That part is kind of important. http://www.independent.co.uk/news/world/middle-east/british-prisoner-dr-abbas-khan-found-dead-in-syrian-jail-days-before-he-was-due-to-be-handed-over-to-mp-george-galloway-9010003.html
Why on earth would the Assad regime kill the guy four days before he due to be relased. There's gotta be something else going on here, perhaps an agent provocateur within the jail or the security apparatus? It has all the hallmarks of the Ghouta sarin attack, yet another attempt to discredit the regime. And of course the BBC's role as mouthpiece for the Empire is outrageous.
One is unable to understand the fuss about Dr Abbas Khan in Western media. Did Dr Khan enter Syria legally? Did he travel to Syria after due permission by the UK government? Was he there to dispense his medical services in a gynecologist clinic, a dentist clinic? Or was he there as part of the logistic of this Western zusa war?  If he was part of the logistic of the invading Wahhabi-Salafi and Deobandi death squads, then why the outrage? Isn't it more outrageous to enter a country illegally, as part of the Saudi-Qatari funded invading/destabilizing forces (as 'Doctors without Borders' has been doing since the days of Peshawar, end of the seventies), to work to restore health of the death squads so they could destabilize more and kill more?Galloway is upset because of his constituency and what really happened to Dr Abbas Khan is irrelevant though one feels sorry for his parents.
It is important to note that quite a few pro-AlQaeda Wahhabi-Salafi and Deobandi bigots are currently travelling to Syria to implement their Jihadist agenda in the guise of humanitarian services. Here is a detailed account about Aid for Syria and other pro-AlQaeda charities: BBC documentary presents pro-Al Qaeda Wahhabi bigots Majid Freeman and Kasim Kas Jameel as humanitarian workers – See more at: https://lubpak.com/archives/295281
The same dubious groups eg Leicester to Syria and Aid4Syria are now using Dr Abbas Khan's name to provide more assistance to Al Qaeda terrorists in Syria: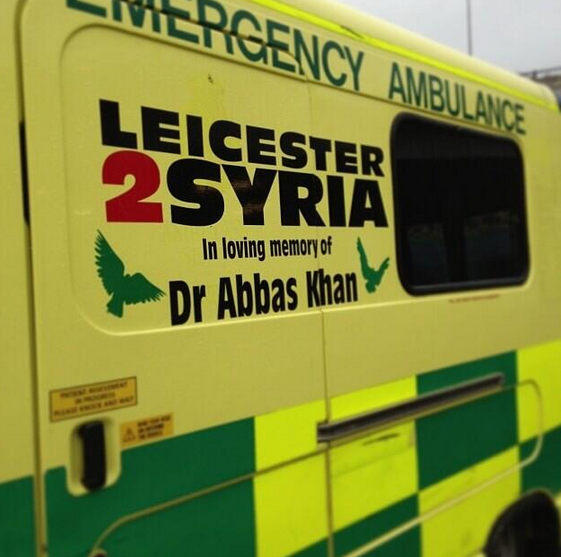 Syrian government released the following report:
"The report states that Khan Shah's death was caused by asphyxiation caused by self-inflicted hanging performed with the intent of committing suicide, with examination of the body's torso and x-rays showing no sign of violence, struggle or use of force. Dr Mikdad denounced the politicization of this issue at the hands of the British Prime Minister and other officials, demanding that British officials cease their misdirection and exploitation this human issue to serve British political interests, noting that the British government holds responsibility for sending terrorists to Syria through their support for British extremists and Salafis who came to Syria alongside others from other countries."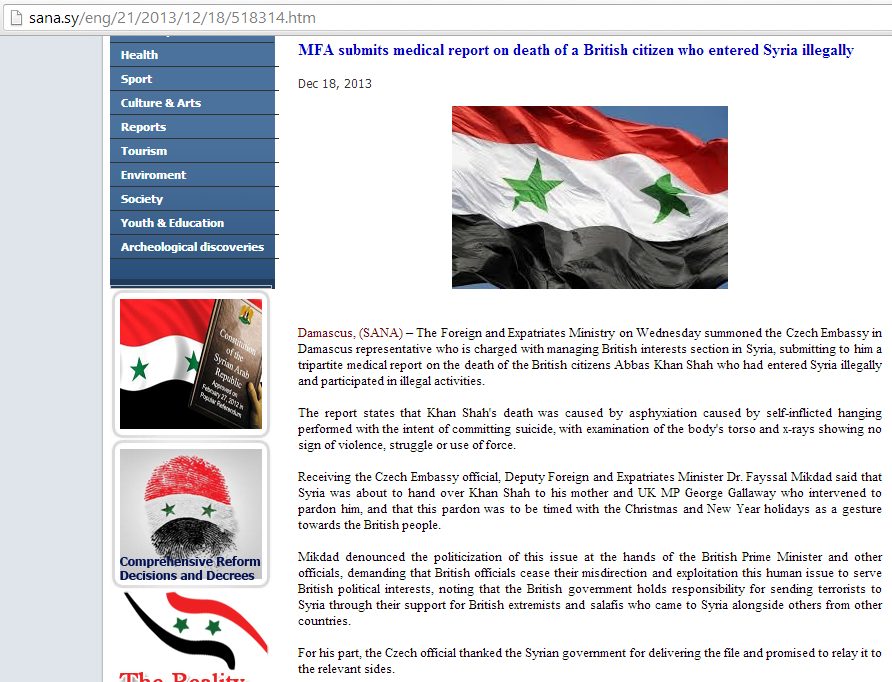 Apparently, no questions are being asked about the local Salafi and Deobandi Islamists who convinced Dr Abbas Khan to illegally travel to Syria against the advice of the UK foreign office. He wa clearly driven by his Islamist morals. In the words of his brother , Shahnawaz: "He was an introvert character, but he was dedicated to his job and his training, and driven by his morals. He believed in putting others first. We were aware of the fact that the Syrian refugees and the population at large had been abandoned, and he saw that he could take it upon himself. When you're faced with that sort of circumstance, with the skills you have, with the training you have as a doctor, you go into a certain degree of somaticity. You say: 'I've just got to do this, and I'm going to do it one way or another.' He said he "wasn't surprised" when his brother told him he was in Syria and at one point even planned to travel there with him, saying that "without a shadow of a doubt" he would have been captured too." http://www.belfasttelegraph.co.uk/news/local-national/uk/brother-praises-courageous-doctor-29849206.html
Respect MP George Galloway, who spoke to the Syrian authorities and was due to collect Mr Khan said: "We know what the crime was: he was captured on the battle field in Aleppo. He had no right to be there. "He was administering medical treatment in a war zone. This is obviously something that if he was captured he would be held for." http://www.bbc.co.uk/news/uk-england-25430234

Source: http://www.moonofalabama.org/2013/12/the-bbcs-contradicting-reports-on-abbas-khan.html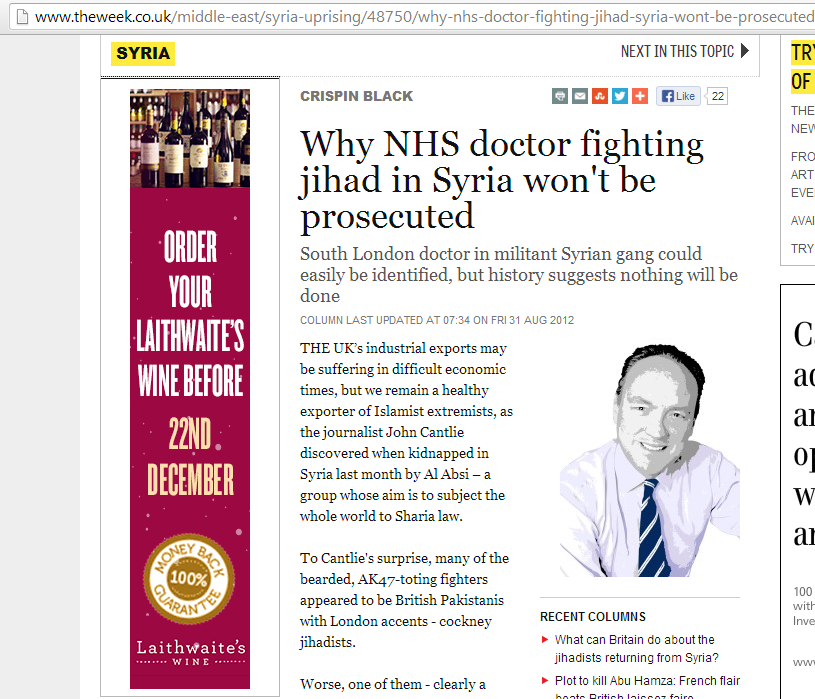 https://lubpak.com/archives/295281
Comments
comments