HDP leader Abdul Khaliq Hazara attacks an Imambargah in Quetta – by Mehdi Hazara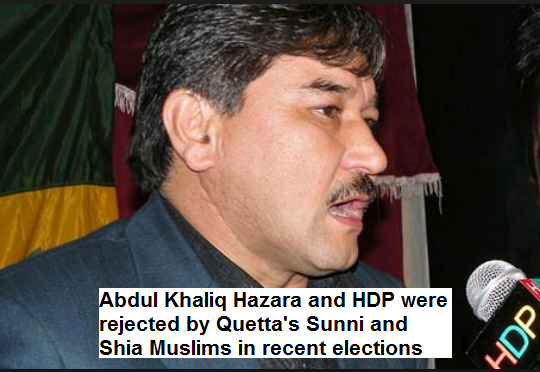 Quetta – News Report: Abdul Khaliq Hazara, chairman of Hazara Democratic Party, attacked the Imam Bargah Haidery Quetta in a drunken state along with two guards, Altaf and Hussain, and other members of HDP on Thursday night, 5 December 2013.
Abdul Khaliq Hazara, along with some office bearers of the HDP, beat up and fired upon the nohakhwans of the Imam Bargah and stopped the people from proceeding with their mourning rituals. The HDP people sprayed bullets in the Imam Bargah as well as in the air. One of the nohakhwans Syed Shabbir has been severely injured and has been shifted to the hospital. Abdul Khaliq Hazara and his armed supporters not only threatened and beat up the people inside the Imam Bargah but scared the whole neighborhood.
Abdul Khaliq Hazara is known for his close links with Pakistna's military establishment and its various intelligence agencies. He is the same person who was used as a source/informer by known ISI-friendly columnist/anchor Ejaz Haider to misrepresent Shia genocide as Saudi-Iran proxy war. This has put him and his party HDP in a very difficult position with Shia Muslims of Balochistan, including Shia Hazaras, who consider intelligence agencies to be complicit in ASWJ-LeJ's attacks on Shias.
It is being reported that Abdul Khaliq had a fight with his deputy in HDP Ahmed Ali Kohzad on his money share from a petrol pump. He has also lost his stature and importance in the party after having repeatedly lost several elections, most recently in the May 11, 2013 elections despite heavy rigging in his favor by his paid thugs. His election losses, loss of stature in his party and alcoholism have affected his mind and actions.
Abdul Khaliq Hazara is a hated figure among Shia Hazaras, he is known as a person of questionable morals, who has eased his way up the political ladder through moral and financial corruption. In this recent incident, he has once again shown that not only is he mentally unstable, but he is also an irresponsible, selfish and indecent imbecile who is making fun of the oppressed Shia Hazara people of Quetta who have been braving the terrifying situation in Quetta.
The Shia Hazara of Quetta have repeated rejected Abdul Khaliq Hazara in elections, and now he has himself proven that he is not only working in connivance with the Sipah-e-Sahaba/ASWJ as their statements and press releases in the news pages suggest, but they also have the same agenda of clamping down azadari rituals of Shia Muslims. HDP has been alleged in the pst of misinterpreting the Shia genocide as a Hazara-specific ethnic issue, silencing Shias' voice and prohibiting azadari rituals.
Comments
comments