'The only relevant debate in the Arab world is between secularism and Islamism' – by Alice Fordham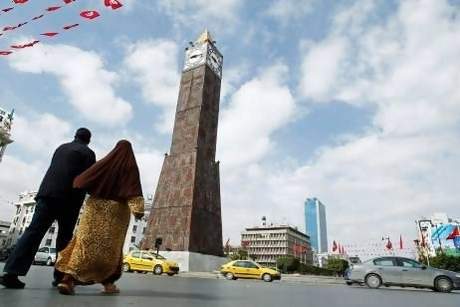 "The most relevant, if not the only relevant debate in the Arab world is the debate between secularism and Islamism," declares the 38-year-old Moroccan journalist. "It is the one relevant societal line in the Arab world right now."
With his website launched last year, Free Arabs, Mr Benchemsi has set himself the task of using reportage, wit and photography drawn mostly from the Arab world to contribute forcefully to the secular side of this argument.
From a series of satirical videos skewering purportedly real fatwas, to a lively debate on nudist feminists Femen, the magazine-style site makes its point with verve and energy.
Mr Benchemsi sees himself as counterbalancing an Arab media that he thinks promotes a prominent role for Islam in politics and in people's lives. But analysts and consumers say that while Islamic media does have an audience, the Arab media is not starkly split between religious and secular, and that there is growing space for debate.
But Mr Benchemsi does not hold back on his view of Arab society – he does not restrict himself to a country or region – and Islam. "Islam is not the number one paradigm to explain Arab society – hypocrisy is," he said in a Skype interview from Stanford University in California, where he is a visiting scholar.
"In most Arab society, the way people live and the way they say they do are, most often, fundamentally different."
By restricting religion to individual acts of piety, he hopes to bring about a freer, happier, more reasonable society. "Millions of Arabs are trapped between the reality of their life, the appearances they are supposed to maintain, and the political system meant to enforce those appearances, which is split between plutocracy and theocracy," he said.
Mohammed Bin Najab, 21, a Tunisian computer science student, watches only religious and state channels on television because he says these fit best with his religious outlook. In Tunisia, much of the print media is secular-leaning, especially that written in French, and he sees it as untrustworthy, presenting a religion in a bad light.
His favourite channel, the one he considers most modern and professional, is Iqraa TV, a satellite channel based in Saudi Arabia and beamed to the Arab world and beyond since the 1990s. Its ethos is far from ascetic, with music and singing part of the programming.
The channels "give good information about religion and they answer so many questions in our life", Mr Bin Najab said. And, rather than the enforcement of an orthodoxy, what he enjoyed about the channels was the forum for discussion of interpretation of faith.
"In our religion, you should take information if it comes from the Prophet," said Mr Bin Najab, "but anything else you should discuss."
He cited a debate he had watched recently about women going out to work, with a number of women and religious experts with different points of view participating.
"It's interesting," he said. "And the viewer can send his opinion by SMS or email."
His favourite presenter is Mustafa Hosni, an Egyptian preacher in his early 30s who appears on Iqraa. "He speaks in the jargon of youth," said Mr Bin Najab. "And he has this way of presenting information with a smile on his face, he is not serious and strict."
In fact, Islamic television is not as dominant as Mr Benchemsi believes, said Yasmin Moll, an anthropologist at New York University whose research focuses on religious programming in Egypt.
And the channels that are popular, both Egyptian and pan-Arab, draw strongly on other entertainment media – television, film, music videos – for their appeal.
"There's an assumption that Islamic media producers only watch Islamic media, and that's not true at all," Ms Moll said. "Their goal is to make Islamic media as enjoyable to watch as the other channels: they go to cinemas, they listen to music, they watch television."
Some preachers – especially hardline Salafi ones – attract a devoted but small following on Islamic channels. But more famous televangelists such as Amr Khaled, who has an affable, widespread appeal, now often have their own shows on channels that have both religious and mainstream programmes, with viewers seeing no contradiction in watching a preacher and then a soap opera.
The tumult of the Arab uprisings of the past few years has intensified an increase in debate and discussion in the Arab world, said Bill Lawrence of the International Crisis Group think tank.
The new atmosphere of discussion happened, he said, in large part because of Islamic satellite channels and the internet. The Arabic traditions of "jadaliyya" or dialectic, has been revived by the debate style of the many of the religious shows, he added.
"By framing debate in this way of opposing views, hitherto taboo subjects can be broached," he said, "because you can have a controversial viewpoint as long as you have the conventional one as well."
Source :
Comments
comments