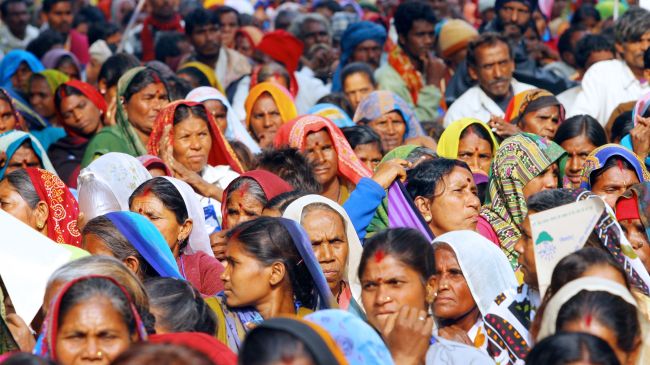 A "Minority" is a fascinating breed. The Permanent Court of International Justice (PCIJ), in a 1930 judgment, said, "a minority is a group of persons living in a given country or locality, having a race, religion, language, and tradition of their own and united by this tradition, and sentiments of solidarity, with a view to preserving their traditions, maintaining their forms of worship, ensuring the instructions and upbringing their children in accordance with the spirit and traditions of their race and rendering mutual assistance to each other."
This historic judgment became a starting point for the definition of "minority" as put forward by Professor Capotori in his report on the protection of minorities in 1977.
On paper, Article 25 of the Constitution of India provides for freedom of conscience and free practice and propagation of religion, "subject to public order, morality, and decency and other such provisions." It has guaranteed the right to religious and cultural freedom to all persons and groups having a distinct language, script or culture.
The right to cultural freedom again constitutes one of the cornerstones of minority rights under Article 27 of International Covenant on Civil and Political Rights (ICCPR), under which India is accountable to the UN Human Rights Committee, to which it is required to submit periodic reports on its implementation.
The 1992 UN Declaration on Minority Rights goes a step ahead to preserve their culture, language and script and puts the positive obligation on the state to not only protect the national, ethnic, cultural, religious and linguistic identity of minorities, but also create favorable conditions to enable minorities to express their characteristics and to develop their culture, language, tradition and customs.
In India, the term "minority" is mostly used in the context of religious communities – Muslims, Christians, Sikhs, Parsis, Jews, Jains etc. India has the world's second largest Muslim population, next to Indonesia.
Though the Indian constitution offers equal opportunities of education, employment, and political representation to minorities, most of them are at loggerheads with the majority community and with the state.
Punjab situation in the early 90s, Babri Masjid-Ram Janambhoomi dispute, Gujarat riots, attacks on Christian missionaries are some of the unfortunate events of our times. Just last month, almost 50 people died in communal clashes between Hindus and Muslims in Muzaffarnagar, a bustling city in North Indian province of Uttar Pradesh.
These minorities' related issues, however, are not uncommon in South Asia. Bangladesh, with Chakamas of Buddhist origin, Pakistan with Shias and Ahmedis, Sri Lanka with Tamil minorities and Bhutan with Nepalese. However, as the self-proclaimed largest democracy in the world, India's case is peculiar in more ways than one.
In their book "Human Rights, Gender and Environment," authors Shashi Motilal and Bijayalaxmi Nanda put the facts responsible for the denial of minority rights into four categories. The ideological foundations of the state, which promotes and maintains ethnic, linguistic or religious superiority of the majority groups; the communalisation of politics and politicisation of religion; lack of awareness among the minorities about human rights and democracy and the ideology at political and social level.
The exploitation of the rights of the minorities in India goes on several fronts. The rights of religious minorities, ethnic minorities, dalits, tribals, women, children, poor and disadvantaged are frequently violated with sheer contempt. Despite run-of-the-mill commissions and committees to look after these specific groups and umpteen numbers of laws to safeguard their rights, crimes against them continue at an alarming rate.
The rampant social and political discrimination against national minorities, STs, SCs, and OBCs is a serious concern among the civil society activists here. The de-facto perpetuation of the caste-system, under-representation of women in public life, religion-based personal laws, the injustices perpetuated against lower caste people (Dalits). People from lower castes have been victims of discrimination in the sphere of education and employment for centuries.
Prime factors responsible are the socio-economic structure, various legal measures and the lack of political will.
The caste system is the biggest anomaly. The National Human Rights Commission, the top human rights watchdog body in India, called it "historic wrong."
The blatant violation of the rights of indigenous people has also emerged as an area of concern. Indigenous people are also called tribals, aboriginals, etc. They number around 300 million in over 70 countries on five planets. According to a Human Rights Watch (HRW) report, dalits and indigenous people in India (STs or Adivasis) continue to face discrimination and exclusion. It says laws and policies adopted by the Indian government provide a strong basis for protection, but are not being faithfully implemented by local authorities. Amnesty International, in a report, says it is the responsibility of government to fully enact and apply its legal provisions against discrimination on the basis of caste and creed.
Notwithstanding Article 19 (5) of the Indian Constitution giving them the right to move about freely, settle in and acquire property, they are still a deprived lot. The forest-dwelling tribal population has not only lost their land, but also their livelihood. It is an irony that the rich natural resources and mineral wealth of tribal areas is a prime cause of land alienation among tribal people. Government, on the pretext of development and modernization, has been displacing them from their lands, resulting in their starvation.
The United Nations Convention on Elimination of Discrimination against women, adopted in December 1993, strictly prohibits violence against women, and calls for the universal application of the rights and principles with regard to equality, security, liberty, integrity and dignity of all human beings. But despite that, women have been facing the worst forms of harassment and violence in many states across India. They have been killed, tortured, raped, and harassed, all under the nose of police and other law enforcement agencies.
The recent case of a young physiotherapist Nirbhaya, who died after being brutally gang-gaped and assaulted in Delhi, was splashed in all major newspapers across the world. But, there are many Nirbhayas across India whose plight remains untold and unheard.
Children are also the victims of rights violations. Child labour continues to be a menacing problem in India. The minimum age for child labour in Indian Child Labour Act is 14 years, slightly lower than ILO's 15-year bar. But, still large numbers of children below that age keep toiling hard and are forced to do demanding and backbreaking labour.
The glass factory in Firozabad, fireworks industry in Sivakasi, gem polishing industry in Surat and lock industry in Aligarh are some sectors where the incidence of child labour is high. It is caused by an inequitable economic system. As Justice P.N Bhagwati once said, it is not the result of widespread poverty, but one of the factors that perpetuates poverty.
Even the Human Rights Watch world report 2007 criticizes India saying, "The leading human rights concerns in India include the failure to implement policies that protect the rights of children."
When the topic veers towards religious minorities, human rights discourse turns on its head. By the definition given by UN Convention on Prevention and Punishment for the Crimes of Genocide, India is the only democracy in the world that has treated its minorities to four genocide killings in the span of 18 years. Delhi (1984), Bhagalpur (1987), Bombay (1992), Gujarat (2002).
Sikhs were the targets in first, and Muslims were the targets in rest. Christians have also been at the receiving end in Orissa, Karnataka, Kerala and Madhya Pradesh.
In 1984, anti-Sikh riots were allegedly sponsored by the secular-centrist Congress Party of India, post Operation Bluestar and the assassination of former Indian Prime Minister Indira Gandhi, who was killed by her Sikh bodyguard. In the 4-day period of riots, some estimates say around 2000 were killed. There are serious allegations that it was organised by the state and it later destroyed evidence and shielded the guilty, most of whom were prominent Congress leaders and workers. Ten commissions and committees have so far inquired into the riots and many of the accused were acquitted or never charge-sheeted.
It was followed by anti-Muslim riots in Bhagalpur (1987) and Mumbai (1991-92). The latter took place after the demolition of Babri Masjid and subsequent serial blasts. About 1000 people were killed during the course of riots, mostly Muslims. As a result, a large number of Muslims were forced to migrate from Hindu-majority areas to Muslim-majority areas, drastically changing the demographics of city on religious lines. The majority of the victims fell to utterly atrocious acts like stabbing, mob brutality, physical assaults, loot, arson, and shootouts. Property worth crores was razed to ground. Government-appointed Sri Krishna Commission report implicated right-wing political party Shiv Sena and its leadership for the riots. It said, "Thackeray (Shiv Sena chief) like a veteran general commanded his loyal Shiv Sainiks to retaliate by organising attacks against Muslims." He was given a state funeral after his death recently.
Gujarat was the next stop. Following the accidental Godhra train fire that consumed 57 lives of Hindu pilgrims, over a thousand Muslims were mowed down in cold blood by angry Hindu rioters, who blamed Muslims for the train fire. More than 2000 people, mostly women and children, were massacred and thousands rendered homeless in one of the worst communal pogroms. Gujarat Chief Minister Narendra Modi brazenly justified the bloodbath as a 'natural' reaction to the events at Godhra, thus confirming official sanction to the carnage. The same man is being touted as the future prime minister of India.
Last month, the ghosts of communal violence returned to haunt, this time in Muzaffarnagar city of the north Indian state of Uttar Pradesh. According to conservative estimates, more than 50 people were killed in week-long riots, mostly Muslims. The state government watched mutely as goons from fanatic hindutva groups slaughtered Muslims. Now the minority Muslims there live in fear, while some have relocated to safe destinations.
We have seen journalists, academics, students and even common men being demonised, vilified, and targeted by state and its agencies. The controversial arrest of New Delhi-based journalist Mohammad Ahmad Kazmi by Delhi Police's notorious Special Cell last year in connection with the attack on an Israeli diplomat's car in New Delhi was a reminder of the mindless witch-hunt and persecution of innocent Muslims. The case against him was built on lies, dubious claims and unsubstantiated charges, simply because he was a staunch critic of Israel and the US.
Delhi University Professor SAR Geelani was framed in the 2001 Parliament attack case, just because he had a beard, was a Muslim, was a Kashmiri and taught Arabic.
The ghosts of Batla House fake encounter that took place on September 19, 2008 in South Delhi still haunt the Muslims in the capital city of India. Two students, Atif Amin and Mohammad Sajid, were gunned down and two others were arrested.
Recently, there have been more custodial killings, like that of Khalid Mujahid, an undertrial arrested in 2007 in connection with bomb blasts in UP, who died on 19 May, 2013, when he was being escorted by a team of the Uttar Pradesh state police from a court in Faizabad to Lucknow jail. His death is still shrouded in mystery.
Ishrat Jahan, a 19-year-old college girl, was mowed down in cold blood in 2004 by Gujarat Police Crime Branch and dubbed as the Lashkar Toiba operative. The case took a turn recently when India's Central Bureau of Investigation (CBI) charged eight Gujarat policemen, including senior officers DG Vanzara and PP Pandey, with premeditated murder of Ishrat. According to CBI, IB (another investigation agency) Special Director Rajinder Kumar was the 'kingpin' of the operation, who conspired with Vanzara and Pandey to eliminate Ishrat.
The impact on minorities due to the rapid communalisation of politics is far glaring and perilous. As Martha Nussbaum writes in her book "The Clash Within," "In the case of India, the threat to democracy comes not from any clash between European and Non-European civilizations but from something much more sadly familiar: a romantic European conception of nationalism, based on ideas of blood, soil, purity and the Volksgeist."