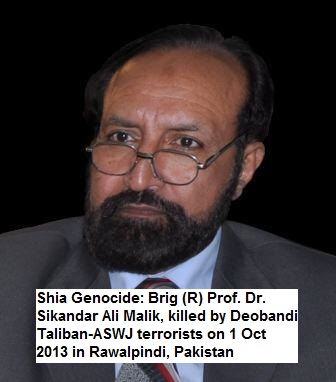 Author: Kashif Ahmed
Pakistan's English newspaper Express Tribune reported on Tuesday, October 01, 2013 that 'an intelligence officer Brigadier (retd) Sikander Malik was killed along with his wife and two daughters in Gulistan Colony, Rawalpindi." http://tribune.com.pk/story/611863/intelligence-officer-family-killed-in-rawalpindi/
BBC Urdu reported that a retired Brigadier was killed along with his family in Rawalpindi. http://www.bbc.co.uk/urdu/pakistan/2013/10/131001_rtd_brigadier_killed_rwp_zs.shtml
Similar versions of the news story were published by Dawn, Jang, The News etc. Most media decided to present it as a routine news of murder.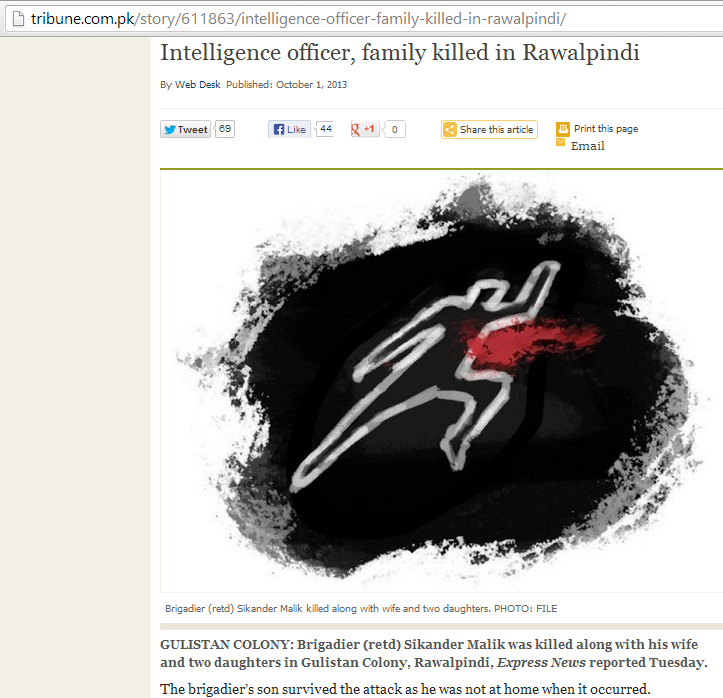 No media outlet told that Brigadier retired Sikandar Malik was NOT an intelligence officer. He was a medical surgeon whose previous service in army was in the medical corps, not in any intelligence agency. Dr Skiandar Ali Maliks' murder is the latest in the systematic series of target killing of Shia doctors in Pakistan by ISI-sponsored Deobandi terrorists (ASWJ-LeJ-TTP). https://lubpak.com/archives/tag/shia-doctors
The intelligence officer story published by Express Tribune and other newspapers seems to be ISI-inspired in order to obfuscate Shia genocide by Deobandi terrorists.
Initial investigations suggest that the incident is not a case of routine robbery or other similar incidents. According to police, all the deceased were killed by bullets on their head or/and heart. This suggests that trained terrorists are behind the incident. According to BBC Urdu:
مقامی پولیس کا کہنا ہے کہ مقتولین کو گولیاں اُن کے سر اور دل کے قریب ماری گئی ہیں۔ پولیس کے بقول ملزمان نے پستول پر سائلنسر لگایا ہوا تھا جس کی وجہ سے گولیاں چلنے کی آواز نہیں آئی۔

پولیس ذرائع کے مطابق مقتول بریگیڈیئر کا بیٹا فوج میں کپتان ہے اور وقوعے کے روز گھر پر موجود نہیں تھے۔ پولیس کے مطابق اس واقعے کے بعد وہ سکتے میں ہیں اور ابھی کوئی بیان دینے کی حالت میں نہیں ہیں۔

پولیس نے لاشیں قبضے میں لے کر اُنہیں پوسٹمارٹم کے لیے ضلعی ہیڈ کوارٹر ہسپتال منتقل کر دیا ہے جبکہ جائے حادثہ سے شواہد اکٹھے کرنے کے بعد تحقیقات بھی شروع کر دی گئی ہیں۔

مقامی پولیس کا کہنا ہے کہ جائے حادثہ سے ڈکیتی یا چوری کے شواہد نہیں ملے۔

پولیس اہلکار فیصل عباد کے مطابق جس طرح مقتولین کو ٹارگٹ کر کے مارا گیا ہے ایسی ہلاکتیں ڈکیتی کی وارداتوں میں مزاحمت کے دوران نہیں ہوتیں۔ اُنہوں نے کہا کہ عموماً ایسی کارروائیاں شدت پسندی اور ٹارگٹ کلنگ کی وارداتوں میں ہوتی ہیں۔
Martyr Sikandar Ali was principal of a private medical college.
More importantly, he belonged to a famous Shia family of Rawalpindi (originally from Sialkot), and was a doctor. He was also a trustee of a a local Shia mosque Imambargah / Hussainia.  His wife, and daughters were also mercilessly killed. Pakistan's liberal media hid the identity of the killed (Shias) and the killers (Deobandi terrorist who have killed hundreds of Shia medical doctors in the last few years from Karachi to Rawalpindi and from Lahore to Peshawar). Pakistani media has aided the Deobandi Sipah-e Sahaba Taliban (ASWJ-TTP) by obfuscating the Shia identity of the victims. This obfuscation has helped the Deobandi Sipah-e Sahaba Taliban to increase the target killing of Shias all over Pakistan.
On Twitter, elitist liberals never clearly name and condemn Deobandi terrorists involved not only in Shia genocide but also in acts of violence against other communities including Sunni Barelvis/Sufis, Ahmadis, Christians etc.
An alarming new trend is being witnessed in Punjab where Shia families are being killed inside their houses. Only a few weeks ago, Punjabi Taliban terrorist, an offshoot branch of Tehrik e Taliban Pakistan martyred 7 Shia Muslims including 5 of a family in a village of Gujrat district of Punjab on September 06, 2013. And now the murder of Dr. Sikandar's family. Punjab government led by Chief Minister Shahbaz Sharif is hand in glove with the Punjabi Deobandi Sipah-e Sahaba Taliban in these killings of Shia infuentials. Last year, famous Dr. Ali Haider was shot dead along with his 11 year old son, Murtaza Haider in Lahore. No killer was arrested, and media kept mum on increasing Shia Genocide. Killers of Shia Muslims, namely Sipah Sahaba (ASWJ-LeJ) happen to be political allies of CM Shahbaz and PM Nawaz Sharif.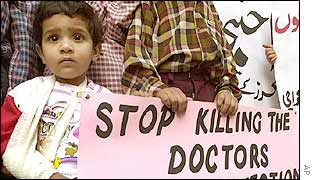 The tense calm in Punjab where Shias have been occasionally targeted is now being taken over by target killings of famous Shia personalities and their families. If one looks at modus operandi of terrorists in other cities, this is how it began. They first killed influential persons of Shia family, and then started targeting the ordinary Shias in droves.
How sad it is that the Deobandi terrorists are invading in homes of Shia Muslims. Deobandi terrorists are the same thugs who have also killed thousands of Sunni Barelvis, moderate Deobandis, Ahmadis, Christians etc to enforce their brand of Deobandi and Salafi-Wahhabi Sharia. Pakistan army and public must come out of confusion and whole society must reject the Deobandi Taliban who claim that they are doing violnce in the name of Islam.
Pakistan's liberal media must highlight and the Deobandi Sipahe Sahaba Taliban's killing of Shias lest Shia genocide worsens.