The Black Night of Black Friday: Massacre of Mohajirs in Hyderabad
30 Sep 1988:The Black Night Of Black Friday
September 30, 1988 is the darkest day in the history of Hyderabad.It was the worst massacre in Hyderabad on Moharijis (urdu speaking people who migrated from India after partition). Dozens of gunmen armed with Kalashnikov and innovative weapons riding on cars and motorcycles of Hyderabad's streets, bazaars and neighborhoods indiscriminately opened fire killing & injuring 300 people. The incident occurs on Friday night; that's why the occurrence is known as Black Friday.
Hyderabad is also well known as the City of Cold Evenings, and evenings in Hyderabad are like a hedge. There is gigantic crowd over the shops of Rabbri which a famous treats of Hyderabad. Gulab Pan House on the advice of Hyderabad is very crowded too; Sarfaraz Charri is cheered with the Chess Players; Phool Gali, Resham Gali and Garri Khatta are also applauded with citizens.
But that evening alleged to be the most hazardous and dreadful evening in the history of Hyderabad. Relevant night around 19:30 hrs dozens of well equipped with arms riding on motorcycles & cars indiscriminately opened fire in all units on the congested areas of Garri Khatta, Heerabad, Tando Wali Muhammad, Surrey Warf, Tilak Chari, Kaali Moari Market, Station road, Khokar Muhalla & Latifabad. Terrorist's all at once opened hot pillage & murdered at 70 locations of the city at once. They even gunned in the narrow streets & crowded bazaars of Hyderabad all at one time. Attackers were targeting Mohajirs' population, they assaulted markets and cinema houses and targeted pedestrians.
One of the groups keep were gunning the passengers waiting on the Raliway Platform; Witnesses said that as they stepped down from the cars they cover themselves back to back together & haphazardly kept sacking people in Resham Galli. 
According to reports, first Charade Grey colored car suddenly opened fire on people standing on the Lajpat road right after that a White & Orange Cars were seen in various area firing on people.
Within hours entire city scene was changed portraying as a picture of lonely town. Bodies were lying and abrogating over the dead ones. People were moaning and crying as the women & innocent children were massively targeted among the deaths.
According to witnesses, Qadir Magsi and his party men & infamous like Janu Arrayan, Noor Jan Magsi, Hasan Chandio, Laiq Chandio and other villainous outlaw criminals were involved in this massacre. Overnight it was widely spread that Qadir Magsi & infamous mates are involved and as till today they are free & no action has been taken against them.
May 12 tragedy is been on words of every so called political, religious parties and not even the Media cover the carnage of September 30, 1988 was not even condoled by any responsible Political Executives, nobody even dare to take Qadir Magsi name's to bring him on to justice.
Since my childhood neither I have seen a single religious or political party talking about the episode nor condemning it the incident. Yes but have seen this responsible of oversized catastrophe giving interviews on media as he has been a Public Leader or so.
September 30, 1988 tragedy was to erect clash between the Mohajirs & permanent residents of Sindh, to built hatred and prejudice between Sindhi and Urdu speaking & creating a wall of a heinous conspiracy that they will be able to wash out the dust and blood of innocent citizens.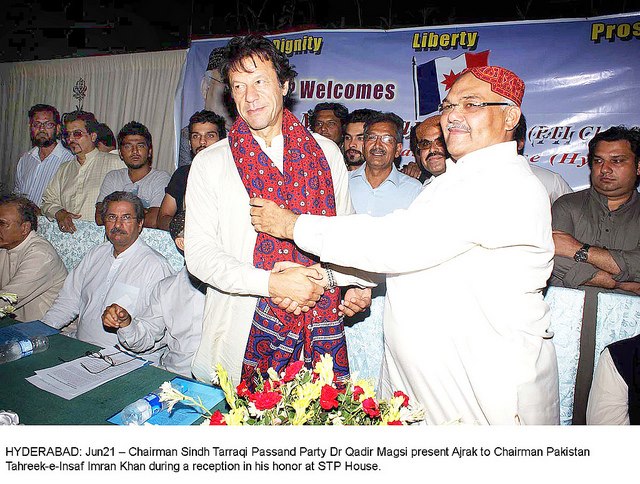 Qadir Magsi in a positive mode with Imran Khan; responsible of killings 300 innocent people. Nothing to be surprised as Khan can speak over opening Taliban office accountable for killings of 50,000 people, and then Magsi is answerable of just 300 innocent lives.
Comments
comments