Zamurd Khan and PPP – by Zulfiqar Ali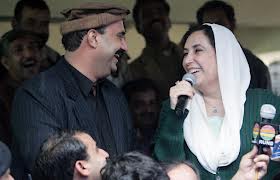 A man drives in a vehicle with black windows. Enters the most secured area of the country. No one stops him. Then a PPP Jiyala shows bravery. Now all are saying that PPP had nothing to do with it. Sure it is his personal heroics but he is groomed and is PPP worker. If a PPP Jiyala does something wrong, then it is PPP culture. If PPP secures Karachi, then it is Naseer ullah Babar ( I admire him a lot and he never took sole credit) and Suddle DESPITE PPP. As long as Swat operation was not going well initially, it was PPP govt.'s fault. When it was successful, it was army's success. Initially Balochistan was calming down. Then Gen Kayani and GHQ were heroes. Now it was PPP govt.'s fault.
If there are no measles vaccines available in Punjab, it is bureaucracy's fault malign the good name of PMLN. If water is accumulated in Karachi after rains, there will be 50 TV programs. Now in Lahore, sab ki maaN mar gai hai. Is there any difference how we treated League and Bhashani before?
Source :
https://www.facebook.com/zulfiqar.ali.52493/posts/424950427624481
Comments
comments