KKF The Best Example Of Serving OF Humanity
The Holy Prophet PBUH said, "The greatest worship of all is to serve humanity".Khidmat-e-Khalq Foundation (KKF) is a Pakistani charitable organization that comes under the jurisdiction of the Mutahida Qoumi movement . As highly organized, active and effective social organization the wide spectrum of KKF's services, is spread throughout the country.The KKF is a highly organised, active and effective social welfare organisation engaged in diversified social welfare activities including operations, ambulance and coffin carrier services, hospitals, dispensaries, blood banks and mortuaries.The KKF has been providing free medical treatment and medicines to the lesser privileged through mobile dispensaries and field hospitals. Patients are also operated at the mobile dispensaries as and when needed in emergency. The KKF has also been rendering mortuary services on humanitarian grounds.Following Altaf Hussain's ideological and philosophical approach, the Khidmat-e-Khalq Foundation (KKF) encompasses the concept of service to humanity without any prejudice or discrimination.KKF is a highly organised, active and effective social organization.Its Services are spread over a very wide spectrum which does not include karachi, Hyderabad and other urban areas of Sindh , but today , the KKF is known throoughout the country for its social services. Mr Altaf Hussain and his colleagues formed the KKC (Khidmat-e-Khalq Committee) in 1978. (The KKC was transformed into KKF, i.e.- Khidmat-e-Khalq Foundation in January 1998). 
Services Provided By KKF 
1-monthly disbursement of financial aid to the poor and needy
2-Provision of dowries to destitute ans orphan gilrs for their marriage
3-Annual distribution of AId amongst the deserving during the month of Ramazan
4-Free medical treatment and poor
5-Ambulnace and coffin carrier services
6-Services to the poor through mobile dispensaries and feild hospitals
7-Establishment of medical aid camps in the month of Moharram
8-Free legal assistance
9-Fruits and vegetables stalls
10.Relief activities during Natural disaster(Floods,earthquakes,tsunamis)
  KKF During Earthquakes in Kashmir
Following the traditions of KKF's services in national disasters , the KKF again showed tremendoes efforts in the relief of the affected people of earthquake 2005.KKF established numerous medical capms all over the affected areas. Khidmat-e-Khalq Foundation (KKF) started to move medicine as well as food and warm clothing to the affected families. KKF established relief camps and field hospitals in different areas of Azad Kashmir and NWFP and the relief work of the KKF have continued day and night . The MQM workers got to the most inaccessible areas where no one else had reached in time. KKF volunteers took the relief goods over their shoulders on foot, risking their lives. During this time KKF has sent relief worth Rs 1.5 billion. KKF volunteers have also arranged the relief goods, thousands of tents and blankets from the USA, Gulf States, Saudi Arabia, South Africa and Canada. The goods consists of tents, blankets, medicines and other relief goods, One team of  KFF volunteers from the USA  arranged for tents and blankets to be dispatched for the homeless in Pakistan.
KKF Activities in Eathquake of Baluchistan
The Charity Wing of Muttahida Quami Movement (MQM), Khidmat-e-Khalq Foundation (KKF) has sent more than 23 million Rs relief goods for the victims of Balochistan earthquake.KKF has been sent hundreds of camps, blankets, medicines, Dry Milk,  Mineral water, medicines, Warm cloths, food items and other necessary items to Balochistan.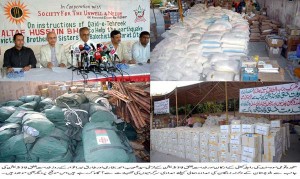 KKF Activities In Floods In Sindh
KKF showed its outstanding work in the relief activities during Pakistan worst flood disaster in the year 2010.KKF delivered six truck full relief goods to the flood-affected areas.The representatives of KKF dispatched this consignment from the KKF head office.The relief goods were rice,pulses,soices ,sugar ,dry milk ,ghee and edible oil as well as medicines ,clothes and drinking water.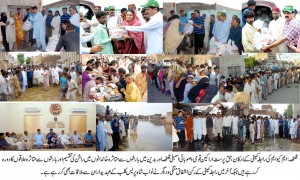 Nazeer Hussain Hospital
KKF extends Nazir hussain hospital with newly established ICU,NICU,Ventilator and dialysis facilities and 70 more beds.
Extension ceremony was held at KKF head office in federal b area block 14 near Talemi Bagh.
On the occasion Quaid e tehreek Altaf Hussain bhai thanks doctors , surgeons and each any every one associated with Nazir Hussain hospital and who took part in the extension of hospital.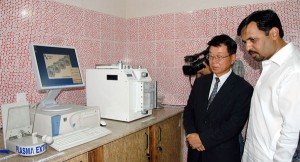 Nazeer Hussain University
Nazeeer Hussain University is established by KKF ans SUN Academy in FB AREA Karachi.It will provide quality education for Poor Student .The university, spreading on an area of 15 acres, has future expansion plans to accommodate 5,000 students in various faculties.The Nazeer Hussain University would prove to be a milestone in the progress and advancement of the country.
     NHU would not only compete with the international universities in high standards but it would equip the students for better employment.Initially admissions would be given in the faculties of engineering, architecture and business administration.Highly qualified teachers living outside the country would also participate in the process of teaching through video conferencing.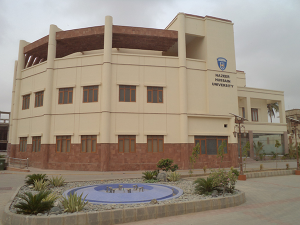 Comments
comments