Rs 82 billion Ogra scam: Sifting myth from reality
Does a person who according to our right wing media and their tail wagging supporters in judiciary has caused the national exchequer a loss of Rs. 82 billion, wears handcuffs and looks haggard? Tauqeer Sadiq, a man who has been targeted for having been appointed Chairman of OGRA during the PPP government, did himself and the PPP a big favor by surrendering and returning to Pakistan.  With his return, a lot of tongues will stop wagging now, because the outrageous claims of "Rs 82 billion" losses cannot be proved or substantiated.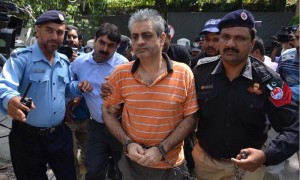 A deeper look at the claims of "Rs 82 billion" losses would give one an opportunity to see the dirty role of our high courts and supreme court under the (dis)abled leadership of the most controversial, cheater and holier-than-thou chief justice, Iftikhar Muhammad Chaudhry. The OGRA scandal has literally been run at the behest of Jang Group and its gang led by Ansar Abbasi, Ahmed Noorani and Waseem Abbasi, who have given false reports to make a mound out of a molehill.
While the journalism followed by Jang group is without ethics and also understanding of the business, Mr. Javed Ansari in Business  Recorder on July 29, 2013 has tried to dehype the myths created by media and hyped up by the mindless judges. The article is damning on the judges as it tries to highlight that the "loss" of nearly Rs. 80 billion is because of judgments of Lahore High Court and Islamabad High Court. The article is a must read and should give readers an idea about the dirty role of media and judges in making the lives of people miserable and bringing actual loss to the national exchequer. Mind you all, our Privatization and Investment program has been stalled for 7 years now, thanks to the mindless verdict on Steel Mills privatization by the Lord of the Lords, Iftikhar Muhammad Chaudhry.
Rs 82 billion Ogra scam: Sifting myth from reality
One of the most extensive goose chases in the history of Pakistan ended two weeks ago with the arrest of ex-chairman Oil and Gas Regulatory Authority (Ogra) Tauqeer Sadiq for his alleged involvement in a corruption scam of over Rs 82 billion. The appointment of Sadiq as Chairman Ogra had been challenged by Mohammad Yaseen before the Supreme Court of Pakistan. The SC had removed the then incumbent Tauqeer Sadiq from his post and had directed that NAB investigate into the allegations of corruption made by the petitioner.

As per reports, Sadiq was stated to have caused Rs 82 billion of corruption while holding the office of Chairman Ogra and, based on these figures, the SC initiated implementation proceedings in the case which saw bigwigs like the DIG Motorway Police and the then Chairman NAB Fasih Bokhari earning strong displeasure of the SC. However, now that Sadiq is in the custody of NAB it appears that the hype of Rs 82 billion scam is more of a myth than a reality.

The corruption allegations and the presumed losses caused to the national exchequer can be divided into three parts. The first comprises alleged corruption of Rs 36 billion in increasing the well-head price of gas from the Sabsabil Gas Field, owned by Deewan Petroleum Limited. The second comprises an alleged corruption figure of Rs 44 billion in setting the tariff for two major gas utility companies, whereas the remaining Rs 2 billion in corruption is said to be made up of favours to and from attorneys and grant of CNG licences. It is learnt that the figures quoted before the SC are inflated to the extent of Rs 80 billion and are misconceived and non-recoverable.

The first allegation appears to be based on misconception regarding the issue by investigation authorities. The Deewan Petroleum dispute arose from a 2007 disagreement between the Government of Pakistan and Deewan Petroleum which had asked for increased well-head price of gas from the Sabsabil Gas Field which Ogra and the government did not allow. Under the increased price, Deewan Petroleum was supposed to get Rs 36 billion over the next 25 years. However, as the facts unfolded, not a single additional paisa was actually paid to Deewan.

The then Attorney General for Pakistan (AGP), Malik Qayyum, was appointed as an arbitrator to settle the dispute between Deewan and the government. He opined that the well-head price of gas should be increased. Ogra ignored his recommendation and refused to raise the price. Deewan Petroleum then approached Lahore High Court in its writ jurisdiction. Justice Asad Munir of LHC accepted the petition filed by Deewan Petroleum and ordered that the opinion of the AGP be implemented. Ogra again showed reluctance to implement the LHC judgement. A contempt petition was filed by Deewan Petroleum against Tauqeer Sadiq (the then Chairman Ogra) in Islamabad High Court for this reluctance and the same was accepted by the court. A notification was issued on 17.02.2011 which raised the well-head price of gas. On the very same day, the Supreme Court suspended the LHC judgement and the notification was withdrawn.

The SC subsequently declared the LHC judgement as illegal and therefore, not even a single paisa of the supposed loss of Rs 36 billion that the public exchequer was to suffer actually occurred. Even the IHC, while suspending an arrest warrant issued by NAB against the CEO of Deewan Petroleum, recently observed that not a single penny was actually paid. Hence, it seems that this 36 billion rupee figure, having never actually seen light of day, can be deducted from the purported Rs 82 billion. It is due to this fact that Sadiq and his sympathisers have been given an opportunity to claim innocence and state that this alleged corruption scandal arose due to the judgement of the LHC and not a decision or order of Sadiq as Chairman Ogra.

The second allegation against Sadiq is that he deprived the national exchequer of Rs 44 billion by allowing a higher UFG benchmark in the tariff determination of the two gas utility companies SNGPL and SSGC, thereby reducing the Gas Development Surcharge (GDS). The controversy arose because Ogra, under Sadiq, set the UFG benchmark of the two gas utility companies at 7 percent through decisions dated 24.09.2010 for SSGC and 15.10.2010 for SNGPL for financial year 2009-2010 and treated certain incomes as non-operating for the same year. However, only seven weeks later, ie, on 02.12.2010, in its determination for FY 2010-2011, Ogra, again under Sadiq as Chairman, backtracked on its early decision and set the UFG benchmark of the companies at 4.75 percent and disallowed treatment of those incomes as non-operating.

The companies challenged this downward revision before a high court which granted stay orders to the effect that the UFG benchmark of the companies was to be treated as 7 percent and certain incomes which had been treated as non-operating in FY 2009-10 will continue to be treated as non-operating. Subsequently for financial years 2011-12 and 2010-13, Ogra set the UFG benchmarks of the two companies at 4.5 percent and in spite of the high court stay orders, treated the disputed incomes as operating. These decisions too were challenged by the gas companies and the high courts granted stay orders in these as well.

It is the combined impact of these four years, that is, the 2009-10 determination and the stay orders granted against the 2010-11, 2011-2012 and 2012-2013 determinations which reduce GDS by Rs 44 billion and this amount would in turn go to the two gas companies. Legal experts state that GDS is not a tax or a charge, but an accounting mechanism through which gas companies are compensated for unforeseen increases in wellhead prices without having to increase the price of gas for consumers. Therefore, under no circumstances is a reduction in GDS a loss to the national exchequer.

It appears that NAB itself is uncertain regarding this Rs 44 billion loss. After submitting a report regarding the loss in GDS before the SC, NAB subsequently filed another report which stated that in fact this 44 billion rupee loss had been caused by stock market manipulation. Even this claim does not appear to be based on facts. On inspection, it is seen that in the 45-day period within which NAB claims that the national exchequer was deprived of Rs 44 billion by stock market trading, the actual total trading in the shares of the two gas utility companies was a little over Rs 1 billion only.

The major chunk of the alleged Rs 82 billion scam appears to be unfounded. No money actually appears to have been pocketed by any individual. However, the allegations with regards to the remaining 2 billion rupees need to be investigated further before a finding can be made on them. The investigators must learn to separate the wheat from the chaff and sort myth from reality. NAB needs to ensure that their investigation is not dictated by hype but by the facts and circumstances that appear on the ground.

(The writer is senior journalist. The views expressed in this article are not necessarily those of the newspaper)
Comments
comments